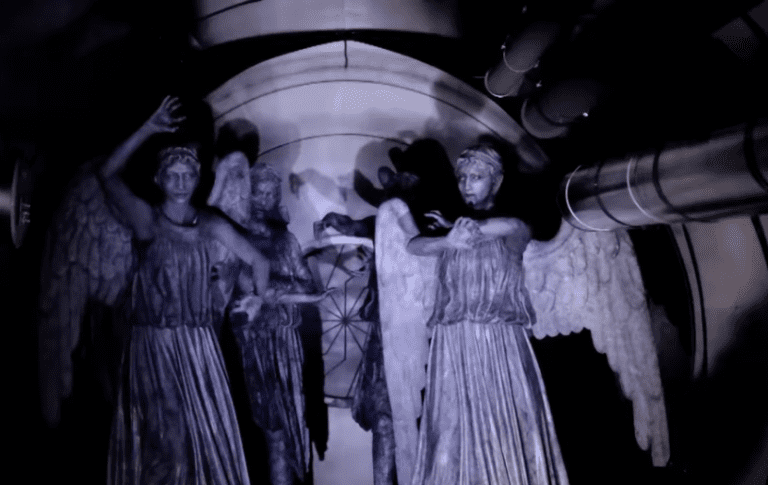 Over the past week I've been reading through Lori Alexander's most hate filled unhinged commenter's church blog – Whitewater Community Church by "Sharkly"Keith Entz. It's got everything, there's nekkid cartwheels by the side of the road. There's fat shaming. There's copious use of the C word and calling women whores. There's tales of his wife and dick pics. Tales of him being hit upon by hot church hussies. It reads like some weird acid trip Biblical Peyton Place or soap opera filled with naughty words and begging for oral sex.
He describes a scenario that apparently severely traumatized him as a child and it speaks to the tendency of those in the Quiverfull movement to claim any and all exposure to nudity or sexuality is abuse.
A few selections:
'I have no idea why their consciences were so seared and depraved, but, about a mile away from the house, where there is a yard light at a tiny unmanned power distribution substation. the older cousins all wanted to get naked and start dancing around naked with each other. (The shame of their nakedness was the first recorded thing Adam and Eve realized when their eyes were opened to know good and evil.) But apparently their own homoerotic lust was too strong for my older cousins, including Leland Entz, to resist.'
Apparently the cousin then moved on to forcing the younger boys to get naked and dance too. I am very sorry that this incident seems to have triggered some sort of trauma in the writer, but there was only mass nudity, no sexual acts involved.
'If committed in the presence of a person younger than 16, it is a severity level 9 person felony. Leland was publicly exposing a sex organ or exposing a sex organ in the presence of a person who is not the spouse of the offender and who has not consented thereto, with intent to arouse or gratify the sexual desires of the offender or another. '

'I was sexually humiliated as a child, to further the gratification of the homoerotic lust of a Whitewater Community Church deacon Leland Entz and my older cousins. '

'Then, after dancing around naked together like crazed homosexuals, at the intersection of SE 84th Street and South East Lake(Greenwich) Road, they all (except Karlen and I) exposed themselves to at least one northbound car, some of them doing naked cartwheels beside the road as the car went by. '
I really want to laugh at this description, because what is happening sounds like typical "Jackass" style teenage highjinks in the country. I think this is likely typical. I remember when my son was a young teen and suddenly started rebuffing the invitations to spend the night at a friends house. I asked why, he sighed and told me he hated being with his pal now because his pal liked to go skateboard down Route 3 at 3 am and do other stupid super dangerous things. Like mess with road construction equipment. My son just wanted to sleep.
I was happy my son came to that decision on his own, happy we had an honest enough communication style that he could confide in me. I was rather unhappy that this was going on because the other boy's father assured me again and again he watched those kids.
Imagine, if you will, that scenario taking place in a Quiverfull household. No matter how traumatic or awful it was the son would not have said a thing, and the mother would not have known. She would have just seen that the son was engaging in lack of fellowship without knowing why.
At the tender age of the writer he would have been too young to find that kind of behavior desirable. He wasn't in the entire early teen rebellious stage where you want to sneak off and do the forbidden merely for the thrill of it. I cannot laugh, because it's pretty obvious that this was a seminal negative event in Sharkly's life, that somehow harmed him.
All of this leads me to ask why is it that things that happen rather naturally and organically in other cultures and groups without harming anyone seem to be big honking deals that seems to twist them for life in Quiverfull. Not just sex, nudity, sexuality either. We see this in the differing levels of modesty culture, the shaming and blaming over body types, the focusing on so many things barely touched upon by the Bible. Shame flung over things that should not even been remotely shameful.
Stay in touch! Like No Longer Quivering on Facebook:
If this is your first time visiting NLQ please read our Welcome page and our Comment Policy! Commenting here means you agree to abide by our policies but our main rule is this – Do not be a dick!
Copyright notice: If you use any content from NLQ, including any of our research or Quoting Quiverfull quotes, please give us credit and a link back to this site. All original content is owned by No Longer Quivering and Patheos.com
Read our hate mail at Jerks 4 Jesus
Watch our goofy rants on YouTube and the bad Biblical advice of Dori Dalexander.
Check out today's NLQ News at NLQ Newspaper