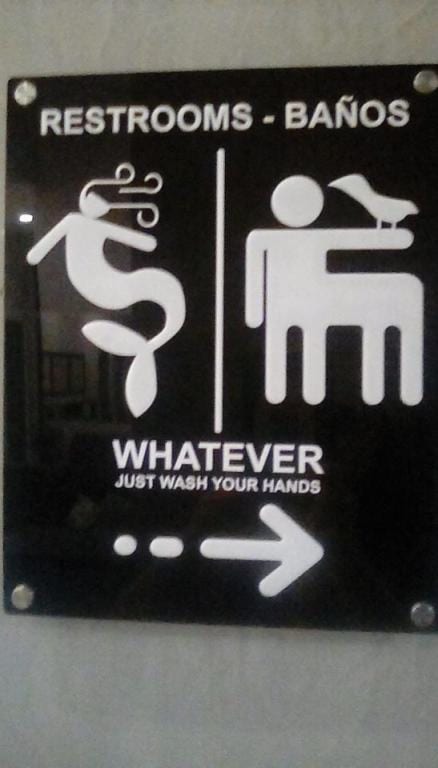 First, let me apologize for not having another piece of that vile treatise on marriage written by the male half of the cultural enforcer duo, and for skipping the last two weeks of Doug Wilson's racist book "Black and Tan." I am having equipment issues on my end involving my nearly new Kindle, and with trying to pull the document off my old dead computer. Next week I hope to be back on a schedule. Today you're stuck with a Doug Wilson bathroom screed. Although I was tempted to do endless screen shots of his pieces of "The Man in the Dark," just to show how ponderous, wordy and silly his romance noveling skills are.
It turns out that the Christian college Wilson is affiliated with, New Saint Andrews College, has posted a new ad video that has stirred up quite the furor in the small town of Moscow, Idaho.
This is where I sigh, roll my eyes, and smack myself in the head because with all the real genuine troubling things going on in our world this is the thing he is worried about. Not murder hornets, or COVID 19, or another possible pandemic emerging from China, or the looming evictions of thousands, to the deaths of hundreds of thousands of people, or the lingering bad health outcomes linked to being teargassed, or the fight for safety by people of color in the hands of law enforcement. He's worried about, to use his word, where you wee wee.
Take a look at the video he is crowing over.
Edited to ad that I just noticed for the first time that the ad is also flipping the metaphorical bird at COVID 19 and CDC guidelines too with the whole "This Fall In Person" thing. Klassy! Here comes COVID to New Saint Andrews in droves!
I would say this video has Doug Wilson's pudgy little word salady fingers all over it save one thing. It is the soul of brevity. But it is his level of grade school sex pun.
Here's what Moscow, Idaho's mayor had to say about this silly clip: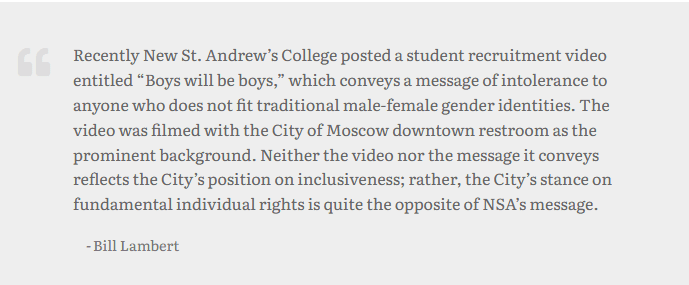 Whoops! Called out for homophobic gender stupidity yet again! That will play out well on the Moscow Chamber of Commerce tourist brochures I am sure.
If there ever was a term that needs to die immediately it's that "Boys will be boys" nonsense. It normalizes aggressive behavior and violence, excusing an entire gender from behaving like a rational polite human being and normalizes gender roles in a negative way. Read more about it from Psychology Today.
"This particular marketing campaign did not just stir up the distaste of some of our local Intoleristas. It has also been widely viewed — the bathroom ad in question, across all platforms, has been viewed over 332K times. What the mayor is doing, by expressing his disapproval of us in this way, is bidding fair to greatly increase the number of people who view that ad.

If the mayor succeeds in making this a national controversy, then a lot more people are going to see the backdrop of that little Hate House that the mayor built, right there on Friendship Square. And they are also going to see that there is a college out there, still operational, where the people running it have not lost their minds. And when you find a college being run by people who have not lost their minds, and I would ask you to follow me closely here, that would probably be a good place for your student to attend."
Doug rambles on and on about the fact that the public restroom used in the ad was built using city funds upon city lands, calling the mayor a hypocrite for not building an all inclusive public restroom. I would like to know where he thinks the LGBTQ crowd has been urinating all these years? They aren't infinitely holding it until they get home, they had been using whichever side of the public restroom fits them at that time!
I'm pissed about that bathroom, but for the same reason I'm always angered at public restrooms. There should be a women's restroom with twice the stalls, twice the size of a men's restroom. Most men urinate at a trough, women must sit. So many times men can zip in and zip out quickly while we're waiting in a long line to do the same thing because of the lack of facilities.
The restroom was built with the male and female designations because that's the traditional design used for literally forever. Can you imagine the hue and cry if they had taken the bold step to do just that? Doug would be out there clutching a protest sign waddling around screeching that they'd violated his rights to pee with manly men, penises on parade! A true Intolerista!
This is really a non-issue in so many ways that the Dougs and the Michelle Duggars of this world make their stand upon. It is surely not as important as seeing people fed, or protecting them against random violence for being a certain gender or race, helping them keep a roof over their heads.
Stay in touch! Like No Longer Quivering on Facebook:
If this is your first time visiting NLQ please read our Welcome page and our Comment Policy! Commenting here means you agree to abide by our policies but our main rule is this – Do not be a dick!
Copyright notice: If you use any content from NLQ, including any of our research or Quoting Quiverfull quotes, please give us credit and a link back to this site. All original content is owned by No Longer Quivering and Patheos.com
Read our hate mail at Jerks 4 Jesus
Watch our goofy rants on YouTube and the bad Biblical advice of Dori Dalexander.
Check out today's NLQ News at NLQ Newspaper
Contact NLQ at Suzanne.calulu@gmail.com