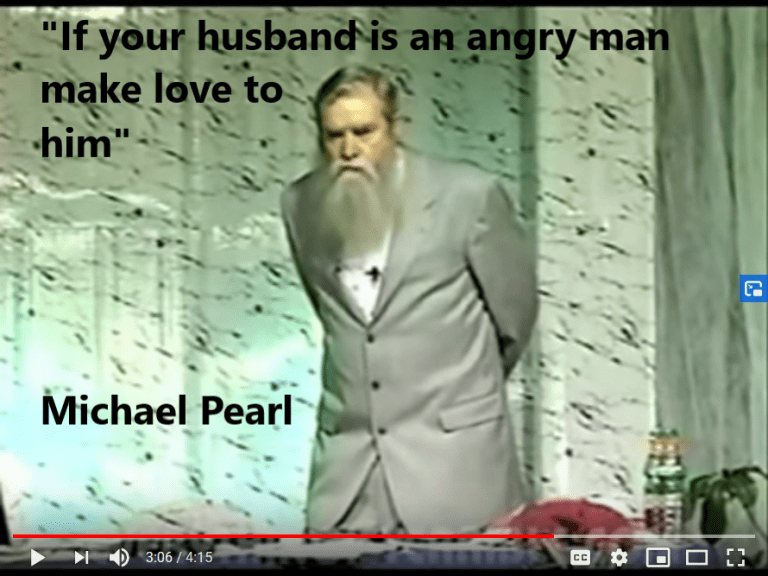 I'm still reading through the July/August No Greater Joy magazine. The very first article is written by Michael Pearl and is one of the most confusing mish mash adventures in hard to understand word saladteering I've seen from him. He's describing what you have to do to be seen as a Christian or not, along with how not to be seen as one. With nary a word on how to really be a Christian.
"Many godless people have positive traits that conceal their impiousness. You can pull off a very good imitation of a strong Christian by doing just three things.
Be known as a hard worker who is a good steward of money and resources.

Make your family your priority, not allowing work or play to rob them of your attention. Be faithful to your spouse in good times and bad.

Be kind and respectful of others, seeking to promote others above self, never indulging in petty gossip."
This sounds like a good person, no matter what type of label you use, Christian, Muslim, Jew, Non Believer, hard core Atheist. This is how decent people conduct their lives. I look at folks like this and think about the scripture in Romans that talks about all men being born with the knowledge of good and evil in them. This is not a bad way to live your life. I'm not sure why Michael is so against it.
"If you exemplify these three traits, people will consider you to be an exemplary Christian. On the side, you can smoke, use drugs, view pornography, swear, sometimes drink excessively, and commit criminal acts in business, but if you don't let those things define you, you can still pull off a good imitation of a Christian."
Ah, so here's the toxic insane word salad, personal choice to take actions Michael thinks are wrong. But Michael never once in this utter twaddle explains how he thinks you should behave, just how not to.
Here's the flip side.
"How to Profess Christianity but Be Known as a Depraved Heathen
Be lazy and poor due to your unwillingness to work or to develop needed skills to meet the demand of the marketplace. Mope around and blame others for not giving you the chance to succeed. Envy successful people and speak ill of their avarice."
Like not actually work and feed your family dented cat food cans and seed corn because you're too busy trying to be a minister without the real education? Or perhaps sit around your trailer without running water and study the Bible? Refusing to work, and wrapping it in the Bible?
"Have interests that rob the family of your best. They can be sports, a hobby like fixing cars or motorcycles, fishing and hunting, or for the less energetic, you can just spend hours in front of the TV or on the computer, indulging your imagination. To make your imitation of a depraved sinner complete, be sure to express displeasure when the wife or children interrupt your endless indulgence. Make your wife unhappy with your lack of romancing and with your disrespect. Be demanding of her and expect to be served. Since you are a professing Christian, remind her of her need to submit. That will complete your image as a heathen."
Spoken like a man who forgets he spent months and months spending all of his free time badly hunting rabbits, bringing the ungutted rotten corpses to his wife to try and cook. His wife admitted a few months ago to at one point having farm raised rabbit meat from the grocery store at ready to cook just to keep her toddler husband from having a meltdown that she could not cook his rotted rabbits.
"Go to church and talk like a Christian most of the time, but be sure to get on social media and make snide remarks that hurt others. Criticize the pastors and other professing Christians for their hypocrisy. Don't express thankfulness or appreciation. Assume everyone owes you something. No one will ever suspect you are a Christian."
Hmm, like giving out advice to beat children, and long rants about any number of things that the Bible does not order. I wish he could see that everything he is describing here as awful are things he himself is guilty of.
Look, everyone has their struggles, their mistakes, their imperfections, yet there is nothing in the Pearl theology that allows for forgiveness, repentance, or pulling yourself up to try again. It's all flaming arrows and hatred.
"Finally, there is a way to appear totally godly and still be deeply depraved: secretly view pornography. God will know who you really are and so will the devil. If no one finds out you just may prove to be the ultimate hypocrite and live your whole life with a reputation as a Christian. On judgment day, everyone else will be too busy rejoicing to miss your presence."
Pornography seems to be a particularly mentioned bugaboo so, so frequently in Pearl World that one must wonder why? Michael's list seems to encompass so many people that no one will be in heaven. But who wants to be in a place populated by smug, self-righteous people? Not me.
I have to wonder what Michael Pearl would make of the situation over at Faithful Word Baptist Church with Steven Anderson. Newest developments in these videos.

The Michael Pearls and Steven Andersons of this world eat their dead, and revictimize the victims while blaming everyone else.
Stay in touch! Like No Longer Quivering on Facebook:
If this is your first time visiting NLQ please read our Welcome page and our Comment Policy! Commenting here means you agree to abide by our policies but our main rule is this – Do not be a dick!
Copyright notice: If you use any content from NLQ, including any of our research or Quoting Quiverfull quotes, please give us credit and a link back to this site. All original content is owned by No Longer Quivering and Patheos.com
Read our hate mail at Jerks 4 Jesus
Watch our goofy rants on YouTube and the bad Biblical advice of Dori Dalexander.
Check out today's NLQ News at NLQ Newspaper
Contact NLQ at Suzanne.calulu@gmail.com