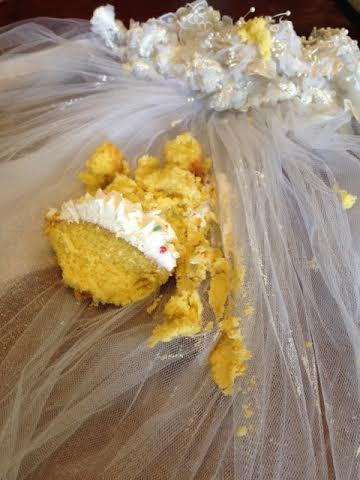 One thing is certain. When you have Quiverfull beliefs unaffiliated with a denomination that is nationwide with oversight you will get crazy church splits, hurt feelings, unfriendings and all sorts of shade thrown. Add in events laden with high emotion and it gets even worse.
Last night I was thinking about this because there has been some odd fallout and behaviors after the Rodrigues Keller wedding on Saturday. Weddings just add all new layers of stress, emotional expectation and heightened sensitivity to things that trigger others. Don't I know that!
Last month I had my own bizarre expectation laden bridezilla experience. The child of a friend whose wedding I'd known was approaching for over a year called me and proceeded to rant. Why? I hadn't returned the RSVP card. In my defense I didn't even know I'd been invited since I was a friend of the parent, not the child.
I tried patiently to explain that there is zero mail between the United States and Costa Rica right now, but she was not having it. The more I tried to explain that the pandemic meant no mail, the angrier the bride became. She demanded to know right then and there if we were attending. I sighed and tried to explain again, pandemic, and likely no flights to the U.S. in August for the wedding, so it was a solid no at that moment.
Of course I understood this was a huge problem for her because she's trying to plan for a wedding and firm up the numbers for the catering company. I am sympathetic to the stresses and things that needed to happen. We're just in a strange time that does not lend itself to things like wedding planning.
She's unfriended me on social media, and I've heard apologies from the parents. A broken relationship over something that is more to blame on a global health crisis than trying to snub anyone.
Yesterday morning something curious emerged from that wedding I referenced in Quiverfull, the wedding of Nurie Rodrigues and Nathan Keller. More curious than Jill's lack of all photos or videos. She that films at the drop of a hat. It was that Jill Rodrigues has suddenly unfriended all of the Duggar family on social media. The same family she's been sucking up to for ages, ever since they first appeared on TLC. She has literally idolized them for years now.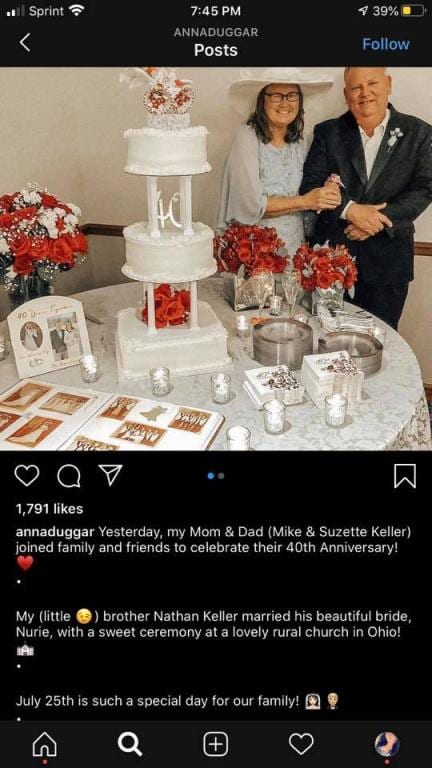 I don't know if it had to do with the Keller's having a anniversary party on the same day as the wedding. Or the fact that Anna Keller Duggar shared photos of the anniversary but not the wedding. If something offensive occurred or was said at the wedding. Perhaps Jim Bob Duggar interfered in some way to keep TLC from filming the wedding. Who knows. Something happened obviously. Jill is as quiet as a church mouse now.
Even more odd on the same day that Jill unfriended the Duggars, the Duggars themselves unfriended all of the Bates family. Again, no earthly idea what happened, but clearly something did. I would not be surprised if it had roots in the wedding somehow is some odd way. People get so easily offended during times of great emotion and large expectations.
The Duggars and the Bates have been almost joined at the hip for ages now. Close friendships. Television shows and large families in common.
I am of the opinion that these types of splits and feuds erupt more often in the confines of high demand churches without state or national leadership. There's no one to insist the participants kiss and make up, no ultimate authority to make everyone play nice. It's every pirate for himself, with fathers set up in petty dictatorship over entire families. When they disagree over minor things it spins into major disagreements that split churches, friendships and sometimes even families. Which is unfortunate.
In general most people learn to function with those they don't totally agree with. Learn to navigate differences without it being a huge rupture. You end up doing this in jobs, in churches and other groups. It's a valuable skill in real life that seems harder to acquire in these continuous times. In QF no one has to pick up that skill because it's split, split, split and 'I'm a thousand times more righteous than thou are!'
What do you think drives these falling outs in high demand churches of Evangelicalism?
Stay in touch! Like No Longer Quivering on Facebook:
If this is your first time visiting NLQ please read our Welcome page and our Comment Policy! Commenting here means you agree to abide by our policies but our main rule is this – Do not be a dick!
Check out today's NLQ News at NLQ Newspaper
Contact NLQ at Suzanne.calulu@gmail.com