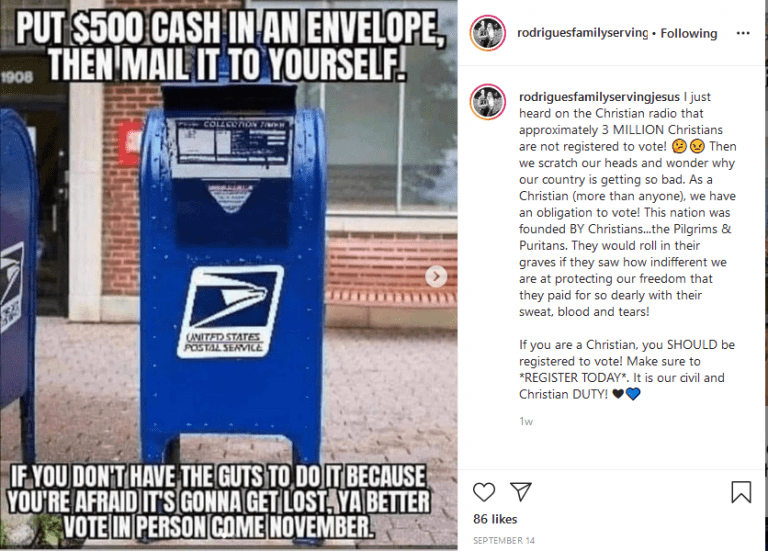 Warning: This is a pure rant coming out of my rage and frustration yesterday. I keep seeing this anti mail voting nonsense out of the Quiverfull Evangelical brigade lining up with everything said by our lying criminal President so desperate to win a second term that he's trying to remove the right to vote by mail. Jill Rodrigues seriously thinks if you cannot walk into a polling place you should be stripped of your rights as a citizen to vote.
It's bad enough we have the Lori Alexanders and others claiming that women should not have the right to vote, even if it's been established law for exactly a hundred years now.
Of all the offensive things Jill Rodrigues has posted online to me this might just be the most offensive. I say most sincerely here SHUT UP JILL!
Why? Well, because we're voting by mail this year, like we have other years when we've lived overseas, first in the military, and now in retirement. This year only it became extremely difficult, what has been routine and easy in other times, including two other presidential elections!
What Jill and Donald Trump are trying to do is pure voter suppression and intimidation, which is a crime in the United States of America. It is obvious why he would be opposed to it because traditionally when there is ease in the process it increases voter turn out.
You know who the Homeland Security agency has stated is also behind the enormous push against absentee balloting? Russia. So Jill is promoting a Russian conspiracy theory, something we used to call treason.
The United States has had a long history of mail in voting, starting back during the Civil War era. It is the way that our brave men and women of the armed services away from home vote. Along with U.S. support staff around the world, working at embassies, and other U.S. government agencies. People working, living and retired overseas use the absentee ballot too.
In previous elections it was a simple process. You phone, drop a postcard or form into the mail, and shortly receive a ballot in plenty of time to fill out and mail back in. That's how it's always worked, with a few exceptions. I remember some friends in the military not receiving their ballots in time back in one presidential election in the 1990s.
This election was different. I had to take a lot of intentional steps to vote. Some may be because of the worldwide COVID 19 crisis. Example, there has been almost no mail between the United States and parts of Costa Rica since March. I have had exactly two pieces of mail myself here in Tamarindo. Only in the capital of San Jose has there been reliable mail service. No regular flights means no mail.
Because I was already somewhat uneasy about this election I'd filled out my vote by mail request forms and mailed them back in February. The form states they will let you know you are good to go, scheduled for a mailed ballot via email. Nothing, no contact at all. I am not sure my elections board even got my forms.
Last month I decided to reach out to my election board through one of the "Vote From Abroad" websites, and I requested a ballot be send via email because of the very limited mail because of COVID 19. I kept waiting and waiting and waiting. The ballot arrived several days ago in my email box.
There was just one problem. It requires us to mail it back to our election board in less than six weeks to be counted. Mail from here when there is no pandemic takes about a two month window if you mail it first class. Normally you are forbidden from sending it back any other way but local first class mail. No courier services like UPS or FedEx.
This and other questions ended up meaning I had contact with my local elections board, the vote abroad people and others. It was hard to get all the questions I had answered about these issues. Delaying my returning the ballot another couple of days, useless stress I'd never encountered before.
What I did find out that is not widely known or disseminated is that overseas this year because of the COVID crisis, the late arrival of the ballots, and the issues of getting them back that for the first time you are allowed to use courier services, or you can get them to the Embassy in San Jose where they will be transported to the United States and mailed to the various election boards. You're allowed to put more than one ballot in the envelope, important for us because it meant that instead of paying two $40 express mail fees we could put both in one envelope and pay the once.
I have to thank Vote From Abroad and their tireless volunteers that helped out with my questions. They helped me figure out the best way to proceed in this very continuous confusing time. I thought it was interesting that one of the volunteers that reached out to me is a retired U.S. Ambassador.
A Shout Out to the Costa Rican postal service – the Correo and my favorite postmaster Jeanetta that got me set up with express mail to arrive in two weeks. The government here was even set up to issue U.S.P.S tracking numbers for all ballots sent back to the United States.
Funny how I don't know the religious faith of any of those people that helped me with this difficult stressful voting. But I do of the people dedicated to helping the President commit election crimes. I have two words for Jill Rodrigues for helping make this difficult and stressful and they aren't "Thank you" or "Happy Autumn".
Everybody please vote! We're in the fight of our lives for democracy. The way this administration has gone after voting rights should scare all of us.
Feed your kids, Jill, feed them real bread.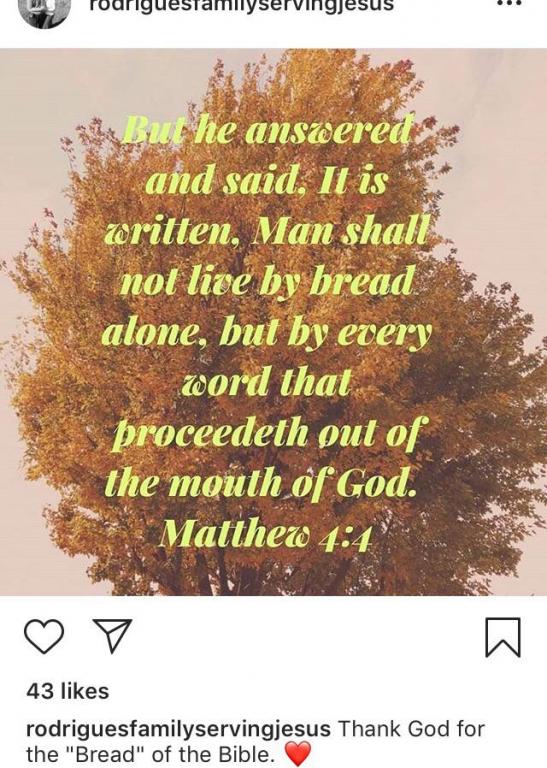 ~~~~~~~~~
Stay in touch! Like No Longer Quivering on Facebook:
If this is your first time visiting NLQ please read our Welcome page and our Comment Policy! Commenting here means you agree to abide by our policies but our main rule is this – Do not be a dick!
Copyright notice: If you use any content from NLQ, including any of our research or Quoting Quiverfull quotes, please give us credit and a link back to this site. All original content is owned by No Longer Quivering and Patheos.com
Watch our goofy rants on YouTube and the bad Biblical advice of Dori Dalexander.
Check out today's NLQ News at NLQ Newspaper
Contact NLQ at Suzanne.calulu@gmail.com