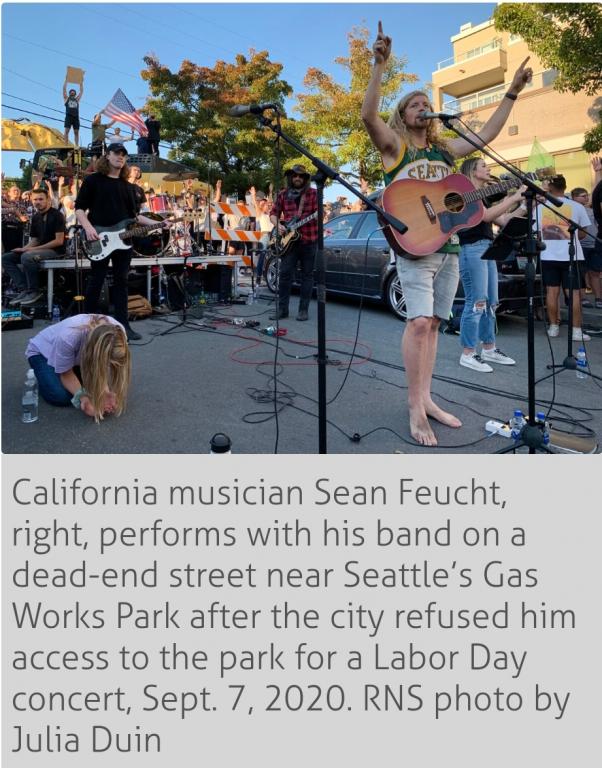 Remember last week when I wrote about Bethel Redding's Sean Feucht and the endless "Summer/Autumn of the Plague Rat Tour"? A sort of combination worship defiance / good Christian martyrbating / performative Christianity ego-linked /swipe at Black Lives Matter.
Finally people that identify as Christian are waking up to say that this is just not right. It's not what Jesus would do. There's nothing 'Biblical' about it. It's all ego boosting clap trap. One of whom is Christian writer D.L. Mayfield.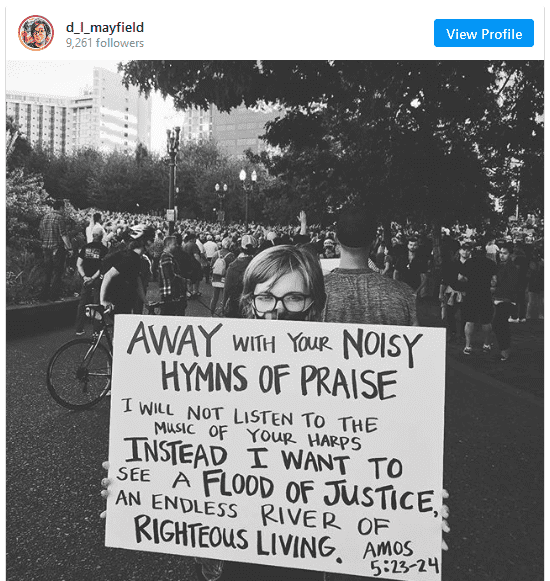 Here's what she said under her protest sign.
I think @jarrodmckenna said it best: when Christian songs are the heartbeat of your oppressive political regime, it's time to rethink some things.

Last night me and my husband and my younger sister went downtown to counter protest @seanfeucht and his "riots to revivals" gathering. He is someone who profits off of saying places like Portland are dark and in need of the light they bring. We wanted to honor the struggle/movement for Black lives that had been taking place downtown for the past few months. I personally also wanted to go and confuse the heck out of people and interrupt some live-streams with my Christian signs.

I should have been mentally prepared, but it really was awful. Seeing a thousand Christians packed together without masks, singing triumphalistic worship songs I know every word to, on land that was stolen long ago and right now bears witness to people crying out for justice and getting brutalized by local and federal police night after night. Proud boys were hassling us. Angry men and women without masks on tried to argue and shout at us almost the entire time. It felt like being in a very bad dream.

There is a lot of talk about Christian unity from certain spaces right now. But what does that mean? Does that mean screaming and shouting down voices that say Black Lives Matter? Does that mean ignoring the cries of the marginalized? Does that mean calling entire cities like Portland demonic because the people are daring to dream of another world?

I have to tell you I'm not ok today. I want to be very honest right now and say the god that all of these people were singing to feels like a stranger to me. I am sitting in that loneliness today. And I am grateful for the witness of Christians outside of my small community who have saved and restored my soul.
And Mayfield is not the only one to say these things. Many others are finally waking up to the fact that this is not the loving others behavior that Jesus preached. It's more silly performative Christianity that seeks to promote self. It's extra disgusting in the time of a worldwide pandemic when so many people have died and are in the process of dying. Serious times where we need to love our neighbors by protecting them from catching the Coronavirus.
~~~~~~~~~
And now a word to Sean's followers, those who love Bethel, and hate Black Lives Matter. Alright. You've made your nasty views known to me on YouTube, here, my personal Facebook, on Twitter and other places.
Yes, I know Bethel and their theology well. Fifteen years in a church affiliated with Bethel tends to give one an education in what they believe. Please stop with the claims I'm defaming the church. Bethel's media people need to stop with the emails to me and my editor. It's never happening, I'll never allow you to spin what you believe here.
Black Lives Matter – this is the other thing you people are losing your minds over. Another point I will never waver on. In February 2012 one of the members of the worship team I was on was gunned down in broad daylight in the parking lot of a school by a cop. Her crime? Refusing to show her drivers license to law enforcement on a 'prowler' call. He shot her five times in the back as she drove away. That's after shooting her twice in face. Over a license! A 90 pound lady with mental health and substance abuse issues.
Since that time I have been all in on the issue of police brutality and law enforcement reform. It needs to happen. People are dying at the hands of law enforcement. I'm not a fan of Joel Osteen, but I do love that he marched with Black Lives Matter in Houston, Texas
Trying to excoriate me over this issue is you beating a dead horse. Will never happen. Plus I believe your Jesus had a thing or two to say about justice and mercy. So knock it off! I'll keep blocking/banning you guys and removing your very nasty curse word laden personal insult postings. Such wonderful believers you all are! Who would Jesus cuss out?
~~~~~~~~~
Stay in touch! Like No Longer Quivering on Facebook:
If this is your first time visiting NLQ please read our Welcome page and our Comment Policy! Commenting here means you agree to abide by our policies but our main rule is this – Do not be a dick!
Copyright notice: If you use any content from NLQ, including any of our research or Quoting Quiverfull quotes, please give us credit and a link back to this site. All original content is owned by No Longer Quivering and Patheos.com
Watch our goofy rants on YouTube and the bad Biblical advice of Dori Dalexander.
Check out today's NLQ News at NLQ Newspaper
Contact NLQ at Suzanne.calulu@gmail.com