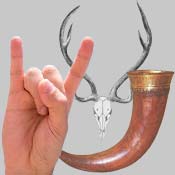 It's been a good year at Raise the Horns. I had over 225,000 unique visitors this turn of the Wheel which I think is rather impressive for one little blog written (mostly) by one little blonde haired guy. So thank you all who are regular readers. Extra thanks to those of you who comment and/or share articles in social media. If you love Pagan blogs support Pagan blogs! It's probably too much to hope that anyone would ever leave me ten bucks or whatever, but sharing stuff doesn't cost a dime and really makes a difference. Most of us who write consistently at spots like Patheos Pagan (and Witches and Pagans and now Polytheism.com) work very hard at it . . . .
. . . . and it's surprisingly more difficult than it looks. There aren't a whole lot of folks out there who write two or three (or more) substantial articles a week, even at Patheos Pagan that list is very short. I've seen a lot of great bloggers burn out after just a few months, that I've been keeping this going for several years now is something I'm justifiably proud of. (Now if I could just improve my writing!) I wrote over 100 articles this year . . . . wow, I need some hobbies.
So anyways here are the most popular posts from a great 2014 along with my favorite articles and a few other random insights into the Pagan Blogosphere. Thank you all so much for reading.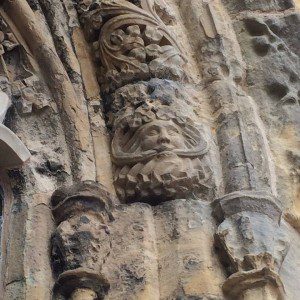 Pagans Really Like Reading About Christianity . . . . . .
I'm not exactly sure what this means but the majority of the most read stuff at RtH published this year included Jesus or a Christian holiday. In my wildest dreams my most read posts deal strictly with "Pagan stuff" but there seems to be a real push in the broader Pagan Community to read things that compare Paganism with Christianity. I think some of this is because there are people who want to see Christianity taken down a peg, and some of it, well I just don't know what.
Jesus and the Pagan Gods was my most read post published in 2014. I think it's a good article in that it's not the recycled (and untrue) Jesus=Horus type of stuff you see on a lot of Pagan blogs. However if you read the comments section it's obvious that a lot of people didn't agree with my analysis (even though I stand by it).
I sometimes worry that Raise the Horns is on its way to becoming the BuzzFeed of Modern Paganism especially when I post things like Easter Myths. Factually the article is fine, but there are no footnotes and it's written in a devil-may-care sort of style. It could certainly use a lot more depth, however if there were more depth it probably wouldn't have been read as much.
There are some in the Pagan Blogosphere who think of me as "the holiday guy" and that's not too far off. When I started this blog I always knew I'd write about holidays, but I didn't know I would write about it as much as I have. To some extent I write to be read, and if people didn't read this blog I'd spend less time with it so I like that people enjoy stuff like 4 Things People Say at Christmas (That Are Most Likely Wrong). I do sometimes wish I didn't have to write such things though . . . the amount of bad information out there is staggering.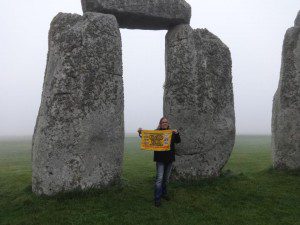 . . . . But I Like It Better When They Read the Pagan Stuff
Finally a completely "Pagan article" shows up on this list. I wrote Maybe Wicca Is Not a Fertility Religion? for the Has Pagan Environmentalism Failed? discussion here at Patheos Pagan. It ended up not really fitting in there so it became its own thing. I don't think we wrestle enough with origins sometimes, and this was really a case of me wrestling with origins.
I've written about the history of Halloween before, but until this year I had never focused solely on Samhain. I think we have a lot of preconceived ideas about just how much ancient Samhain information is out there, and truth be told, there really isn't very much. Samhain Past: History, Myth, and Mystery was my attempt to figure out just how much we really know. This is the kind of article that makes me smile ear to ear when it gets read by a large audience. It's not argumentative, it's not buzzfeedy, it's just information aimed at Pagans by a Pagan. Having an article like this read by a large audience is why I write.
Sometimes I'm not sure people read articles in the blogosphere as much as they react to them. I tried very hard not to write contentious or argumentative things this year, but there are also people who seem to be looking for arguments. No where was this more apparent than in 10 Important Traditional Witches, an article written to highlight Witches of note that I find interesting. Much of the reaction to it centered on my definition of "Traditional Witches" a term I took pains to define in the article's introduction:
What is a Traditional Witch? Opinions vary. For the purposes of this article a Traditional Witch is either a lineaged practitioner from an established tradition (like an Alexandrian) or a follower of a family or village tradition. No matter what definition of "Traditional Witch" one uses, direct face to face teaching is generally a part of it. For some Traditionalists the Craft is both a spiritual and magical path, for others it might just be a magical system. A lot of very familiar names are not present in this article, and that's because I wrote about individuals like Doreen Valiente, Alex Sanders, and many others last year.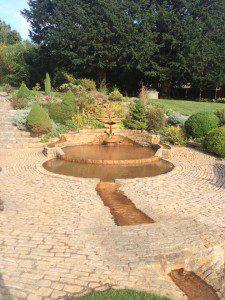 I like "big definitions" so to speak. My definition of the word Pagan is broad and expansive, my definitions of Witch and Wicca are too. That my definition of Traditional Witchcraft included (gasp!) Gardnerians and Alexandrians resulted in a lot of comments and backroom chatter in Facebook groups and other online spots. Sometimes the people defining Traditional Witchcraft used a definition of "not Gardnerian and people we simply disagree with." In my article I took every Witch at face value, if they said they were initiated by someone that was good enough for me. Why I'm supposed to discount Laurie Cabot's initiation story and then believe a similar story from a person I don't know was never explained to me.
My Most Read Articles Were Not My Favorite Articles . . . . .
John Beckett at Under the Ancient Oaks recently wrote an article about some of his favorite things at Patheos Pagan this past year. I was flattered to be on the list, but wasn't particularly happy with what he chose to highlight. I did a series this summer called Pagan Timecapsule that looked at the books, music, and movies that defined Modern Paganism (in a very broad sense) the last sixty years or so. It was fine for what it was, but it didn't really represent my best work.
The articles I was most proud of this year touched on much smaller bits of history, stuff that's often overlooked. A (Pagan) Wind in the Willows is my favorite piece of writing this year, probably because I just love the book so much. Nothing captures the spirit of Paganism like Grahame's Piper at the Gates of Dawn chapter from that book.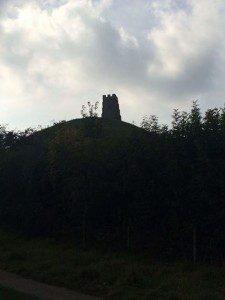 I'm not a big one for "what might have beens" but how different would the Pagan landscape look today if groups like The Order of Woodcraft Chivalry had retained their very Pagan-bent back in the 1920's? I didn't expect Paganism and the Boy Scouts to set any page-view records but that several thousand of you read it makes me very happy.
I'm not a social justice writer nor am I a philosopher. I write about Paganisms, past and present, and when I can combine a little bit of history with some practical knowledge I feel as if I've really succeeded as a blogger. This year's Witches Toolbox series featuring the athame (soon to be a whole book!) and the Book of Shadows were two articles I was very proud of. In a similar vein All About Witch Bottles included some great build your own stuff along with solid history.
Writing here at Patheos Pagan and for all of you has been one of the most rewarding experiences of my life. I appreciate the feedback, the comments (good and bad!) and the friendships I've made here. On any given day this is one of the ten most read Pagan blogs in the world and for that I am very grateful. Thanks for a great 2014 and here's to even bigger things in 2015!