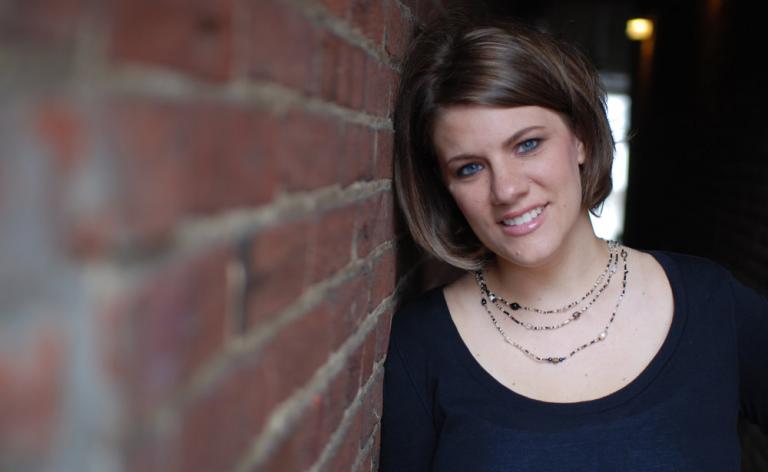 Rachel Held Evans died Saturday morning after experiencing seizures as a reaction to antibiotics. She was 37. For the last few days, doctors had been trying to stabilize her situation. She leaves behind a husband, Dan, who had been providing updates on her condition, and two children, ages 3 and 1. There is a GoFundMe campaign here to help support her family.
I met Rachel at the first WhyChristian? conference in Minneapolis in 2015. She co-created WhyChristian? with my friend Nadia Bolz-Weber and it is a good example of what she was about in the Christian world. Nadia and Rachel would pop onstage here and there, but the sole purpose of the conference was for these best-selling female Christian writers to use their platforms to lift up other female Christian writers.
It's hard to overstate the influence of Rachel Held Evans' generous spirit and talents on Christian culture today. As a pioneering faith blogger and then through a series of memoirs, we followed her personal journey from conservative evangelical to progressive evangelical to Episcopalian. Her NY Times bestseller A Year of Biblical Womanhood (Thomas Nelson, 2012) threw down the gauntlet. With humor and self-deprecation, she took the reader through what it would actually mean for a modern woman to live by strict biblical principles, including complementarianism. I was most moved by her more recent book, Searching for Sunday, and not because it has a section devoted to my church, St. Lydia's, but because it speaks the seeker's journey in her accessible personal style, yet focuses not on herself but on lifting up others. Her 2018 title, Inspired: Slaying Giants, Walking on Water, and Loving the Bible Again, is sitting on my nightstand waiting to be read. I'm not sure when I'll be ready to do that now. There will obviously be a flood of personal testimonials coming from writers and friends who've been touched by Rachel's kindness, her message and her gifts. RIP, Rachel Held Evans.
Here are some links:
The Legacy of Rachel Held Evans BY Chris Gehrz, Kristin Du Mez and Beth Allison Barr — Patheos
Unlikely Pulpits: The Legacy of Rachel Held Evans BY ERIN WATHEN — Patheos
Remembering a woman of valor: 4 gifts Rachel Held Evans gave us By Katelyn Beaty — Religion News Service
Rachel Held Evans, Hero to Christian Misfits BY EMMA GREEN — The Atlantic
The Radically Inclusive Christianity of Rachel Held Evans By Eliza Griswold — The New Yorker
Rachel Held Evans and the Democratization of Theology BY MORGAN GUYTON — Patheos
Carry on BY FRED CLARK — Patheos
RIP Rachel Held Evans, Eshet Chayil BY JAMES F. MCGRATH — Patheos
Grieving and Celebrating Rachel Held Evans By Becky Castle Miller (in Jesus Creed) — Patheos
Rachel Held Evans: A Remembrance BY DAVID C. CRAMER — Patheos
Rachel Held Evans, progressive Christian author who challenged evangelicals, dies at 37 By Sarah Pulliam Bailey — Washington Post
How Rachel Held Evans Taught Me to Color Outside the Lines BY CARA MEREDITH — Patheos
Daddy, Is Your Friend Going To Come Back Alive Again? BY ZACK HUNT — Patheos
Progressive Christian Author Rachel Held Evans Has Died at 37 BY HEMANT MEHTA — Patheos
In Honor of Rachel Held Evans BY VANCE MORGAN — Patheos
Rachel Held Evans is with Jesus BY ADRIAN WARNOCK — Patheos
The Case of Henri Nouwen, Rachel Held Evans, and Vincent Van Gogh BY CASEY TYGRETT — Patheos
Here is some bio material from the Patheos library:
Rachel Held Evans (b. June 8, 1981) is a prominent progressive Christian writer.
After majoring in English Literature at Bryan College, a Christian liberal arts college in Dayton, Tennessee, Evans became a columnist and humor writer for the Dayton Herald-News. In 2008 she started a blog and sold her first book Evolving in Monkey Town (later renamed Faith Unraveled) to Christian publisher Zondervan. The book follows her personal journey from doctrinaire religious faith to one more accepting of questioning and doubt. The New York Times Bestseller A Year of Biblical Womanhood (Thomas Nelson, 2012) follows Evans as she attempts to live one full year according to strict biblical principles. Her latest book is Searching for Sunday (Nelson, 2015).
Despite identifying with evangelical Christianity for most of her life, Evans has courted controversy among evangelicals by supporting LGBT rights, accepting evolution, and questioning the doctrine of hell. But she also raised hackles in her progressive audience by announcing in 2016 that she is "pro-life."
Evans has been dismissed by some prominent evangelical voices for criticizing theology or church doctrine without benefit of a degree in theology or ministerial experience. She has countered that this is largely motivated by the "threat to authority" represented by bloggers and other unorthodox outside voices to the traditional power structures of the church.