On Excommunicating Nancy Pelosi and Other Christians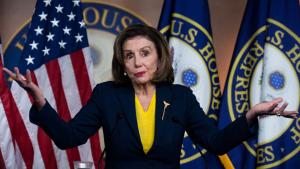 May 21 was an important day. It's the day San Francisco's Archbishop Salvatore Cordileone excommunicated Nancy Pelosi, Speaker of the U.S. House of Representatives. One Christian told another Christian to stop sharing the body and blood of Jesus Christ at the communion rail.
I grieve. I feel like I just witnessed the Body of Christ take an ecclesiastical cleaver and cut off a finger. Is this necessary?
I have a dream. I dream that at the Lord's table pro-choice and pro-life Christians kneel side by side to receive the body and blood of the one Jesus Christ. God's eucharistic grace is not dependent on whether we get out politics right.
This is an exercise in public theology. Curiously, the Eucharist within the church has become a matter of public concern beyond the church. It's a moment when the public theologian should think through a theological matter with both the church and the wider public for the sake of the common good.
Archbishop Cordileone's Letters Regarding Nancy Pelosi
Just what did the good archbishop say? He wrote two letters. One to Nancy Pelosi. Another "Letter to the Faithful on the Notification Sent to Nancy Pelosi." Let's read somebody else's mail.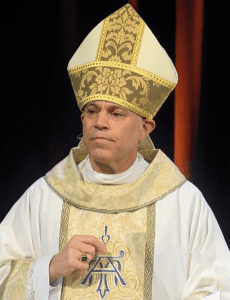 Archbishop Cordileone opens his letters by citing popes. Why? This rhetoric is called self-justification. The archbishop wants to position himself with tradition, authority, and orthodoxy. After all, he represents orthodoxy in doctrine and morality.
Then, Archbishop Cordileone places himself in a difficult position. Our poor archbishop! He's in a difficult position. This elicits our sympathy. He says he wrestled in his conscience over the issue of abortion. He tells us he has been inundated with mail from faithful Roman Catholics who are calling for him to discipline Speaker Pelosi. What is our poor archbishop to do?
"I have received letters from very many of you over the years expressing distress over the scandal being caused by such Catholics in public life who promote such grievously evil practices as abortion."
So, reluctantly, the archbishop needs to wield the dogmatic sledgehammer.
"A Catholic legislator who supports procured abortion, after knowing the teaching of the Church, commits a manifestly grave sin which is a cause of most serious scandal to others. Therefore, universal Church law provides that such persons "are not to be admitted to Holy Communion" (Code of Canon Law, can. 915)."
Therefore, the poor archbishop has no choice but to excommunicate, to ban Nancy Pelosi from the eucharist.
"Should you [Nancy Pelosi] not publicly repudiate your advocacy for abortion "rights" or else refrain from referring to your Catholic faith in public and receiving Holy Communion, I would have no choice but to make a declaration, in keeping with canon 915, that you are not to be admitted to Holy Communion."
What is the result? The result is that we witness a church fellowship riven over the public dispute regarding abortion rights.
Now, dear reader, I suspect you hold an opinion regarding whether one should support "choice" or "right to life." Please suspend that opinion for a moment. Concentrate on this concern: should the church be divided over this dispute? Should the Body of Christ amputate its limbs? Should evil speakers be denied the bread and the wine?
Imagine this. Imagine two communicants kneeling at the communion rail, one on each side of you. To your left, Nancy Pelosi. To your right, Archbishop Salvatore Cordileone. This is a vision that I treasure. It is this vision that anticipates the eschatological banquet wherein all will be in all.
Amputating the One Body of Christ?
We Christians are in the habit of amputating the limbs of the One Body of Jesus Christ.
For just as the body is one and has many members, and all the members of the body, though many, are one body, so it is with Christ. For in the one Spirit we were all baptized into one body—Jews or Greeks, slaves or free—and we were all made to drink of one Spirit. (1 Corinthians 12:12-13)
When we excommunicate a person, is this a form of amputation?
Did Jesus amputate Judas Iscariot?
Even though Jesus knew in advance that Judas Iscariot would betray him, Jesus still shared the bread and wine with his betrayer. Is this a model for us?
No, says evangelical cum fundamentalist Franklin Graham. Why is Nancy Pelosi like Judas Iscariot, according to Franklin Graham? For her stand on abortion rights? No. For her stand against Donald Trump on the January 6, 2021 insurrection. If Franklin Graham were to kneel at the communion rail, would he want the U.S. House Speaker next to him? Not likely.
Accepting the Likes of Nancy Pelosi at the Lutheran Communion Rail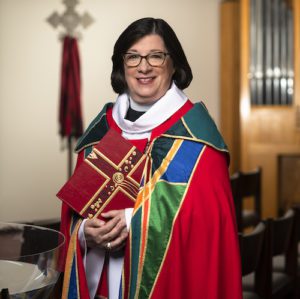 Let's look at the Lutherans. Presiding Bishop of the Evangelical Lutheran Church in America (ELCA), Elizabeth Eaton, interprets Christian morality quite differently from Archbishop Salvatore Cordileone. Bishop Eaton issued her own pastoral letter, "A pastoral message on abortion," addressed to the church and to the nation. "This church's social teaching states that abortion must be legal, regulated and accessible."
So, let's ask: would Lutheran bishop Eaton be welcome at Archbishop Cordileone's communion rail? After all, her position on abortion rights looks similar to that of Nancy Pelosi. And, of course, Martin Luther was excommunicated centuries ago. Would these considerations apply to Bishop Eaton as well? On second thought, let's not ask.
Still, we want to ask: would Nancy Pelosi and persons of conscience like her be welcome at the Lord's Table in a Lutheran Church? Yes, indeed. No amputation of the Body of Christ here.
But, we ask further: what about those conscientious Christians who are pro-life? Would they be welcome at the Lutheran communion rail too? Or, would they be amputated like Nancy Pelosi? But, of course, for holding the opposite position on abortion rights? My head is beginning to spin.
The Invisible versus the Visible Church
Let's turn from the metaphor of the body to that of the invisible church. Nancy Pelosi belongs to the visible church. The invisible church too?
Suppose we borrow the Calvinist term, "evil speaker," and apply it to Nancy Pelosi. She speaks evil, allegedly, because she publicly defends choice in abortion rights. What does this do to our ecclesiology?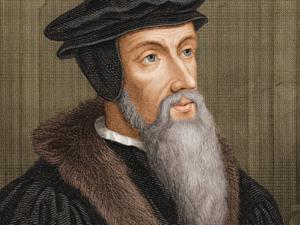 Now, just what is the church again? The church of Jesus Christ is present where God's Word is proclaimed, and the sacraments are shared. John Calvin says it rightly. "Wherever we see the Word of God purely preached and heard, and the sacraments administered according to Christ's institution, there, it is not to be doubted, a church of God exists." (Calvin 1960, IV.i.9)
But, we fear, what if someone shows up at the communion rail who should not be there? Then, the Calvinists among us appeal to the distinction between the invisible church and the visible church. When we see a mixture of saints and sinners at the communion rail, we see the visible church. But, this is a delusion. The invisible church constitutes only a portion of the visible church.
Should we from time to time purge the church? Should we cleanse the church? Should we make the visible church conform to the invisible church? Calvin seems to think so. Let's hold a tribunal!
"Holy scripture speaks of the church in two ways [the invisible and visible. In the visible] church are mingled many hypocrites who have nothing of Christ but the name and outward appearance. There are very many ambitious, greedy, envious persons, evil speakers, and some of quite unclean life. Such are to be tolerated for a time either because they cannot be convicted by a competent tribunal or because a thorough discipline does not always flourish as it ought." (Calvin 1960, IV.i.7)
In the centuries that followed the Reformation, strict Calvinists fell into the orthodox doctrinal camp. Today, we use the term, evangelical, for this camp. It includes conservatives and fundamentalists. The doctrinal teaching is the same for both conservatives and fundamentalists. The difference? The fundamentalists militantly purge the visible church of its evil speakers into order to distinguish the invisible church.
Might we think of Archbishop Cordileone as purging the visible church of its "evil speakers" so that only the invisible church is present at the communion rail? If so, then let's amputate the evil speakers!
Harry Emerson Fosdick at 100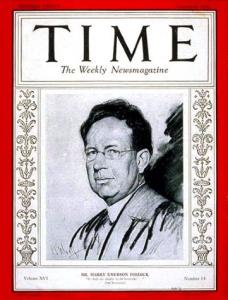 Let's go back one century to the day. That's the day when Baptist Harry Emerson Fosdick in the pulpit of First Presbyterian Church in New York City rallied modernist and liberal Protestants with the trumpet charge, "Shall the Fundamentalists Win?" That day was May 21, 1922.
Was there a fundamentalist counterattack? Oh, yes. Two weeks later, a counterattack was let by Presbyterian Clarence Edward Macartney in his sermon, "Shall Unbelief Win?" Macartney refuted Fosdick point by point. Macartney eventually filed charges to oust Fosdick from the Presbytery.
This is a bit curious. Fosdick was not even a Presbyterian. He was a Baptist. Be that as it may, excommunication in various forms became the cleaver for church amputation by fundamentalist Protestants. The Fundamentalist-Modernist Controversy roared through the 1920s like a California fire with as much color as damage.
Fosdick did not want to see the Body of Christ amputated. He sought to maintain communion despite differing opinions. Christ unites even when politics, moral judgment, and a theological doctrine divide.
"In such an hour, delicate and dangerous, when feelings are bound to run high, I plead this morning the cause of magnanimity and liberality and tolerance of spirit…. Cantankerousness is worse than heterodoxy. There are many opinions in the field of modern controversy concerning which I am not sure whether they are right or wrong, but there is one thing I am sure of: courtesy and kindliness and tolerance and humility and fairness are right. Opinions may be mistaken; love never is."
 From 1922 to 2022
Fosdick was not in a Roman Catholic setting. It was a Protestant setting. It was specifically a Calvinist setting. Yet, those defending orthodoxy—the Fundamentalists–aimed to excommunicate liberal heterodoxy. The One Body of Jesus Christ was about to suffer from an amputation. The Fundamentalist-Modernist controversy roared through the 1920s. Like a fire out of control, this controversy still roars in North America.
A century later, the blazing canyon between progressive or liberal Christians and evangelicals or fundamentalists in America is deeper and wider. But, our ancestors would not be able to recognize what fuels the fire. Today you know whether you're a liberal or an evangelical by these criteria:
Do you watch Fox News?
Do you support single-sex marriage?
Do you support the right to choose?
Do you oppose Critical Race Theory?
Do you want Donald Trump in the White House?
Can you imagine a communion rail where only Donald Trump supporters kneel with open hands?
The passing of a century has witnessed the replacement of theological differences with political differences. Are we better off?
 Conclusion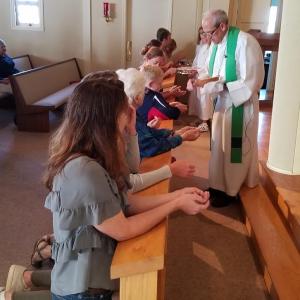 "Let's not weaponize the eucharist," advises Fr. Matthew Schneider. Good advice.
When I find consolation in the biblical promises, I imagine a communion rail where Archbishop Cordileone kneels at my left and Nancy Pelosi at my right. Where Harry Emerson Fosdick kneels at my left and Clarence Macartney to my right.
Imagining this, I can only repeat once again the stirring words of Harry Emerson Fosdick.
"In such an hour, delicate and dangerous, when feelings are bound to run high, I plead this morning the cause of magnanimity and liberality and tolerance of spirit….Cantankerousness is worse than heterodoxy. There are many opinions in the field of modern controversy concerning which I am not sure whether they are right or wrong, but there is one thing I am sure of: courtesy and kindliness and tolerance and humility and fairness are right. Opinions may be mistaken; love never is."
▓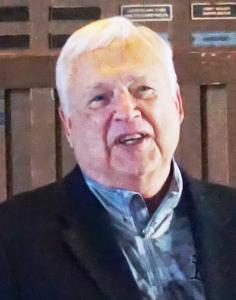 Ted Peters is a Lutheran pastor and emeritus seminary professor. He is author of Short Prayers  and The Cosmic Self. His one volume systematic theology is now in its 3rd edition, God—The World's Future (Fortress 2015). His book, God in Cosmic History, traces the rise of the Axial religions 2500 years ago. He has undertaken a thorough examination of the sin-and-grace dialectic in two works, Sin: Radical Evil in Soul and Society (Eerdmans 1994) and Sin Boldly! (Fortress 2015). Watch for his forthcoming, The Voice of Christian Public Theology (ATF 2022). See his website: TedsTimelyTake.com.
Ted Peters' fictional series of espionage thrillers features Leona Foxx, a hybrid woman who is both a spy and a parish pastor.
▓
Works Cited
Calvin, John. Institutes of the Christian Religion, 2 Volumes. Louisville KY: Westminster John Knox, 1960.