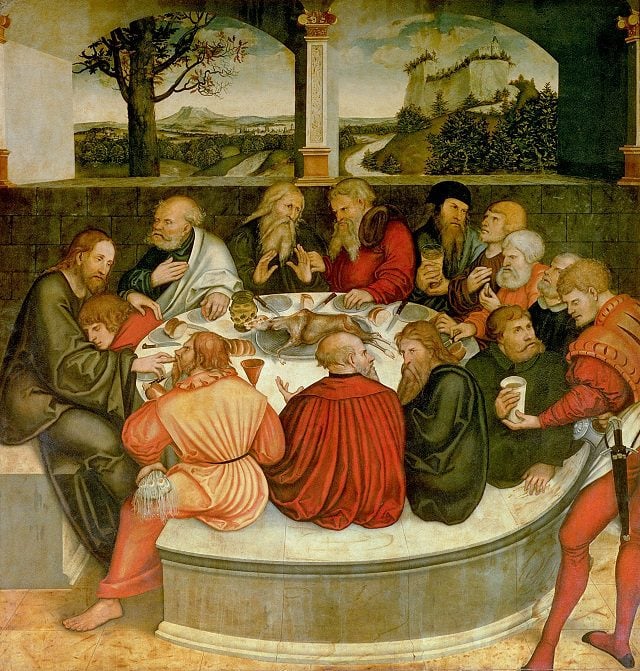 ***
From my 2004 book, The Catholic Verses: 95 Bible Passages That Confound Protestants [two alternate renderings of Luther quotations used]
***
. . . [Martin Luther] believed in the Real Presence, although he denied transubstantiation and rejected the Sacrifice of the Mass. Luther (according to his nominalistic, anti-Scholastic leanings) didn't want to speculate about metaphysics and how the bread and wine became the Body and Blood of Christ. He simply believed in the miracles of the literal presence of Jesus' Body and Blood "alongside" the bread and wine (consubstantiation). In this respect, his position was similar to the Eastern Orthodox one.
*****
I have often enough asserted that I do not argue whether the wine remains wine or not. It is enough for me that Christ's blood is present; let it be with the wine as God wills. Sooner than have mere wine with the fanatics, I would agree with the pope that there is only blood. (Confession Concerning Christ's Supper, 1528, Luther's Works [henceforth, "LW"], Vol. 37, 317) 

[T]he glory of our God is precisely that for our sakes he comes down to the very depths, into human flesh, into the bread, into our mouth, our heart, our bosom . . . (This is My Body, 1527, LW, Vol. 37, 72)
Protestantism's founders vary in their interpretation of this verse and in their Eucharistic theology. John Calvin's "mystical" view of the Eucharist is complex and not quickly summarized or refuted. Ulrich Zwingli (the Protestant "Reformer" of Zurich) held to a symbolic view, on the other hand, which seems to have prevailed among many evangelical Protestants today. We shall concentrate on the exegetical and logical weakness of Zwingli's arguments in this chapter. He wrote about this passage:
In the words: "This is my body," the word "this" means the bread, and the word "body" the body which is put to death for us. Therefore the word "is" cannot be taken literally, for the bread is not the body and cannot be . . . "This is my body," means, "The bread signifies my body," or "is a figure of my body." (On the Lord's Supper, 1526; in Bromiley, 225)
Yet Martin Luther refutes this line of thinking, using the very same scriptures:
[T]his word of Luke and Paul is clearer than sunlight and more overpowering than thunder. First, no one can deny that he speaks of the cup, since he says, "This is the cup." Secondly, he calls it the cup of the new testament. This is overwhelming, for it could not be a new testament by means and on account of wine alone.  (Against the Heavenly Prophets in the Matter of Images and Sacraments, 1525; LW, Vol. 40, 217)
In that same work, Luther makes a fascinating argument that a purely symbolic Eucharist turns the sacrament into a futile work of man rather than a grace and blessing from God:
He thinks one does not see that out of the word of Christ he makes a pure commandment and law which accomplishes nothing more than to tell and bid us to remember and acknowledge him. Furthermore, he makes this acknowledgment nothing else than a work that we do, while we receive nothing else than bread and wine.  (Against the Heavenly Prophets in the Matter of Images and Sacraments, 1525; LW, Vol. 40, 206)
Martin Luther rebukes the symbolic view of the Eucharist, held by most evangelicals today:
[S]ince we are confronted by God's words, "This is my body" – distinct, clear, common, definite words, which certainly are no trope, either in Scripture or in any language – we must embrace them with faith . . . not as hairsplitting sophistry dictates but as God says them for us, we must repeat these words after him and hold to them. (Confession Concerning Christ's Supper, 1528; in Althaus, 390)
[John 6]
Zwingli offers us an example of early Protestant "symbolist" reasoning:
There can be no doubt that only the spirit can give life to the soul. For how could the physical flesh either nourish or give life to the soul?

. . . with his own words Christ teaches us that everything which he says concerning the eating of flesh or bread has to be understood in terms of believing . . . . this passage tells us that the carnal eating of Christ's flesh and blood profiteth nothing, and you have introduced such a carnal eating into the sacrament . . . (On the Lord's Supper, 1526; in Bromiley, 206-207, 210-211)
Martin Luther, however, expounded the text otherwise. Preaching on John 6, he stated:
All right! There we have it! This is clear, plain, and unconcealed: "I am speaking of My flesh and blood."

. . . There we have the flat statement which cannot be interpreted in any other way than that there is no life, but death alone, apart from His flesh and blood if these are neglected or despised. How is it possible to distort this text? . . . You must note these words and this text with the utmost diligence . . . It can neither speciously be interpreted nor avoided and evaded. (Sermons on the Gospel of St. John: Chapters 6-8, 1532; LW, Vol. 23, 133-135)
Luther's eucharistic theology was not identical to Catholic theology, but it was far closer than to the symbolic view. To reiterate: he thought that Jesus' Body and Blood were present "alongside" the bread and wine (consubstantiation) after consecration. So Jesus was really there, but the bread and wine were there, too (whereas in Catholic theology, they cease to remain bread and wine after consecration).
1 Corinthians 10:16: The cup of blessing which we bless, is it not a participation in the blood of Christ? The bread which we break, is it not a participation in the body of Christ?
This verse again allows us to observe in a nutshell, traditional Protestant controversies in their own ranks. Catholics interpret it in a literal way, but Protestants differ amongst themselves. Zwingli special pleads in his interpretation of the passage:
[W]hen you offer thanks with the cup and the bread, eating and drinking together, you signify thereby that you are one body and one bread, namely, the body which is the Church of Christ, . . . (On the Lord's Supper, 1526; in Bromiley, 237)
But Martin Luther again ably refutes this specious interpretation, and offers us a unique insight into a Protestant exegete who had every motivation to disagree with the Catholic Church's interpretation, but in the end was forced by the text to accept its straightforward meaning:
I confess that if Karlstadt, or anyone else, could have convinced me five years ago that only bread and wine were in the sacrament he would have done me a great service. At that time I suffered such severe conflicts and inner strife and torment that I would gladly have been delivered from them. I realized that at this point I could best resist the papacy . . . But I am a captive and cannot free myself. The text is too powerfully present, and will not allow itself to be torn from its meaning by mere verbiage. (Letter to the Christians at Strassburg in Opposition to the Fanatic Spirit, 1524; LW, Vol. 40, 68)
For Luther, the passage is quite compelling:
Even if we had no other passage than this we could sufficiently strengthen all consciences and sufficiently overcome all adversaries . . .

. . . He could not have spoken more clearly and strongly . . . (Against the Heavenly Prophets in the Matter of Images and Sacraments, 1525; LW, Vol. 40, 177, 181)
Luther thinks the realist, concrete, non-symbolic nature of the verse is obvious, to the point where he seems to be aggravated (the three-time repetition of "it is") that others can't see what is so clear:
. . . The bread which is broken or distributed piece by piece is the participation in the body of Christ. It is, it is, it is, he says, the participation in the body of Christ. Wherein does the participation in the body of Christ consist? It cannot be anything else than that as each takes a part of the broken bread he takes therewith the body of Christ . . . (Against the Heavenly Prophets in the Matter of Images and Sacraments, 1525; LW, Vol. 40, 178)
1 Corinthians 11:27-30: Whoever, therefore, eats the bread or drinks the cup of the Lord in an unworthy manner will be guilty of profaning the body and blood of the Lord. Let a man examine himself, and so eat of the bread and drink of the cup. For any one who eats and drinks without discerning the body eats and drinks judgment upon himself. That is why many of you are weak and ill, and some have died.
Again, many Protestants today have lost the sacramental outlook of Martin Luther (and to a lesser extent, even of John Calvin). Baptist apologist James White provides a contemporary version of Zwinglian symbolism:
Participation in the Supper is meant to be a memorial (not a sacrifice) of the death of Christ, not the carefree and impious party it had become at Corinth. (White, 175)
Martin Luther would have a great problem with such reasoning, and in refuting it, he closely approximates what a Catholic response would be. He argues that it is pointless for St. Paul to speak of "sin" here ("profaning" in the text) if Jesus "is not present in the eating of the bread" and that "the nature and character of the sentence requires" this "clear" interpretation. Luther sums up his exegetical argument:
It is not sound reasoning arbitrarily to associate the sin which St. Paul attributes to eating with remembrance of Christ, of which Paul does not speak. For he does not say, "Who unworthily holds the Lord in remembrance," but "Who unworthily eats and drinks."  (Against the Heavenly Prophets in the Matter of Images and Sacraments, 1525; LW, Vol. 40, 183-184)
I prefer what is often called the "superstition" of Martin Luther, St. Augustine, and the Fathers of the Church, as it seems to be far and away the most natural reading of all these texts. Augustine wrote:
[I]t is the Body of the Lord and the Blood of the Lord even in those to whom the Apostle said: "whoever eats and drinks unworthily, eats and drinks judgment to himself."  (Baptism, 5, 8, 9; in Jurgens, III, 68)
The eucharistic "Catholic verses" are some of the most important in the entire Catholic exegetical and apologetic "arsenal." It can be shown (and I think I have done so) that Protestants are trying to skirt around the edges of them, special plead, eisegete (reading their own prior biases into texts) and improperly denying the straightforward literal reading. This is odd, given the usual Protestant acknowledgment that Scripture is to be interpreted literally unless there are clear indications in the text otherwise.
These passages are so compelling that they played a crucial role in producing a near-unanimous patristic viewpoint of acceptance of the real presence in the Eucharist. Several major Protestant Church historians and experts on history of Christian doctrine note this (for example, Otto W. Heick, Williston Walker, Philip Schaff, Jaroslav Pelikan, Carl Volz). The historical facts cannot be denied. They are unarguable. As just one representative statement, I cite J. N. D. Kelly, perhaps the most-cited patristics scholar:
One could multiply texts like these which show Augustine taking for granted the traditional identification of the elements with the sacred body and blood. There can be no doubt that he shared the realism held by almost all of his contemporaries and predecessors. (Kelly, 447)

Catholics need not be shy in defending transubstantiation or the real presence. The biblical evidence is very strong, and so is the history of the beliefs of the early Christians on this score. We have nothing to fear, and we can decisively win this battle of "competing eucharistic theologies" on the field of Scripture and history alike.

Addendum: An [anonymous] Orthodox Christian who read my paper made the following comment (all-caps emphases are his own):

As a Russian Orthodox Christian, I must say that Luther's doctrine of the Holy Eucharist was most definitely NOT that of the Orthodox Church. We Orthodox are often misunderstood in regard to transubstantiation. Of course, transubstantiation is a scholastic Latin theological term that the Church of Rome uses to describe its view of the Eucharist. We know that. But it disturbs me when I hear non-Orthodox Protestants saying that Orthodox 'reject' a belief in transubstantiation. While we did not invent this term and it is not our preference to use it very much, we Orthodox absolutely accept the sacramental reality of what the term "transubstantiation" is trying to convey. We DO believe that the Bread is TRANSFORMED into the Body of Christ and the wine is TRANSFORMED into the Blood of Christ at the Epiclesis (the Invocation of the Holy Spirit). Now as to HOW that actually happens, we say it is a Holy Mystery. We don't try to define it with Aristotelian philosophical terms such as "accidence" and "essence." In fact, the Longer Catechism of the Orthodox Church (sometimes called the Catechism of Metropolitan Philaret) specifically ENDORSES the term "transubstantiation" provided that it is used to affirm the permanent transformation of the Eucharistic elements of bread and wine into the Body and Blood of Christ at the Epiclesis. As long as the term "transubstantiation" is used to describe the REALITY of the Eucharistic miracle, the Orthodox Church has no problem with it. Only when the term is used to try to describe HOW the Eucharistic miracle occurs does Orthodoxy caution against its uses, because that is something that is understood by God alone.
I reply:
That's my understanding of the Orthodox approach to the question as well. I don't see much or any difference at all in how I understand your position and how you just expressed it. You think we philosophize too much; we think that you do a bit too little. But on the essence of the Holy Eucharist we agree.
In my article (from one of my books), I wrote: "[Luther] believed in the Real Presence, although he denied transubstantiation . . . Luther . . . didn't want to speculate about metaphysics and how the bread and wine became the Body and Blood of Christ."
My emphasis was on the similarity of belief in the Real Presence and antipathy to "excessive" explanation: common to both Lutheranism and Orthodoxy. I didn't mean to imply that Orthodox deny a transformation. I can see, however, that I worded it a bit imprecisely.
SOURCES 
Paul Althaus, The Theology of Martin Luther, translated by Robert C. Schultz, Philadelphia: Fortress Press, 1966.
G. W. Bromiley, editor and translator, Zwingli and Bullinger, (The Library of Christian Classics series), Philadelphia: Westminster Press, 1953.
William A. Jurgens, editor and translator, The Faith of the Early Fathers, Collegeville, Minnesota: The Liturgical Press, three volumes, 1979.
J. N. D. Kelly, Early Christian Doctrines, San Francisco: Harper & Row, revised edition of 1978.
Martin Luther, Luther's Works (LW), American edition, edited by Jaroslav Pelikan (volumes 1-30) and Helmut T. Lehmann (volumes 31-55), St. Louis: Concordia Pub. House (volumes 1-30); Philadelphia: Fortress Press (volumes 31-55), 1955.
James R. White, The Roman Catholic Controversy, Minneapolis: Bethany House Publishers, 1996.
***
Practical Matters
: Perhaps some of my 3,850+ free online articles (the most comprehensive "one-stop" Catholic apologetics site) or 
50 books
 have helped you (by God's grace) to decide to 
become Catholic
 or to 
return to the Church
, or better understand some doctrines and 
why we believe them
. Or you may believe my work is worthy to support for the purpose of apologetics and evangelism in general.
*
If so, please seriously consider a much-needed financial contribution. I'm always in need of more funds (and am in 
no
 danger of cracking the Fortune 500). 1 December 2021 will be my 20th anniversary as a 
full-time Catholic apologist
, and February 2022, the 25th anniversary of my blog.
PayPal donations
 are the easiest: just send to my email address: apologistdave@gmail.com. "Catholic Used Book Service" (in conjunction with my address on PayPal) is my old side-business. To learn about the different methods of contributing, including 100% tax deduction, etc., see my page: 
About Catholic Apologist Dave Armstrong / Donation Information
. 
Thanks a million
 from the bottom of my heart!
***
Photo credit: The Last Supper (with Luther amongst the Apostles) (1530s), by Lucas Cranach the Elder (1472-1553) [public domain / Wikimedia Commons]
***