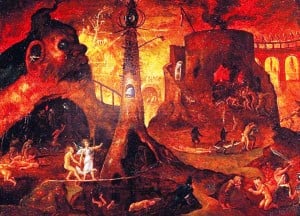 In the current debate on hell (which is really a debate on universalism) there is some fuzzy thinking going on. Here is an excerpt from my book The Quest for the Creed which comes out next week. This book is a new edition of Adventures in Orthodoxy. Published by Crossroads, it has new material and a new format.
+++++++++++++++++++++++++++++
Someone once asked the famous mystic Padre Pio, what he thought of modern people who didn't believe in hell. His terse reply was, "They will believe in hell when they get there."
Is it possible to believe in hell? Surely, when faced with Auschwitz, Hiroshima, the Gulag and the killing fields, the question should be, "Is it possible not to believe in hell?" I don't simply refer to the fact that concentration camps were a kind of hell on earth. Instead I wonder how one can deny the existence of a place of severe punishment when faced with Adolph Hitler, Joseph Stalin, Pol Pot, Idi Amin and African soldiers who chop off little girls hands for fun. When faced with such monsters can we really cry with a good conscience, "God would not send anyone to burn forever in the fires of everlasting torment!" After a century that has witnessed more genocide, religious martyrdom and brutality to children than ever before in human history, can we really dismiss the only punishment left for the dictators, abortionists, terrorist bombers and genocidal maniacs who have got away with their crimes? If it were true that there is no hell I, for one, would be howling with rage at the insanity and unfairness of it all. Yet those who deny the existence of hell calmly assume that their denial shows how enlightened and humane (and therefore fair) they are.
These are good people. They dismiss the possibility of hell not because they deny the wickedness of human beings, but because they affirm the goodness of God. They believe in a God who is so very good that he would not send anyone to hell. It would certainly be nice if there were a heaven but not a hell. But can you believe in one without the other? What I mean is, how can someone believe in heaven, which must after all, be a place of goodness, (and if goodness, then justice) while denying the fact of hell which makes justice possible? Therefore it seems to me, that if you believe in heaven you must also believe in hell. Hell is somehow written into the constitution of heaven.
Nevertheless, good-hearted people insist that a good God would not possibly send anyone to be tormented in hell for all eternity. This is a laudable sentiment, but I worry that that's all it is: a sentiment. Nevertheless, the conviction that God would could not send anyone to hell is a feeling I myself incline to—especially after a warm day in May followed by a very good dinner with four glasses of claret. Furthermore, at that moment I am not usually thinking about Pol Pot or Stalin. I am thinking that God would not send an ordinary, decent fellow like myself to hell.
But this is exactly the point where the possibility of hell is meant to knock me down and shake me up. We are told that the road to hell is a wide smooth, downhill highway, while the road to heaven is a narrow and hard mountainous climb. What if hell were populated with hordes of overweight complacent people just like me who never really did anything magnificently evil, but also never bothered to do anything spectacularly good? Why should we imagine that heaven is reserved for the mediocre?
When I look at it this way I have the dreadful suspicion that perhaps those who deny hell because God is too good to send anyone there are really proposing that God is too good to send them there. It is ironic that people who believe in heaven are sometimes blamed for wishful thinking. Isn't it that more likely true of those who disbelieve in hel? I say this because the person who disbelieves in hell doesn't really believe in heaven either. He believes in oblivion. He desperately hopes that he will cease to exist after death. In other words he hopes he will get away with it after all, and this, it seems to me, is real wishful thinking.
Others protest that the concept of eternal punishment makes God out to be an angry, short-tempered disciplinarian of the worst sort. But is God such a nice middle class English gentleman that he would not be angry enough to send anyone to hell? [Read More]