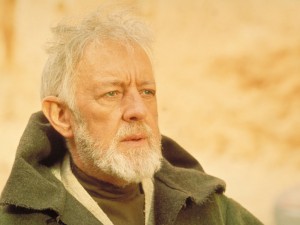 In 1914 Agnes Cuff, a flighty and unstable young woman with few prospects and little money found herself pregnant. The father didn't want to be involved. She was alone, shamed, poor and pregnant.
Today she would be encouraged to get herself to an abortion clinic and end the unwanted pregnancy.
Instead a little boy was born.
English actor  Alec Guinness, most famous for his role as Obi Wan Kenobi in Star Wars was Agnes Cuff's only child.  On his birth certificate he is named "Alec Guinness" but those were only his first names. The place for the child's last name is blank. So is the column where the father's name is listed.
It has never been confirmed who Guinness' father was. Some speculated that he was a member of the Anglo-Irish Guinness family. Alec Guinness himself thought his father was a banker named Andrew Geddes.
Alec Guinness converted to the Catholic faith in 1956 and was a faithful Catholic for the rest of his life. His delightful conversion story is told in his autobiography Blessings in Disguise He was playing Father Brown and filming in France. Wandering home from the film set in costume as a priest a young boy ran up and took his hand, chatting animatedly and cheerfully before scooting off with a sweet, "Au revoir mon pere!" Touched by this show of childlike trust, and astounded by an answer to prayer, Alec Guinness came home to Rome.
If abortion had been easy and legal in England in 1914 the world would never have experienced the witty, smart, subtle art and the quiet, steady witness of Alec Guinness….
…and Star Wars would have had an enormous void.
As nearly half a million young people converge on Washington DC for this years' March for Life we should remember the great loss to our nation and our world of all the murdered unborn.
We will never know what other great talents never lived. What other Alec Guinnesses would there have been? What advances in science, medicine, technology, business, the arts and sport might there have been?
March for Life is a joyful event  which celebrates life, but there is always an elegiac quality to the March.
It may be a March for Life but it is also a March for Grief.
Image via Bing