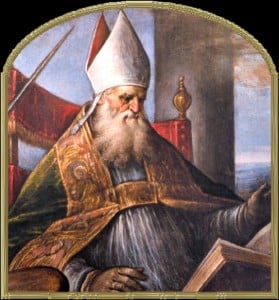 I was watching the service of Evensong from Westminster Abbey the other night that took place during Benedict XVI's visit to England. It was all very splendid and you could tell Benedict was impressed with the Anglican music and ceremonial. His speech emphasized, however, the Catholic roots of both Westminster Abbey and England itself.
In an excellent article, Joseph Pearce traces those roots here through the literary heritage of England.
It is often forgotten that the Catholic presence in England is older than England itself. From the martyrdom of St. Alban in the early fourth century, under the Roman occupation, the land has been blessed with a host of Catholic saints. After the Romans left the land that they called Albion, a faithful remnant of Christians kept the Faith alive in the midst of the migration of Germanic pagan tribes in the fifth and sixth centuries. Then, at the end of the sixth century, St. Augustine of Canterbury, arrived in England, as the land was now called, to convert the pagans. He was sent by St. Gregory the Great and his mission met with instant and spectacular success. In 597, he became the first Archbishop of Canterbury. Thereafter, for almost a thousand years, until Henry VIII's apostasy against the will of the vast majority of his people, England was a devoutly Catholic country. As such, the great works of English literature, from Beowulf and "The Dream of the Rood" to Chaucer's Canterbury Tales, were avowedly and sublimely orthodox.
He goes on to outline the strain of Catholic literature that continued through the 300 years of persecution in England and chronicles the great literary contributions during the Catholic Literary Revival of the 19th and 20th centuries, concluding with…
Perhaps the pinnacle of the Catholic Revival was reached with the publication of The Lord of the Rings, which was rightly acclaimed as the greatest work of the twentieth century. Yet Tolkien's genius and the magnificence of his timeless masterpiece should not be permitted to eclipse the magnificent achievement of these other writers. Waugh's Brideshead Revisited is perhaps the greatest novel of the past century (The Lord of the Rings not being a novel but an epic in the great mythopoeic tradition) and Eliot's Waste Land and Four Quartets are indubitably the greatest poems. In short, the great works of the Catholic Revival rival the great works of any period of England's illustrious literary history.
Go here for the full article.
Visit my new blog on monastic spirituality The Suburban Hermit.