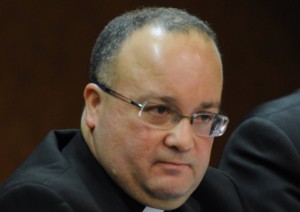 I posted earlier today on this story in London's Daily Telegraph. The short version is that a Dutch doctor had decided to kill an old lady who had dementia and the old woman began to resist, so the woman's family was asked to hold her down while the doctor gave her the injection.
In this case, the woman, who was suffering from dementia,  had earlier expressed a desire to have her life ended when she felt the "time was right".

According to case notes, the woman, who lived in a nursing home, showed signs of fear and anger. She would also wander around the premises at night.

The end came when a doctor put a soporific into her coffee before administering a lethal injection.

But as the doctor tried to administer the injection, she began to struggle and the doctor had to seek the family's help to complete the procedure.
Thinking further on this Horror from Holland, the most chilling part of the story was this:
Jacob Kohnstamm, chairman of the Regional Review Committee, which considered the case, said: "I am convinced that the doctor acted in good faith, and we would like to see more clarity on how such cases are handled in the future."
The first thing which is totally incredible is that with a little bit of research I discovered that Kohnstamm is a Jewish name which I surmise means "son of Cohen". If I am correct that Jacob Kohnstamm is Jewish–the historical and terrible irony of this story becomes even richer. A Jewish bureaucrat gives the nod to euthanizing the elderly and infirm?
Is he forgetting how the holocaust got started?
The second thing is that Mr Kohnstamm decided that the doctor "acted in good faith."
This total moral relativism is terrifying. One of my readers was cheeky (and astute enough) to point out how this is not so different from the Bishops of Malta's decision about divorced and re-married people receiving holy communion. In their instruction on Amoris Laetitia they say,
a separated or divorced person who is living in a new relationship manages, with an informed and enlightened conscience, to acknowledge and believe that he or she are at peace with God, he or she cannot be precluded from participating in the sacraments of Reconciliation and the Eucharist,
"believe he or she are at peace with God" —- "acting in good faith."
How are these concepts different?
Furthermore, do you see the connection with "mercy"? The doctor kills the old woman and calls it "mercy killing." The liberals destroy the age old discipline of marriage in the church and call it "mercy."