I created a chalice meditation video based on the astrology of Aquarius season 2020.  It uses the imagery of water in a chalice to represent emotions and the container we use to hold those emotions.  It's a great way to look at our current emotional challenges and transform the way we think about them.  Read on for more information about the astrology and this technique.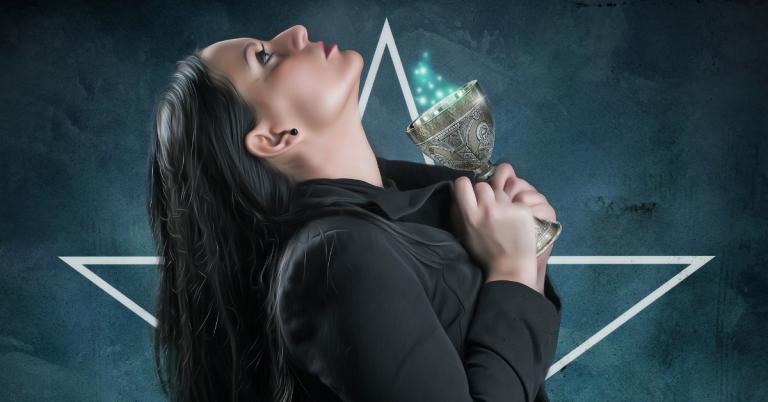 Since ancient times, water has been associated with emotions.  Spilled water is associated with tears.  Clean water represents joy, bliss, and renewal.  Dirty or stagnant water can cause malignant growths that can create dangerous toxins.
It's important to assess our emotional state from time to time, especially when the road we're on is bumpy.  This meditation is a good way to check in and clarify the waters of your emotions.
Astrologically, due to Uranus' square angle to the sun and new moon, we may experience some extra energy to get things done. This could come across as frustrating, anxiety, or urgent feelings, especially if they are ignored or if you can't act on them.
Saturn and Pluto are still technically conjunct, at about one degree from each other. Even though Saturn is moving away from Pluto, this powerhouse duo will still be affecting us. However, because we're on the fading side of it, this will mostly be about integrating the changes from the exact conjunction that occurred in the Capricorn moon cycle. We are still implementing the changes from those realizations.
But there's not only stress–Venus is in sensitive Pisces, enabling deep wisdom to come through to us so we can heal our hearts and our ties to the past.  It's nearly conjunct to Neptune in Pisces, enabling us to dream and imagine better worlds.  
But by the first quarter moon, there will be a square between Venus in Pisces and Mars in Sagittarius.  We may have to make a decision between our hearts and our true will.  
In times like this, it's helpful to channel some clarity.  Check out the meditation below. 
Please note that this chalice meditation is not appropriate at all times or for all emotions.  I don't recommend using this method as a way to sweep negative emotions away without another thought about them ever again.  I advocate for regular shadow work and for processing those emotions in a safe space. 
At the very least, I hope this meditation provides some relief to people who are experiencing a hard time until they find a safe time and space to process those emotions in a constructive way.
This chalice meditation was developed for the Aquarius new moon 
Blessed Be Subscription Box
, for which I write astrology and rituals.  I hope it helps you find moments when you can cultivate peace and stability.