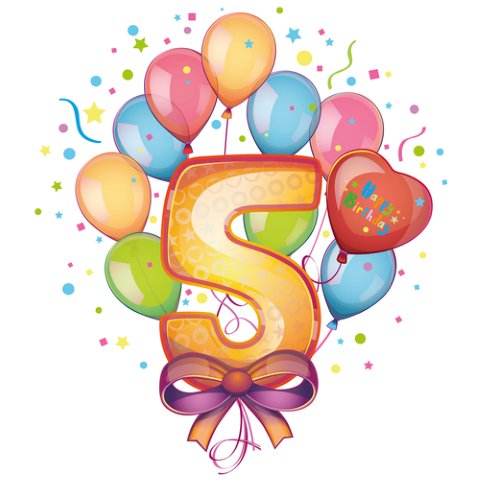 Be on the lookout, for the next couple of days, for horns blowing and confetti flying at random as you open pages here at Patheos, because we're celebrating our Fifth Anniversary online! Woohoo! (#patheos5yrs), and we're making it interesting, too, by giving you a lot to look at and learn about starting with some background on our energetic founding under Leo and Cathie Brunnick, and also a little bit about how we've grown as a 'net presence (the Catholic Channel alone averages over 2 million page views per month!).
You can also find editor's picks of "The Best" of Patheos — culled from among 350 bloggers, that was no easy task for anyone, and it's entirely possible that we've missed many of your favorites — and you can also enjoy videos of Patheos writers sharing their favorite memories.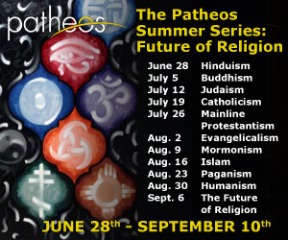 I had a particularly hard time with that. I started here, as a sort of "part-time manager" on July 1 of 2010, just as Patheos and launching it's ambitious summer symposium on The Future of Religion. As you can see from the graphic, the Future of Catholicism portion went live on July 19, and given the timeframe I think we Catholics carried it off very well!.
That was a pretty good memory, but by the time I fully signed on with the team, in January of 2011, things were already full-steam-ahead both for the channel, and the site-at-large. In fact we experienced an encouraging growth spurt of talent and traffic, which permitted us to not only stay on top of Catholic news stories but to sometimes extend our focus with additional points of view.
There are lots of great memories. I am especially gratified by the real community of prayer and friendship that has grown among our Catholic bloggers (and between us and our readers), and the emails we sometimes share with one another from readers who have returned to the sacraments thanks to the site.

But since I had to focus on one great memory from my time at Patheos, I have, naturally, picked two.
The first concerns you — longtime readers of The Anchoress — and your remarkable response to children in need, during the Christmas season of 2012. With the twin catastrophes of Hurricane Sandy and the Newtown massacres on all of our minds, I alerted you to a situation where children in need would have no toys for Christmas, shouting, CHRISTMAS EMERGENCY! 100′s of Kids and no Toys!:
I got a phone call this morning asking for prayers and also asking me if I knew anyone who could help. Well, I don't know anyone in New Jersey but our dear Summit Dominicans, who immediately put out feelers and hit the kneelers for the cause, but my other ideas hit the wall of "we would love to help but we have no more toys to give". . .And then I realized, I don't know anyone in New Jersey, but I know you. I know all of you wonderful folks, who are always so generous when you hear of a need. I've been debating all day with myself as to whether I should put the arm on you for toys for these kids…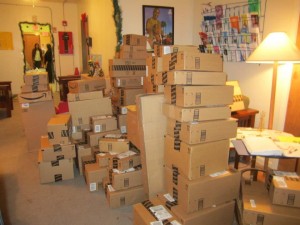 And you folks responded magnificently! Look what you did! Toys! Toys! Toys!:
That pic (used with permission) . . .is just a portion of toy deliveries that made it to Straight and Narrow of Paterson, New Jersey in time for Christmas.

You people are marvelous! One post on the 19th of December and by the 20th, Straight and Narrow had already received 190 toys! The next day, another 180 packages — many containing more than one toy — were delivered; my contact marveled, "almost the whole UPS truck was toy deliveries for us!"
So many of you donated — often more than one toy — and did so while shooting me emails or leaving comments about how grateful you were that, given the terrible news, you were able to simply do something good for others. It was a very weepy couple of days as the full extent of your generosity became apparent.
How could this not be one of my favorite memories from my time at Patheos?
But I have a second one, too, and it's unique to Patheos in that it is a moment of channel crossing, from Catholic, to Muslim.
This is about that moment:
These pauses for prayer at distinct hours of the day are perspective-adjusters, and while one praying the Liturgy of the Hours will have a different method and ritual than, say, a Buddhist or a Jew, the God Balance is a constant. Rabia Chaudry's thoughts on Muslim prayer times resonates because I recognize what she describes: "My slumber is broken five times daily through exhilarating ablution, and then heightened senses are tempered as forehead meets the floor."

I do not pray my offices anywhere near enough, or regularly enough, I will testify that praying the Hours, even just one or two of them, makes a huge difference in the balance of a day; how I wear it, and how it wears me. Heightened senses are tempered, indeed. As with Rabia's forehead, things become grounded.
Patheos is encouraging its bloggers to share some of their "all-time-best-or-favorite" posts with their readers. I can tell you my all-time-biggest, while here, has been my anti-fascism rant of 2012, but I'm not yet sure what posts are my favorites. As channel editor I spent a lot of time re-reading and selecting "best-ofs" of the Catholic bloggers, and either posting them to the landing page or submitting them for inclusion on the main landing page (where you'll see several of us, either in the rotator or amid the columns) and no time thinking about my own. Perhaps tomorrow I'll link to some of my favorites.
So, it's going to be a busy, festive week around here. It's nice to look back, and see how we've grown, but we have more ideas, and more energy, so keep looking ahead with us, and for us.

Ultimately, all of this — history, growth, favorite memories — it is all about you. Without you, the whole exercise would be pointless. You give it meaning, your readership makes us what we are and still strive to be: a place for generous dialogue between faiths, and for active dialogue among Catholics of all stripes, who love the church, struggle with her, work to understand her and appreciate her teachings in a challenging world. We thank you coming here to hang out with us, and sharing your own journeys with ours.
Check out #Patheo5yrs on Twitter and Facebook today through Wednesday — and give a shout-out to the team. A nice loud Catholic one!