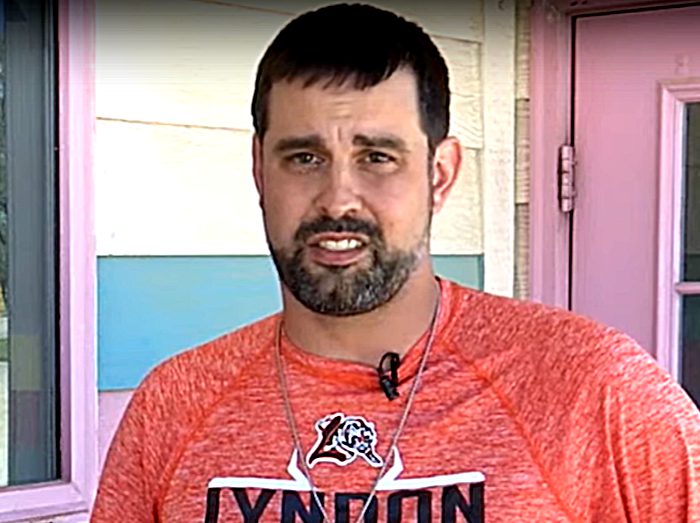 Kansas State Representative and substitute teacher, Mark Samsel, above, who was arrested in April for kicking a Wellsville High School pupil in the groin, this week pleaded guilty to three counts of disorderly conduct.
Samsel launched an attack on the boy, who was apparently trying to drown out the noise the teacher was making during a "deranged" rant about God, religion, lesbianism, masturbation and suicide.
When Samsel started yelling and banging on about "the wrath of God and how rap music is wrong and kids should listen to other types of music", the unidentified student put in his earbuds. This so enraged Samsel that he pushed the student into a wall and kicked him in the testicles.
The Republican lawmaker was given a 90-day suspended jail sentence and put on probation for a year by Magistrate Judge Kevin Kimball during a short hearing conducted over Zoom.
Kimball also ordered Samsel from using Twitter, Facebook, Instagram and other social media platforms for personal use. However is is still allow social media for political and legislative purposes.
Which makes one wonder why this Republican lunatic is still holding a post in the legislature. According to Wiki:
Samsel was elected to the Kansas House of Representatives in 2018 and reelected in 2020. In February 2021, though 110 members voted for terminating the exemption that prohibited spouses from being charged with sexual battery, Samsel was one of 10 men, joined by three women, who voted to retain the exemption.
Last month, Samsel surrendered his substitute teaching license and said "extreme" stress prompted an "isolated episode of mania with psychotic features" in the classroom.
On Monday, Samsel apologised via Zoom, saying he never "intended for anyone to get hurt."
Immediately after the incident Samsel posted a a long, rambling "explanation" of his behaviour on social media, saying among other things that:
Only Jesus can save. I am fine. I am saved. I am doing my absolute best to bring national attention to teenage mental health and prevention of suicide.
He also said:
I will put my hand on the Bible right now and swear that I didn't do anything wrong.
Please report any typos/errors to barry@freethinker.co.uk
If you'd like to buy me a cup of coffee – and boy, do I get through a LOT of coffee keeping this site active – please click the link below.