It's Samhain season, a time of year I've heard referred to more than once as "Pagan Christmas." With so many different spiritualities present at Patheos Pagan I reached out to our writers and asked them what they were doing to celebrate the season. Not surprisingly, the answer was "all sorts of things!"
From all of us here, to all of you out there, thanks for reading and have a magickal Samhain and a spooky Halloween!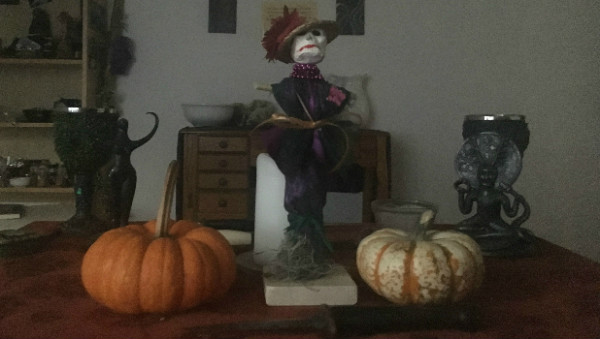 Yvonne Aburrow (Dowsing For Divinity) The most valuable thing for me about Samhain is the opportunity to talk about loved ones who have died, whether they are friends or members of my family or of the Craft. This doesn't need to be anything elaborate, just going round in a circle and saying their name and a little bit about them – enough to form a picture of what they were like. This can be very healing and moving.
One year I was visiting with a friend who has the custom of keeping an empty place at dinner for the dead at Samhain and everyone saving a little bit from their plate for the offering to the dead. That was very moving too.
In the circle, we do the traditional Gardnerian Samhain ritual, as it pretty much encompasses everything that Samhain represents for me, and it's very beautiful.
I don't go in for decorating the house with spooky stuff, but I do usually carve a pumpkin (it's a lot easier than the traditional swede/rutabaga/turnip). I also have a very tasteful and rather cute light-up skull that I bought a few years ago. He needs a new lightbulb though!
Megan Manson (Pagan Tama) In Japan, the feast of the dead happens in the summer, at the Buddhist festival of Bon (Shinto doesn't have a feast of the death, so Japanese people will turn to Buddhism for this role). As a Shinto-Pagan, I prefer to celebrate Samhain as my principal feast of the dead rather than Bon. Last year it rained at Samhain, so I I held my solo ritual in the cellar. I lit a large number of candles and turned off the lights, so the room was entirely candle-lit.
I intoned the names of various deities of death, and thanked them for being a companion to my departed friends and family when they pass over to the other side.
I then focused on the spirits of my departed friends and family, starting with our two family dogs whose deaths were recent quite close to each other (the second died in January this year). I thanked them for the many years of love and affection they gave us, and left an offering of water and dog treats at my main altar.
Next, I focused on my relatives who had died long ago, but within my lifetime. I remembered each one in turn, and offered a chalice of sherry in their honour (I think most of the relatives I remembered enjoyed a tipple of sherry).
Finally, I gave my thoughts to my ancestors whom I have never met, but whose blood runs in my veins and whose life my own came from. I asked them to guide me to help me bring pride to their name.
I then had a brief period of meditation in which I invited these friends and relatives into my memories. I remembered what it was like to play with my dogs, and I could imagine them coming up to me and poking their noses under my arm like they often did when I sat on the floor. I remembered the way my maternal grandfather would give usually me a kiss while forcing a pound coin or five pound note into my hand when we said goodbye after visiting. I remembered how my paternal grandfather would smile and joke exactly the way my Dad does, and I remembered how grandmother would make incredible knitted toys for my sister and I (she was really skilled with her hands). I also had a "vision" of my grandfather and grandmother as a young couple, dancing together. It was really nice and I even teared up a little.
I was surprised at how emotional this ritual turned out to be. I consider that the mark of a successful and meaningful ritual, so I will try to do the same thing this year.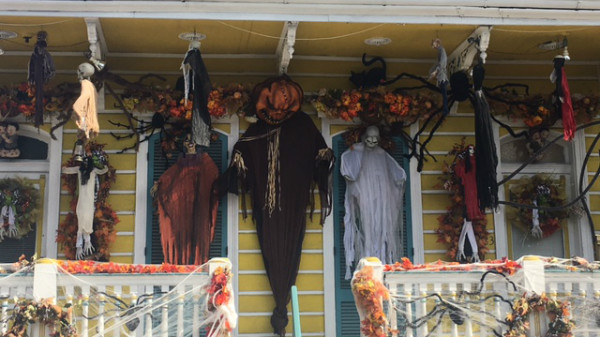 Morgan Daimler (Irish-American Witchcraft) Samhain this year is particularly special for me. I am co-facilitating a tour in Ireland and will be spending the three days I usually celebrate the holiday at different sacred sites. On the 30th of October which is also the dark moon I'll be in the Morrigan's Cave, Uaimh na gCat, at Cruachan. On Samhain itself I'll be at the Tlachtga Fire Festival at the Hill of Ward, Athboy; this is where its said the Druids used to hold their great Samhain fires. The next day, November 1st, I'll be at Emhain Macha holding a ritual for Macha.
I'm very excited to have these opportunities this year to enact in reality the things I usually play out in ritual and visualization at home in America and am looking at this as a once in life time opportunity to connect to these sacred sites on these dates.
Lilith Dorsey (Voodoo Universe) In Vodou and Voodoo we celebrate with Fete Gede, which are feasts and celebrations for the dead. These occur throughout the days of Oct 31, Nov 1, and 2nd. The lives of our honored dead are celebrated, as well as the lives of those whose names have been forgotten in the seas of time.
Christopher Dyrsdale (The Other Side of the Hedge) Samhain is a time to meditate on Death and our inevitable relationship with it. Some might say that death is a great spiritual adventure; I think that's hogwash. Death might be one of the most powerful experiences we'll ever take part in. At the same time, there is something common and everyday about it.
Death is no more an adventure than any other uncertain future. It is something to be aware of and prepared for. Sure, we're all going to die one day. But like taxes, Death isn't our friend. We can talk about how it's a natural transition – and it is. But that doesn't mean we should run to it. The best I can manage is cautious acceptance of the inevitable.
There's no need to panic when facing death. Unless you might find the forceful ripping apart of the self disturbing. Each time I face death, I sigh, relax, and fight with all my might not to go.
Perhaps it's silly, but as far as I can tell the experience of Death is best described by a quote from Hitchhiker's Guide to the Galaxy, in a discussion about teleportation (an apt metaphor if ever I saw one):
"It's unpleasantly like being drunk."
"What's so unpleasant about being drunk?"
"You ask a glass of water."
Death is ever-present. Once we've seen our own death approaching, it's always easy to remember it's there. We come to know that death is not some distant destination we're safe from (for now), but something that we forever hold away from ourselves by the very act of living.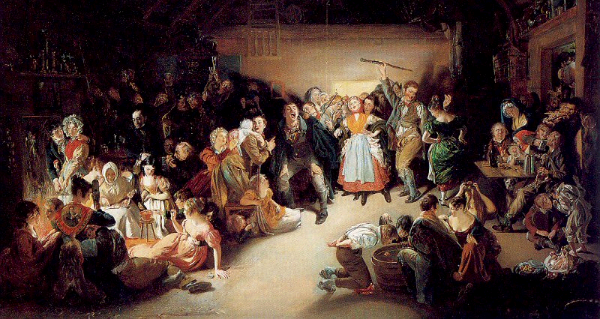 David Dashifen Kees (Editor of The Agora) I don't do holidays. Not my own, not those of the government, not those of my greater family. Sure, when I was young, we'd attend the synagogue during Rosh Hashanah and Yom Kippur, but very rarely outside of that. Similarly, we'd visit my mother's side of the family on Christmas and Easter, but outside of those days, Christianity was somewhat alien to me as was, in some way, Judaism. I don't even celebrate my birthday anymore.
I share all of this with you to illustrate a point: there's still something special about Samhain. I don't tend to celebrate or do anything differently on that day, but there's a crispness to the air that goes beyond the changing of the seasons. Perhaps the fact that so many different people for different reasons celebrate their history and the ancestors at that time has created a day on which the past seems more present. Or, maybe the ancestors are closer to us in these days of waning light and this is why we all celebrate. We'll probably never know.
But if even I, in my god-blind state, can tell that this is a special time of the year, I know that it must be even more special to others. With them, I have stood in solidarity during their rites and their ceremonies, but always as an outsider. Perhaps at no time other than Samhain does this cut as deep.
Christine Hoff Kraemer (Dowsing For Divinity) A favorite practice of mine to do with a coven or small group is a dumb supper. This is a potluck meal where everyone brings a recipe from their family, or that was a favorite food of someone beloved who has died. Then the group creates sacred space, invites their ancestors and their beloved dead to join them, and shares the meal together in silence. A full plate and a spare chair is provided for the dead. After the meal is complete, the ban on speaking is lifted, and people may share stories about their deceased loved ones.
Gwion Raven (The Witches Next Door) Samhain is always a super busy time for me and it's the last big push for the year. It's not atypical for me to be involved in several celebrations.I'm usually facilitating two public rituals, one in my home community that draws about 120 people. The other is the Spiral Dance celebration in San Francisco that often tops 1000 participants.I have a coven gathering and then my own private work. The private work includes altar making, cleaning magical items, looking at the year in review and what feels important to take forward from here. Then I rest. I do my level best to schedule lots and lots of downtown until Imbolc.
Brandy Williams (Star and Snake) My coven, Coven of the Mystical Merkabah, is a mixed Witchcraft – Ceremonial Magic group. At Samhain we focus on the Witch side with a ritual we call "What Witches Do At Samhain". We make an ancestor altar and remember our dead, now become mighty ancestors – there's a new picture on the altar this year.
We also do something we call shapeshifting. We have a tape we made decades ago (thus tape) in which we beat drums at a given speed. We all drop into trance and project ourselves in the spirit world as the animal we've chosen that year. When the tape ends (it's 10 minutes) we come to consciousness and share what we've experienced. We've done deer, bear, horses, snakes, bats, cougars, elephants, pigs, wolves, hawks, dolphins, dragons, and I'm sure I'm missing some. Dolphins were hardest, they are *smarter* than us!
David Pollard (Nature's Path) It's easy to venerate long passed, semi-anonymous "ancestors". Instead (or in addition), call your oldest living relatives with intact memories and ask them what it was like when they were growing up and who in the family they looked up to and how *they* spoke of their childhoods and older relatives. Odds are they are lonely, and will be glad to talk to someone, even if you aren't their favorite…
Photos by Jason Mankey, unless indicated otherwise.