Strangely enough, one of the biggest questions for me about my wedding is how I want to wear my hair.
I love, love, love my hair in a way that freaks some people out. I am very careful with it and work hard at growing it long (how is that work? Oh, you have no idea the "lengths" I go to!)
So this is a day when I really want to show off its length.
This is the most recent length shot I could find, but it is actually a year out of date and my hair is three inches longer now and grazes the bottom of my butt.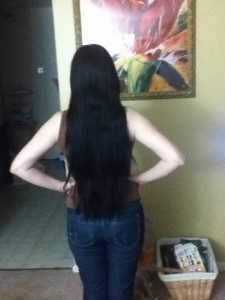 While I want to show off the length, I also want to show off some of the fancy updos I know how to do. Plus hair down is always a mess and doesn't tend to look good on me. So I hunted around and found two potential hairstyles to use.
Watch the video where I test them both out and then tell me in the comments which one you like best!