Over the weekend Brad and I were visiting his mother and we ended up spending a good part of the day looking at old picture albums. It was really nice. And I discovered this picture…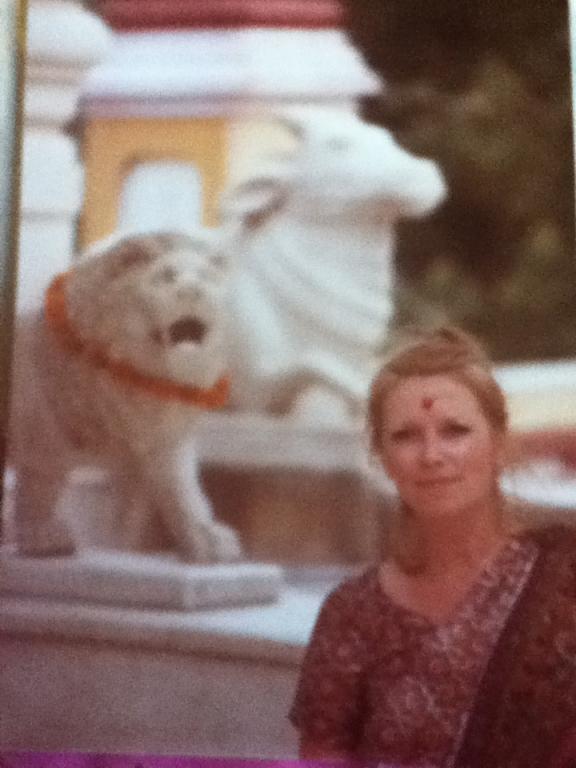 That would be Brad's mom in Agra in 1979, three years before I was born.
It was such a special find and she let me take the picture to show you guys!
***
On Saturday Brad and I were able to go together to the Sai Baba group. We had a great time again. This time there was a discussion/study group before the bhajan service. We both spoke up. I felt a little, well, American, with my big mouth. The men were definitely talking more and I felt funny about jumping in, but I sure do love talking about spiritual philosophy! And they seemed delighted with the discussion that I got going.
Brad and I were both surprised when we found out that we were the only ones there who had ever meditated. There were some sheepish admissions as I think people look at meditation like I do, as a chore that one ought to be doing. I'm seeing more and more of the value in it, though, and I do want to make it part of my routine.
There is something so uplifting about spending time singing bhajans and being in the spiritually charged atmosphere at the Interfaith center with like-minded people. It sets a great tone for my weekend.
***
Sunday we got dressed up in our wedding outfits and visited my friend Garvi, who is an artist and has offered to paint a portrait of us as a wedding gift! We are so thrilled with the idea. Then she also thought of how we could have the picture in our wedding clothes. Well, Brad doesn't have his yet, so we did an approximation, but I have mine and I felt like a queen in it. So excited for the real thing 🙂