When Brad and I had our Vedic wedding ceremony, a coconut featured prominently in the ritual. After it was over we were told that we should take the coconut home and make something sweet with it.
Well. Brad and I had never cooked with a whole coconut before! We had only ever purchased canned coconut milk.
Internet to the rescue!
Brad read up on how to open the coconut.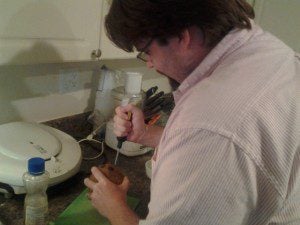 I found a recipe for coconut burfi. There are a number of different styles of burfi (sometimes called Indian Fudge, the word means "ice" or "snow" in Hindi).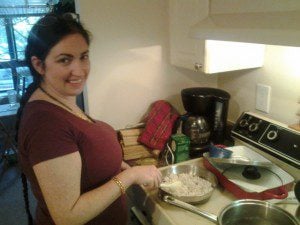 Here is the recipe we used…
Ingredients:
• 2 cups Scraped Coconut Shreds
• 1 cup Sugar
• 1-1/2 cup Water
• 2 tbsp Milk
• 1 tbsp Ghee
• 1/2 tsp Cardamom Powder
How to make Coconut Burfi:
| | |
| --- | --- |
| • | Heat a pan, add the coconut shreds and fry gently over moderate heat. |
| • | When the coconut milk moisture is somewhat lessened, remove it from heat. |
| • | Now in a seperate vessel, boil water over moderate heat. |
| • | When the water boils, add the sugar and keep on stirring till the sugar water boils. |
| • | Add the milk to the boiling sugar syrup. |
| • | When the sugar syrup reaches a thick syrupy stage, add the fried coconut shreds to it. |
| • | Stir constantly till the coconut and sugar syrup are blended thickly and stickily together. |
| • | Now add the ghee and cardamom seeds powder. |
| • | Stir till the mixture looks thick, remove from the heat and pour into a ghee-smeared table or plate. |
| • | Flatten the surface evenly with the help of an oiled flat slice. |
| • | When cold, cut into squares or diamond shapes and serve. |
Ours did not turn out quite right. It didn't gel the way it should have and was liquidy, like syrup with coconut flakes in it. I probably didn't let it sit long enough! It was hard not to try to eat it immediately 🙂
Despite its strange appearance and the sticky fingers it gave us, it was super delicious! So I'm calling that a success.