Diwali is one of the biggest holidays of the Hindu calender. It's the last big festival before the quiet month of December. Particularly in the west, Diwali is an opportunity for outreach and many Hindu groups in America hold melas (celebrations) designed to bring in non-Hindus to learn more about Hinduism.
For many it is the mark of the Hindu new year (some regions have their own individual new years). It is often called the Festival of Lights and one of its most recognizable features is rows and rows and rows of diya lamps lighting up the night. Fireworks are also common!
It is said to symbolize the triumph of the light of knowledge over the darkness of ignorance. And the lit lamp represents the illuminated mind.
It begins at the end of this week! I've got a plan to clean my apartment, one room a day, so it's all ready to go by Friday!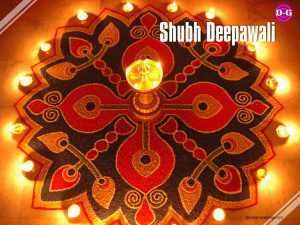 Origin
In northern India, Diwali commemorates the end of Rama's 14-year exile and his eventual coronation. In Gujarat, the focus shifts to Lakshmi, the goddess of wealth. Then further north in Nepal, Diwali participants honour Lord Krishna's victory over the demon king Narakaasura, and in Bengal Diwali is associated with the Hindu goddess Kali. http://www.onthegotours.com/blog/2011/08/celebrating-diwali-the-festival-of-light-in-2011/
Greeting
"Shubh Diwali/Divali" means "Happy Diwali!"
You may also hear "Shubh Deepavali." The word "Diwali" is a shortening of "Deepavali" which means "row of lights."
How To Celebrate
Prior to Diwali, the whole house should be thoroughly cleaned. Entrances should be clear of shoes and junk, allowing Lakshmi free entrance into the home. Rangoli patterns can be created and small footprints of Lakshmi drawn (see "Decoration") Remember that traditions vary by region and not every Hindu does every ritual on this list.
Day One: Dhanteras November 1st, 2013
It is auspicious on this day to purchase gold or silver items, particularly utensils. This is a good day for making investments. It is also the time to buy Diwali gifts.
Also decorate any businesses and clean out all the business supplies.
Some people do a puja to the God of medicine Dhanvantari. (Procedure for this puja here: http://hindupad.com/dhanvantari-puja-vidhi-or-procedure-with-mantras-slokas/)
There are two different stories associated with this day. In some regions the story is of a young king who was cursed to die by a snake bite four days after his wedding. His new wife, knowing this, made a pile of silver and gold coins and her own jewelry and lit lamps all around the room. She kept her husband awake telling stories and singing songs. Yama, the God of death, came in the form of a snake, but he was dazzled by the bright metals and stayed the night on the pile of gold and silver listening to the stories. In the morning he left and the young wife saved her husband's life.

The other story is that of the churning of the ocean. Some believe that Dhanvantari, the God of medicine, came out of the ocean with the jar of elixir on this day.
Lamps are lit in the evening and kept burning all night (personally I won't be using real flame for this!) and bhajans sung for Lakshmi. Cows are decorated and shown particular reverence on this day as representations of Lakshmi and as sources of income.
Day Two: Chhoti Diwali / Narak Chaturdasi November 2nd, 2013
"Choti Diwali" means "small Diwali" and basically means Diwali Eve.
The legend for this day is about the demon king Narakasur, who had imprisoned 16,000 young women, daughters of Gods and saints. A woman named Satyabhama was horrified by the treatment of the women and asked for Krishna's help to take down the demon. (Narakasur was cursed that he would be killed by a woman). Krishna empowered Satyabhama to fight Narakasur and drove her chariot. After the demon king was defeated, Krishna symbolically married all 16,000 of the captives to save their virtue. When Krishna returned home he was covered in dirt and demon blood and was bathed.
Before sunrise on this day a ritual bath is taken in some regions. In Maharashtra it is called Abhyanga Snan.
1. Scented oil
2. Utane: This is a powder mainly containing 5 ingredients. (Can be purchased at Indian grocery stores)
3. Fragrant perfumed soap (some people use only the utane and do not use soap at all)
You can use sandalwood or rose-scented soap
Apply the scented oil and let the skin absorb the oil for about 15-20 minutes
Apply the utane
Rinse off with water
Bathe with a perfumed soap
Dry off
Dress in new clothes
In South India people mix kumkum with oil to create a paste that looks like blood and break a bitter fruit. They apply these to their foreheads and then bathe in oil and sandalwood paste.
In the evening Lakshmi and also Rama are celebrated.
Day Three (Diwali Proper): Lakshmi Puja November 3rd, 2013
Here is a simple Lakshmi Puja.
First of all, make sure that your home is completely clean. (Some people sprinkle gomutra, which is cow's urine. Can be purchased here http://www.rudraksha-ratna.com/gomutra_2087.php4 shipping available to U.S.)
1) Light a lamp outside your home and open the door to the house, leaving it open
2) Prepare the puja space:
Have a raised platform
Cover it with a red cloth
Put a handful of grains in the center
Place the kalash (pot/vase) in the middle (fill it with 75% water, one marigold flower, one supari [betal nut], a coin, and some rice grains). Put five mango leaves around the neck of the kalash
Put a small puja thali (plate) over the kalash and make a small flat mound of grains
Draw a lotus with turmeric and place the Lakshmi image or idol in the center
Place coins in front of it
On the right side of the kalash, place Sri Ganesha. Apply a tilak mark of turmeric and kumkum and put some rice grains on the image. Do a simple puja to Ganesha with Ganesh aarti (YouTube).
Fill a small lota (brass pot) with water and gather bel leaves, dhoop, and a garland of cotton beads
Place books, check balance sheets, and anything related to your business in front
Draw simple rangoli patterns in front of the platform
3) Prepare a panchamitra (mixture of milk, curd/yogurt, ghee, sugar and honey)
4) Light five clay diyas and some incense sticks.
5) Light another diya and put it on a thali along with turmeric (haldi), kumkum, and rice grains (optional: sandalwood paste, saffron paste, abeer and gulal), some flowers, and some sweets
6) Apply a tilak to the kalash and place flowers around its base. Apply a tilak to the lota of water
7) Take some flowers and rice into your hands and fold them into a prayer pose then recite a Lakshmi mantra (or just chant her name)
Namosthesthu Maha Maye,
Shree padee, sura poojithe,
Shanka, Chakra, Gadha hasthe,
Maha Lakshmi Namosthuthe
Offer the flowers and rice grain to the goddess after the prayer
8) Bathe Lakshmi by placing her in a separate thali and pouring the panchamitra over her. Then rinse with the water from the lota. Wipe the murti and replace her.
9) Apply turmeric and kumkum to the idol. Burn dhoop and offer marigold flowers and bel leaves.
10) Offer sweets, fruits, money or gold ornaments in front of the murtis. (This money is not spent, but will be gathered later and offered to the nearest temple's collection box)
11) Perform aarti to finish the puja
12) Distribute prasadam and give teaspoon of the panchamitra into everyone's right hand to be drunk.
Some people also do a Chopdi Puja, which is specifically for success in business. If you have put account books down in front of the Goddess, add flowers and mango leaves on top during the puja to get Lakshmi's blessing. On the inside of the book draw a swastika and write "Shubh Labh" on either side ("Good benefit") Traditionally account books are created especially for this ritual and are to be picked up early in the morning at an auspicious time and the first notations in the book are made with a pen given or sold by a young girl (representing the Goddess).
Day Four: Kartik Shuddh Padwa (New Year) November 4th, 2013
Sometimes also called just Padwa, there are different types of celebrations in different parts of India.
In the North, cow dung hills are created and decorated with flowers to represent Mount Govardhan, which young Krishna lifted with his finger to provide shelter for everyone in his village.
This is a day when brothers used to go and fetch their married sisters to come home for the occasion.
Another tradition is "annakoot" which is "mountain of food." People stay up all night cooking 56 or 108 different kinds of food to be piled together and then pieces are lifted to the Gods. Later people can take the food as prasadam.
Day Five: Bhau Bheej November 5th, 2013
This is a day celebrating brothers and sisters. Brothers visit their sisters and are given aarti in thanks for their protection (very similar to Raksha Bandhan). The sisters prepare their favorite sweets. If a lady has no brother, she can perform aarti to Chandra/Darpanagayesha, God of the moon.
The story to go with this day is that Yama, the God of death, visited his sister Yami and she was so delighted to see him that she put tilak on his forehead and prepared his favorite foods. Yama was so pleased that he decreed that every anniversary of this day if a sister put a tilak on her brother, he would come to no harm.
In Maharashtra Shrikhand Poori is made.
Step 1

: Prepare a thali containing a diya, some rice grains, a few ladoos or mithai, and a little red vermillion powder mixed with haldi (turmeric).

Step 2

: Light the diya in the thali.

Step 3

: Put a tika of the red-and-turmeric powder on the brother's forehead (in an upwards motion as a straight line between the eyebrows just where the nose line begins).

Step

4

: Throw a few rice grains on the top of the brother's head if he is younger to you and at his feet if he is an older brother.

Step

5

: Do aarti with the thali (make sure the diya is lit).

Step

6

: Put a piece of the ladoo or mithai in your brother's mouth.

Step

7

: Your brother will likely give you some cash or a gift. If your brother is older than you, touch his feet and take his blessings. If the brother is younger than you, you have to place your hand (palm down) on his head and give him your blessings.
Decoration
The most important decoration of the festival of lights is the lights themselves. Called diya, they can be bought in packs or you can make your own with heat-safe clay and put a tea-light candle in each.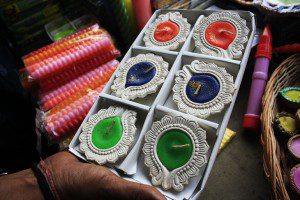 Marigolds are a big part of the decoration for Diwali. You'll want to tie a marigold flower around the water taps in your home (sink, bathtub, shower, kitchen sink). If you can, draw a simple chalk flower design on your bathtubs or showers.
Small footprints are drawn with rice flour and vermilion powder all over the house to show Lakshmi being present in the home.
Over the main entrance to your home, hang a toran (door garland) made of marigolds and mango leaves.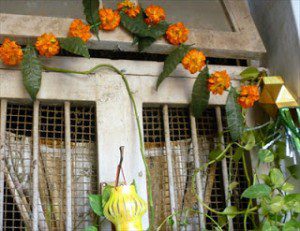 In fact, I was so inspired by seeing this crocheted version, that I made my own!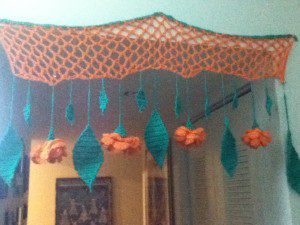 Rangoli How-To
Rangoli is a geometric pattern created with colored sand, chalk, or rice and is used to decorate during festivals, particularly at Diwali. It is often used to decorate the entrance to the home, making it inviting and welcoming to Goddess Lakshmi.
You can get stencils to help you with your design or you can get patterns from books. Here are four different methods for doing rangoli, varying in difficulty: http://www.wikihow.com/Make-Rangoli
Make sure when you're creating these patterns that there aren't any breaks in the lines of the pattern, lest evil spirits have the opportunity to enter.
You can get rangoli stencils lots of places, even Amazon.com!

Here is another blog with Rangoli decoration advice.
Diwali Sweets
Kheer (Avoid the mistake I made the first time with kheer, use UNCOOKED rice!)
By Request: Kaju Katli
Diwali Gift Ideas
Decorated boxes of dried fruits and nuts are traditional. Try looking for "hampers" of gift basket food like this: Decorated Christmas/Diwali Gift Hamper With Chocolates, Dry Fruit And Nut Medley And Turkish Delight
or Broadway Basketeers Gourmet Mini Gift Tower of Sweets
Lakshmi and Ganesha statues are a great choice.
Decorative Diyas. You can never have too many, right? (Or decorative and scented candles)
About.com recommends a Lakshmi Card Holder & Wallet
Seems very appropriate for the nature of this holiday!
For kids, maybe a book like Lighting a Lamp: A Diwali Story
or Rangoli: An Indian Art Activity Book
Perhaps a Ganesh Silver Coin like this one (or something else silver)

Lots of great gifts available here at IndianGiftsPortal
Songs
There are lots of Diwali songs! Here are some…
Bollywood Songs
Rajasthani Folk Dance
Lakshmi Bhajans
EVERYTHING YOU WILL NEED
To celebrate this year, here is all the ingredients you should make sure to have on hand on a printable shopping list. Just click on the image to get the full size and print it out to take with you to your local Indian grocery store…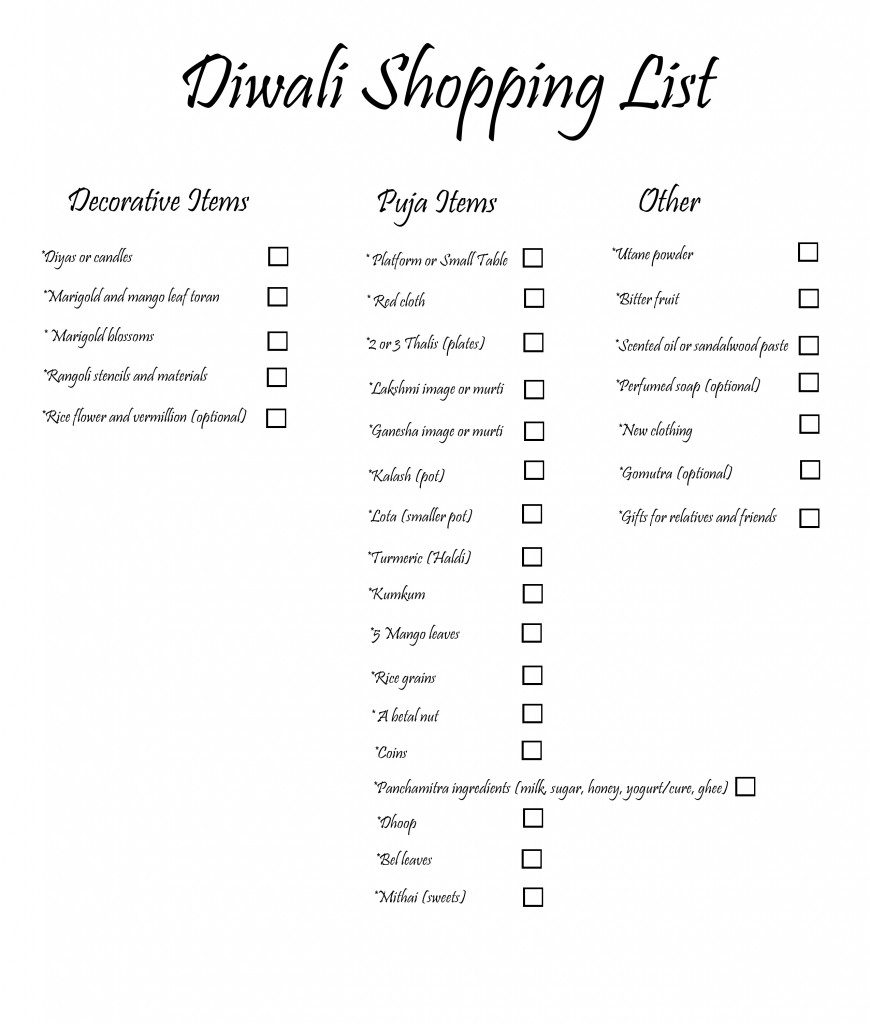 Here are several places where "complete" Diwali Puja Kits can be purchased!