I missed a few days of posting last week, did you notice?
The reason is that we're in the process of moving and it's an extremely hectic time! Last week there were some days we didn't have Internet and other days we didn't have computers (they were still in boxes).
But now I've got my new home office set up and Internet at the new house. I should be able to get back onto schedule!
As we move in, part of the process is to conduct a Hindu housewarming ceremony (Griha Pravesh). I believe this will be a sapoorva griha pravesh because we are moving into a home that already exists (not new construction).
We will most likely do a modified/simplified version rather than bring in a priest (and a cow).
The key elements are:
boiling milk over in an open pot
cracking a coconut in the driveway
puja to Ganesha and Lakshmi
I've got my coconut ready to go!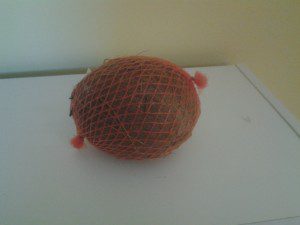 Suggestions from
my Facebook page
include:
hang chili and lemon in the doorway
bury a small amount of gold on the property
have a party and feed guests
tie fresh mango leaves across the doorway
do a satyanarayn pooja
For the Satyanarayn Pooja, here are some resources: VasthuSastra.com, Youtube, eHow, and Wikipedia
If you want to go more advanced and have the help of a priest, take a look at the website for your local Hindu temple. They often include listings of the cost for a priest to come to your home to perform the ceremony. Be sure to prepare a good vegetarian meal to offer the priest while he's there!