For my other life I happened to be at this huge book conference in NYC last week: Book Expo America. I was not there as Ambaa and yet I kept stumbling across things of interest to me as a Hindu.
I got some free books that I'm excited to review and share with you.
The most exciting to me is this lovely children's book about Karna:
Karna: The Greatest Archer In The World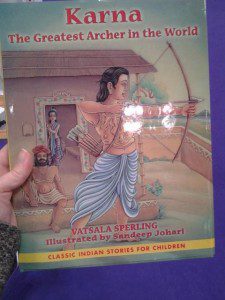 The author has a whole series of books telling Hindu stories. When the publicist offered to give me one of them I asked for Karna, as I've always been very fond of him.
The next book I picked up was Karma Capitalism. It's description is very intriguing and I look forward to reading it. I hope that it isn't over my head! This one I found at the Author section and the author had stepped away from his booth. The books were out in a stack and I hope he doesn't mind that I took one for review.
I also came across a booth for a publisher that only publishes books by a spiritual leader called Dada J.P. Vaswani. He has apparently written something around 80 books and booklets. On the second day of the expo the man himself was there signing books. They were almost more like evangelists than book publishers. But that was fine with me! They gave me stacks of free books, such as Many Paths, One Goal and Good Parenting and Bhagavad Gita in a Nutshell.
So much to read and so much to share with you!