One of Hinduism most fun and inclusive holidays is coming up: Holi!
I say inclusive because it's probably the best holiday for inviting new people and including friends of any religion or background. It's a joyous and riotous celebration of spring.
Holi is all about bright colors, laughter, and friendship. What's better than running up to a friend and throwing colored powder all over their hair?
In fact, holi traditions are so much fun that holi powders are now being used in a lot of different places, such as "color run" marathons and school functions. (It might be going the way of yoga. I have mixed feelings about this).
So if you've never gone to a Hindu festival before, look for Holi events in your area. And if you go to festivals all the time, ask your friends if they'd like to go. There's usually no religious aspects to these celebrations, though there may be Hindu music.
This year I've got nails to match my Holi celebration! I love these and I'm so thrilled to show off the upcoming holiday wherever I go.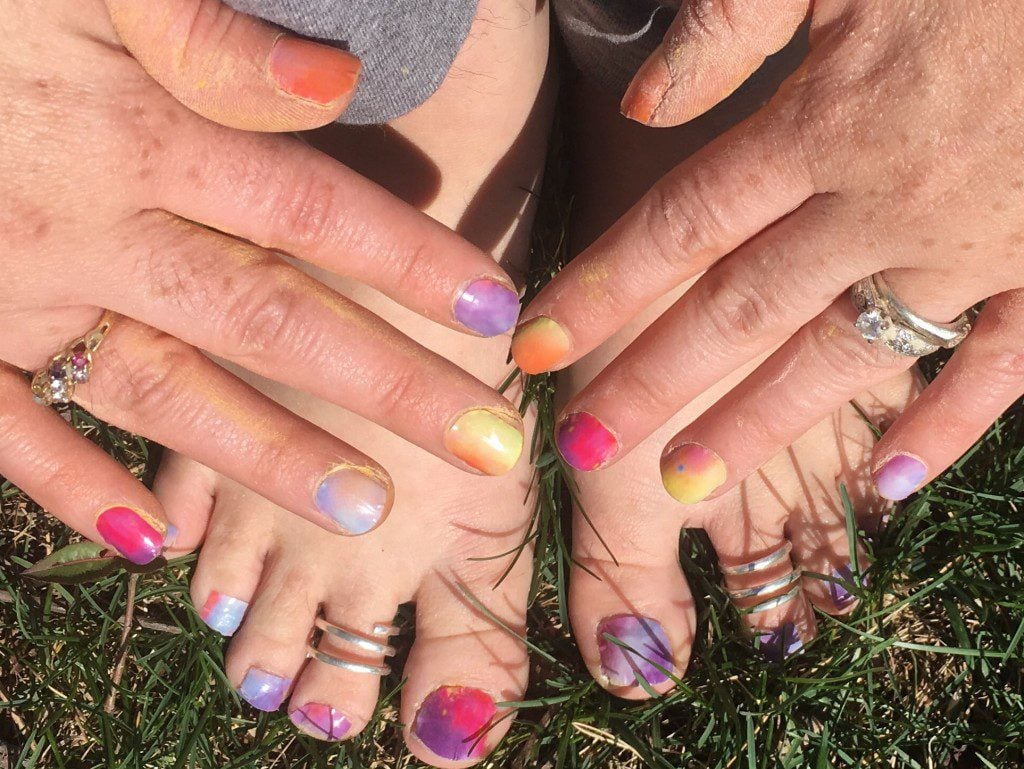 (People in the U.S. can purchase these nails here)
I'm looking at probably going to the local Hare Krishna event. ISKCON in Potomac (right outside D.C.) always throws a big Holi event.
I just found out that there's also been one at the Howard County Fairgrounds, which is a little more convenient for me, but it's unclear if they are holding the event this year. I emailed them and I'm waiting to hear back.
The ISCKON one isn't happening until the beginning of May, but Holi actually falls on March 13.
It's probably wise for them to schedule it a great deal later. There have been several years where there has been rain or even snow on Holi in the U.S.! Doing it in May is a little safer weather-wise. Holi isn't as much fun if it's cold or wet. (Except when you get shot by a water gun).
With any luck we'll have a few different Holi events to participate in. Last year my friend had a little thing at her house. Maybe I should offer my house this year, since I have a nice big yard for running around in! Perhaps the moms in my mom group would like a Holi event just for them and their kids to participate in.
Here is more information about celebrating Holi:
Tips
It's traditional to wear white (probably because the colors show up so well), just make sure it's not something nice white —> these colors do stain!
You can be mischievous and play pranks on people and just say "Holi Hai!" which means "It's Holi!" (or "Don't mind, it's just Holi")
There are some concerns that the powders might not be environmentally friendly or healthy for us, so you can make your own colors with these ideas: http://www.holifestival.org/holi-natural-colors.html (Or just use colorful spice mixes)
Holi can be rough on your beauty routine if you're a woman, here is a blog post from Indian Vanity Case with beauty tips for Holi: http://www.indianvanitycase.com/2010/02/holi-beauty-tips.html
Where to Go
Just Google "Holi event" and your area (city, state, county, etc.) and you should be able to find one to go to. They will almost certainly have colors for sale when you get there.
I highly recommend going with a group of friends, particularly if you aren't Indian. When you show up and try to play holi with a bunch of strangers, it can feel awkward to be throwing color at them. They may also feel awkward about throwing color at you, not knowing if you really understand what you're in for! Going with a group will help you get involved in the festivities.