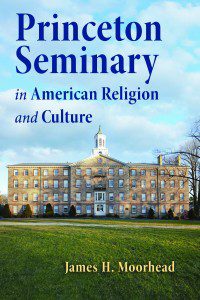 I have been a fan of James H. Moorhead's work since I read his American Apocalypse: Yankee Protestants and the Civil War as a graduate student.  As the Mary McIntosh Bridge Professor of Church History at Princeton Theological Seminary and the longtime senior editor of the Journal of Presbyterian History, Moorhead has had a stellar career as an American religious historian.
I was thus thrilled to open my mailbox today to find a copy of Moorhead's latest offering:  Princeton Seminary in American Religion and Culture (Eerdmans, 2012).  It is a bicentennial history of Princeton Theological Seminary that connects the history of the institution to larger trends in American religious culture.  This handsome volume (which includes several sections of glossy photos) comes with endorsements from Ronald White, Mark Valeri, George Marsden, James Bratt, Daniel Walker Howe, Mark Noll, Christine Heyrman, and Richard Carwardine.  From what I can tell after spending some time with the book this afternoon, Moorhead's study is a model for this type of institutional history.
Here is a description of the book:
The story of Princeton Theological Seminary, the Presbyterian Church's first seminary in America, begins in 1812, shortly after the United States had entered into its second war against Great Britain. Princeton went on to become a model of American theological education, setting the standard for subsequent seminaries and other religious higher education institutions.
Princeton's story is uniquely intertwined with American religious and cultural history, the history of theological education, the Presbyterian church, and conceptions of ministry in general. Thus, this volume will interest not only those with links to Princeton but also historians of religion, Presbyterians, leaders within seminaries and Christian colleges, and all who are interested in the history of Christian thought in America.
This book should be a stocking stuffer for all Princeton Seminary graduates and anyone else interested in the impact of the seminary on Presbyterianism and American religious history broadly.