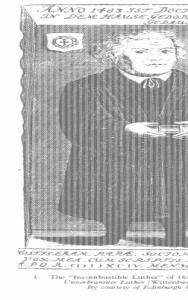 I have just returned from Europe, where, among other things, I led a 10-day study trip in search of the origins of Protestantism in the former East Germany, now among the most secular places on earth as sociologists of religion reckon.  As one Lutheran pastor put it during the twilight of the Soviet Era, "the people [here] have forgotten that they have forgotten God."
But one need not believe in God to profit from those who do.  Many of the cities in "Luther Land" are preparing for what they hope will be waves of tourism before and during the Reformation's quincentennial in 2017.  I suppose we were an early catch.  Our motley group set out from Berlin to trace Luther's steps.  With Wittenberg as our first stop and home base, we also visited Eisleben (where Luther was born and died), Erfurt (where he entered the Augustinian monastery), the Wartburg castle in Eisenach (where he translated the New Testament into German), and Halle (where he preached some of his final sermons and where, curiously, his death mask is kept).
Halle is also the principal campus seat today of the University of Halle-Wittenberg.  The joining of the two institutions took place in the nineteenth century after the French-Revolution-Napoleonic upheaval (1789-1815) closed down many German universities or forced them to combine with neighboring ones. At Halle, we spoke with Ernst-Joachim Waschke, one of the directors of the commemorative events planned at Wittenberg in 2017 and his colleague, Wolfgang Flüger, a leading scholar of the history of past Reformation commemorations.
We saw and learned many things on our trip, but here are some of the more surprising and curious:
During their entire time together at Wittenberg, Philip Melanchthon made a higher salary than Luther.  As the more accomplished scholar, Melanchthon had many offers to teach elsewhere, and the Dukes of Saxony had to keep ponying up the money to keep him.
A few years ago the artist Ottmar Hoerl cast 800 "Luther Dwarves" and exhibited them on the central town square of Wittenberg.  Many scholars and church officials criticized the one-meter high statues as a cheapening of Luther's legacy.  Given the artist's plans to sell the "dwarves" after the exhibition, one local theologian even decried the effort as "a tasteless selling of indulgences."  Strong words in Wittenberg!  Even so, many purchased them and one can spot mini-Luthers (in red, green, blue, and black) around the city.
One of the problems of the Reformation from a vendor's perspective is that it did away with saints' days, during which people customarily bought food and drink.  Consequently, the people of Wittenberg observe today just two official religious holidays: Reformation Day (October 31) and Luther's Wedding day (a moveable feast in June).  Interestingly, the latter holiday was concocted only in the 1994, as one local Wittenberger told me, as a public relations act to bring people to the city.  Apparently, it is working as close to 100,000 people descend upon the city for the festival each year.  Luther, who had penchant for ale, would probably approve, but I'm not sure what his wife and ex-nun, Catherine von Bora, would think!
For me, one of the most fascinating things we encountered was an "incombustible" picture of Luther, displayed in his birth house in Eisleben.  Several of these survive from the early modern period; they were said to have miraculously survived the burning of homes or buildings.  Early Protestants took this as a providential sign that Luther was in the right, and the images even gained a quasi-sacral status among some.  The many putative occurrences of the phenomenon led one Justus Schöpffer to catalog them in a 1718 book, The Incombustible Luther (Unverbrannter Luther), also on display in Eisleben.
But this is not the only element of "medieval" piety that was associated with Luther.  His death house quickly became a place of pilgrimage (a form of piety that Luther harshly criticized) right after his passing in 1546.  In fact, so many "Protestant pilgrims" showed up, some seeking to carve off a piece of wood from his death bed, that officials felt compelled to discourage the practice by removing the bed and having it destroyed.
This deathbed story raises an interesting question with respect to what we today take to be the Protestant notions of freedom of conscience and the priesthood of all believers.   Should the officials have tried somehow to honor the conscience of the laity in their desire to venerate Luther in this way?  Or, does conscience, finally, need instruction, even forceful instruction, by authority?
The history of Protestantism is the record of attempted answers to this question.
Postscript: For those interested in the "incombustible Luther" phenomenon, I recommend an article by Robert Scribner, "Incombustible Luther: the Image of the Reformer in Early Modern Germany," Past and Present 110 (1986): 38-68.