Over the past several weeks, I've been exploring the role of visions in the history of Christianity, specifically visions of Jesus. It was accepted by nearly all early Christians that men and women had been granted visions by the divine (and often of the divine), and it appears to have been widely accepted that at least some individuals continued to receive that gift. In the long wake of the New Prophecy, this rough consensus — about visions in general, not necessarily about any particular visions — partly broke down, at least among Christian leaders.
Augustine concluded that intellectual or intuitive insights without a reliance upon images or spiritual vision were far more trustworthy and desirable. Intellectual vision was superior to both ordinary physical sight and spiritual visions. It is unclear to what extent Christian leaders suppressed visionary experience in these centuries. While nearly all maintained that God at least on occasions granted men and women visions, some believed God only chose to do so with persons of unusual spiritual merit, namely priests and ascetics. Open access evolved into more restricted access to visions. Still, if some late-antique Christians leaders expressed heightened apprehension about dreams and visions, Isabel Moreira in her study of Merovingian Gaul finds that bishops and priests (such as Gregory of Tours) largely encouraged a visionary culture. "A strong tradition of unrestricted access to the supernatural through dreams and visions," writes Moreira, "persisted into the early middle ages in ways which were vital to the medieval understanding of the visionary phenomenon." Indeed, as Moreira notes, Gregory reported that even drunkards and sinners received such supernatural sights.
In any event, men and women continued to receive visions. In medieval Europe, women predominated in terms of this experience. Furthermore, as Barbara Newman explains, visions often occurred as "the fruits of a complex spiritual discipline. Over a period of centuries, monastic writers developed a sophisticated art for the construction of inner experience, involving disciplines of memory, perception, reading, and attention." Monks, nuns, and others cultivated visions through meditation, fasting, chanting, focusing upon visual objects (such as a crucifix or illuminated book), and by visualizing the life of Christ. In particular, contemplative prayer and meditation centered on the Eucharist produced visions of Christ. Men and women contemplated the transformation of the host into the body of Christ, often seeing their Savior in the process. [Barbara Newman, "What Did It Mean to Say 'I Saw'? The Clash between Theory and Practice in Medieval Visionary Culture," Speculum 80 (2005): 1-43.]
Interestingly, Newman observes that most medieval Christians simply reported that they "saw" supernatural beings or visions and did not acknowledge that those often "scripted" visions occurred partly as a result of their own disciplines. Newman references the fact that such methods still persist in Ignatian spiritual exercises, which reminded me of Tanya Luhrmann's examination of "kataphatic" prayer. "W]hen people believe that God will speak to them through their senses," Luhrmann writes in When God Talks Back, "when they have a propensity for absorption, and when they are trained in absorption by the practice of prayer, these people will report what prayer experts report: internal sensory experiences with sharper mental imagery and more sensory overrides."
There are many venerated female visions from the medieval centuries, including Julian of Norwich and Teresa of Avila. More obscurely, a woman named Hadewijch, a member of a Dutch lay religious order termed the Beguines, saw Christ "in the form and clothing of a man" while partaking of the Eucharist in the mid-1220s:
Then he gave himself to me in the shape of the sacrament, in its outward form, as the custom is; and then he gave me to drink from the chalice … After that he came himself to me, took me entirely in his arms, and pressed me to him; and all my members felt his in full felicity, in accordance with the desire of my heart and my humanity. So I was outwardly satisfied and fully transported. And then … after a short time … I saw him so fade and all at once dissolve that I could no longer recognize or perceive him outside me, and I could no longer distinguish him within me. Then it was to me as if we were one without difference.
Many (male) clerics were dubious about the visionary experiences of both men and women, if more so about those of women. Authentic or inauthentic, visions were harmless if they merely provided personal assurance of salvation or other forms of spiritual comfort. They were dangerous if used as a basis for edification or instruction.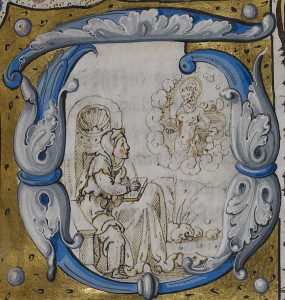 Barbara Newman identifies Birgitta (Bridget) of Sweden as "the most contested visionary of the Middle Ages." Martin Luther later referred to her as "the crazy [tolle, with a different meaning than nowadays] Brigit." Nevertheless, Birgitta was was canonized by Pope Bonafice IX in 1391. Customarily, Birgitta read from a book of hours, then sat at her writing desk overlooking a church, in which she could see Christ's body upon the high altar. An angel visited her and dictated portions of the lectionary, and she had fabulous visions of the Virgin Mary and Jesus, especially in his infancy. Interestingly, Birgitta revised her revelations after she dictated them, a fact that if known might have discredited her visions. "[S]ometimes," Jesus Christ explained in one message, "you write and rewrite them until you arrive at the proper understanding of my words, so, too, my spirit ascended and descended with the evangelists and doctors, for sometimes they wrote down things that had to be emended or retracted," and sometimes they were judged by others and found wanting."
Were visions the result of divine blessing or evil spirits? Could visions be authentic if the visionaries purposefully cultivated such experiences? How could one differentiate between madness and inspiration? Many of the Protestant reformers were rather more skeptical of visions than their medieval predecessors, a topic we will turn to next week.