Today through Friday, I am in San Diego, CA, attending the 66th Annual Meeting of the Evangelical Theological Society (ETS). The theme this year is "ecclesiology" and there are several good sessions on historical themes, including one I organized on the negative interplay between ecumenical evangelicalism and denominationalism. (More on that below.) Further, there are several other (non-historical) sessions that look interesting and three solid plenary sessions. First, a little history (taken from a prior post):
Formed in 1949, the Evangelical Theological Society grew out of the same mid-century evangelical impetus towards cultural engagement that birthed Youth for Christ, Campus Crusade for Christ (now Cru), World Vision, Christianity Today, and a whole host of other efforts that captured the spirit of the "new evangelicalism." Founding members of ETS such as Roger Nicole and Carl Henry imagined a society whose members produced top-notch scholarship in their respective fields while remaining firmly committed to biblical authority. As a result, since its inception, ETS members have been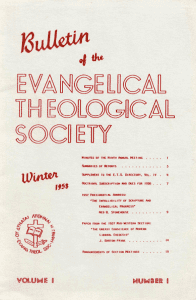 required to affirm biblical inerrancy. For a long time, this affirmation served as the only doctrinal requirement of the society. In the 1990s, however, the society added and a positive statement on the Trinity to its doctrinal basis:
The Bible alone, and the Bible in its entirety, is the Word of God written and is therefore inerrant in the autographs.
God is a Trinity, Father, Son, and Holy Spirit, each an uncreated person, one in essence, equal in power and glory.
This year, there are several good sessions with an historical emphasis. I will mention three here. First, led by my colleague Robert Caldwell, the American Christianity Section Committee of which I am a member has organized two sessions. The first (on Wednesday morning) focueses on Park Street Church, the historical evangelical church located on Boston Common. Billy Graham's surprisingly successful 1950 crusade used Park Street as its base. In addition, neo-evangelical par excellence Harold John Ockenga, the first president of both Fuller Seminary and Gordon-Conwell Seminary (South Hamilton, MA), served as pastor of Park Street Church from 1936-69. Three solid papers on the billet, and indicating the sort of pastoral-scholar connection still prevalent in many evangelical circles, Gordon Hugenberger, the current pastor of Park Street Church will be responding.
I am also looking forward to our second session on Thursday afternoon entitled "American Ecclesiology and Soteriology," in which D.G. Hart (who is an invited guest, not a member of ETS) will undoubtedly critique evangelical ecclesiology in his paper, "Membership Has Its Privileges." Somehow, my good friend John Mark Yeats has been assigned the unenviable task of responding to Hart. It should be fun, with at least some fireworks.
Finally, my own session, entitled "The Dark Side of Evangelical Ecumenism: Downplaying Ecclesiology, Destabilizing Orthodoxy, and Downgrading Denominations," will convene on Thursday morning with the following on the docket:
1) "A Part of Which Church?: Jewish Converts, the London Society for the Promotion of Christianity Amongst the Jews and Evangelical Cooperation" by John Mark Yeats (Midwestern Baptist Theological Seminary)
2) "Darkness in the Light: the Evangelical Propagation of Instability in the Burned-Over District" by Daniel Roeber (Florida State University)
3) "Evangelicalism as Trojan Horse: The Failure of Neo-evangelical Social Theology and the Decline of Denominationalism" by Miles S. Mullin, II (Southwestern Baptist Theological Seminary)
Response: Nathan A. Finn (Southeastern Baptist Theological Seminary)
Response: Robert Caldwell (Southwestern Baptist Theological Seminary)
Panel and Audience Discussion
If you are at ETS or in the San Diego area, I'd love to have you stop by Pacific Salon One at the Town and Country Resort & Convention Center on Thursday morning at 8:30 to participate and offer your critique.
The membership of ETS is large and encompasses a wide swath of disciplines. On the downside, this means that papers sessions are not always as of high a quality as they might be at discipline-specific conferences. On the upside, it means that I get to rub shoulders with scholars well outside my own field, conversing with biblical scholars, philosophers, ethicists, practical theologians, and learning from them. I have even been known to attend a panel or two that has nothing to do with Church History or American Religion. The plenary sessions are almost always good, and this year I am especially looking forward to hearing Miroslav Volv, one of my favorite preachers, speak on "The Measure of the Church."
I hope to see some of you in San Diego real soon.