The canonization of Mother Teresa on September 4 was a global affair. The coronation occurred at the Vatican in front of 120,000 people. The people in her homeland of Macedonia rejoiced. So did the members of the Missionaries of Charity, the blue-and-white robed religious order she founded in 1950. At the original site of the Missionaries of Charity in Kolkata, balloons were strung from the rafters of Nirmal Hriday Home for the Dying Destitute, and a battered audience watched the festivities on a screen. This scene was repeated in many of the 400 other Missionaries of Charity sites around the world, including offices in Yemen, Australia, Venezuela, Guatemala, and the United States.
One of the least celebrated of those outposts is in Eastern Kentucky. In the 1980s Mother Teresa launched a modest Missionaries of Charity branch in Jenkins, a tiny town decimated by the decline of coal. Since the industry's height in the 1940s, Jenkins, located on Elkhorn Creek in Letcher County, had been in free fall. At midcentury Consolidated Coal Company—and then Bethlehem Steel—began to harvest the last of the easy-to-access coal seams in their 100,000 acres of vast coal lands.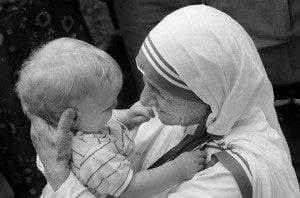 The decline devastated Jenkins, which was essentially a company town. It was said that "the company saw them into this world and escorted them out again." But in the late 1940s Consolidation sold the hospital and funeral home. Then Consolidation divested itself of the city and its property, selling everything to residents who were beginning to hemorrhage jobs. And it only got worse. Between 1980 and 1990, the population dropped from 3,271 to 2,751. As Mother Teresa began her work in 1982, there was lots for her to do.
Unlike celebrated sites like Kolkata, Jenkins was—and is—incredibly isolated. To get there, described the Kentucky Enquirer in 1996, you "wind through hills and hollers" and past a state park called Kingdom Come. You encounter an abandoned train station, an abandoned high school, and an abandoned Ashland gas station. When Mother Teresa established it in the 1990s, there was no Salvation Army, no community outreach programs for the needy, no emergency funds for those in crisis. "The nuns fill a big void, and they do it in a quiet, unassuming way. It's against the rules to talk to reporters," explained one resident in 1993. They clean homes, install insulation, change bandages on bedridden patients. And they do while avoiding promotion. It's against the rules to have a television, subscribe to a newspaper, or talk to a reporter.
Long before Hillbilly Elegy, White Trash, and Donald Trump, Mother Teresa was quietly attending to the problems of Appalachia. There are some exceptions—like FAHE and the Christian Appalachian Project—but Appalachia remains a neglected region. Humanitarians often fly far above Letcher County, Kentucky, on their way to more exotic locales.
Significantly, this humanitarian work came from global sources. When Mother Teresa died, there were four Jenkins nuns: one from Indiana, but two from India, and one from Italy. This is not an isolated case. In fact, the Missionaries of Charity represents a growing trend. The old pattern of religious people going out from "the West to the rest" is now much more complicated. Mission is now directed from "everywhere to everywhere."