Well, nothing so grand. But if you're just returning to this blog after a summer away, you'll find some significant changes. Not only have Kristin Kobes Du Mez, Tim Gloege, and I joined the Bench, but we now have a Twitter account and a Facebook page!
Welcome to The Anxious Bench, feat. reflections on faith, politics, and culture by Christian historians. https://t.co/nIdSRY64mA @Patheos

— The Anxious Bench (@anxious_bench) June 28, 2016
In addition to giving us another way to promote our own Anxious Bench posts, we mean to use these platforms to share other things that would interest readers of a blog like ours. First, what our contributors are writing for other outlets, whether it's what David and I are posting at our personal blogs, Philip's columns at The Christian Century and The American Conservative, or special works like Kristin's late July appearances in The Washington Post and on a Christianity Today podcast.
In @washingtonpost @kkdumez urges @HillaryClinton to "redefine herself" by drawing on her faith. https://t.co/zOmZud9G9f #DemsInPhilly

— The Anxious Bench (@anxious_bench) July 26, 2016
Second, we'll increasingly use our Twitter account and Facebook page to point readers to other posts, columns, articles, podcasts, books, etc. that might interest our readers, either because they come from similar historian-bloggers (e.g., Tommy Kidd, John Fea, Tracy McKenzie) or because they provide further information or different perspectives on topics we've been writing about.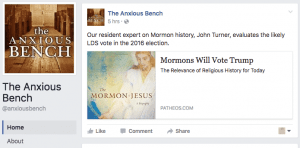 After a soft launch back in late June, we've slowly accumulated a couple hundred followers at each platform. But we'd love to grow those numbers significantly this month!
So if you enjoy The Anxious Bench and use social media, please:
Follow/like us yourself
Invite your Facebook friends or Twitter followers to follow your example
And for any of our posts that you particularly like, please consider sharing them on social media. You'll find buttons to facilitate this at the bottom of every post.
Facebook likes and Twitter hearts are certainly appreciated. But shares do a lot more to spread the word, especially if you also remember to tag us.
And remember that you can follow several individual Bench-ers at Twitter: @bethallisonbarr, @cgehrz, @davidrswartz, @kkdumez, @timgloege.
Using this today in my class! Excellent @anxious_bench @kkdumez History, Empathy, and Race in America https://t.co/PEC2UtZXXX

— Beth Allison Barr (@bethallisonbarr) August 25, 2016
Alas, John Turner's author page is still correct: "You cannot follow him unless you find him in person."
If you'd like to comment on this or other Anxious Bench posts, please note that World Table is having some problems with Firefox as it operates on Macs, and their best efforts to resolve the issue have not yet worked. If you do run into problems, try an alternate browser, such as Chrome or Safari. Thanks!