Even as Kristin was contemplating the future of Christian higher education last Thursday, "A Statement of Confession and Commitment" was circulating in that corner of higher ed. As of this morning, it has been signed by over 400 "confessing faculty" (and staff) at seventy Christian colleges, universities, and seminaries — including Kristin, David, and me, plus former Bench-er John Fea and recent guest-bloggers Scott Culpepper and Rusty Hawkins. It's been posted to the Facebook page for the Council for Christian Colleges & Universities, but also includes Catholic universities, mainline seminaries, and other non-evangelical institutions.
While far from perfect, this document speaks to two purposes of Christian higher education that are both fundamental and sometimes uncomfortable: we educate for justice, and we exist to challenge and support the Church.
Confession, Commitments, and Critique
After a preamble, the statement opens by observing that "The current political climate reveals longstanding national sins of racism, misogyny, nativism, and great economic disparity," sins that should grieve Christ-followers who hold the following beliefs:
We affirm the dignity of every human being as created in God's image (Gen. 1:27). We submit to the sovereignty of Christ who humbled himself unto death. As members of his body, we strive to consider others above ourselves (Phil. 2:2–8); to speak the truth in love (Eph. 4:15); to serve one another in humility (Matt. 20:26–28); and to honor and steward God's good creation (Gen. 1:28). As one body, if one member suffers, all suffer (1 Cor. 12:26); if one weeps, the body laments with them (Rom. 12:15); even creation groans in bondage to decay (Rom. 8:19-23).
And so, we signers "join our voices with those who are most vulnerable." But more than that,
We confess that we have, too often, failed in calling out injustice, in loving and knowing our neighbors, and in properly stewarding God's creation. We pray for genuine conviction to undo the harm we have caused. In the midst of real suffering within our community, we humbly seek not only to love our neighbor but to know our neighbor (Luke 10:29), through our conversations, classroom discussions, and times of prayer. We hope to embody a community in which walls of hostility are broken down (Eph. 2:14) and where love casts out all fear (1 John 4:18).
Inevitably, a statement like this can't fully satisfy even those who signed it. On the one hand, Baylor theologian Roger Olson agrees with "almost all of it and certainly with the 'spirit' of it, but I do not think it goes far enough. Given the religious rhetoric of hatred common in America today, I think what we really need is a 'Kirchenkampf'–a church struggle resulting in a 'Confessing Church' within the evangelical community in America especially." (See my "unpleasant parallels" post from last October for some background on Roger's allusion here.) But my colleague Ray VanArragon, a Calvin- and Notre Dame-educated philosopher of religion, warned yesterday that the statement's wording "may backfire. It may turn off more people than it wins over – if indeed it does win anyone over, or turns off anyone who wasn't turned off already."
I can sympathize with both concerns. But on balance, I'm still heartened to see this initiative gather steam. I've already written some preliminary reflections at my own blog, but let me add two arguments here.
Educating for Justice
I can imagine someone — even someone very familiar with and sympathetic to Christian higher education — nodding along with the statement's affirmation of "our deep resolve to pursue truth, to reason carefully, and to rely on sound evidence." Any institution of higher learning ought to be so resolved, but especially one whose identity is centered on the Word, Jesus Christ, who is not only the Way and the Life, but the Truth.
But that same person might feel less comfortable with the stated commitment to acknowledging "pain and woundedness" or seeking "healing, reconciliation, and justice." What, our hypothetical reader might ask, does that have to do with Christian higher education?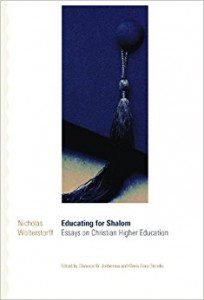 Everything, insisted Reformed philosopher Nicholas Wolterstorff in Educating for Shalom: Essays on Christian Higher Education. For even time-honored Christian models of education that take seriously the quest for truth can fail to respond
adequately to the wounds of humanity — in particular, the moral wounds; none gives adequate answer to our cries and tears….

When I say that the moral wounds of the world must find a place in our curricula, what I mean is not just that we must teach about justice — though we must; I mean that we must teach for justice. The graduate whom we seek to produce must be one who practices justice. (pp. 22, 24)
Wolterstorff anticipated the counter-argument that what he proposed "will politicize the college," but he insisted that justice was an indispensable objective of Christian institutions of higher education:
…[Scripture] does say that the cries of the poor, of the oppressed, and of the victimized touch God's heart, and it does indicate that the groans of God's created but now polluted earth bring tears to God's eyes. We are touching here not on issues of taste or judgment but on issues of right teaching, of orthodoxy. We are touching on our understanding of the nature of God. If a college is to commit itself to serving the God of the Bible, it must commit itself, as an academic institution, to serve the cause of justice in the world. I find no detour around this conclusion. The God who asks Christians to go into all the world to preach the gospel of Jesus Christ is the very same God who loves justice. (p. 25)
Now, I think Ray is right to wonder if the Confessing Faculty statement defines justice such that it "slyly suggests that Christians ought to share the priorities of the political left – a suggestion reinforced by the fact that, expansive as it is, it makes no mention of abortion. Right-of-center Christians, even well-meaning ones, may be inclined to dismiss the petition as pompous, disingenuous, and one-sided." (For that matter, however, a Christian college alum complained to me that the statement wasn't progressive enough, since it didn't explicitly name LGBTQ individuals alongside women and persons of color as "marginalized groups.")
Nonetheless, the signers include Christian scholars from across the political spectrum. And Ray ultimately added his name because he wanted "to express solidarity with those vulnerable people who are genuinely threatened by the policies Trump is promoting and by the hate groups he has inspired."
Challenging and Supporting the Church
Unlike its North Park and Westmont antecedents, the Confessing Faculty version of the statement is not aimed primarily at students or alumni. Instead, it hopes "to address our larger communities of faith as we all engage in dialogue, discernment, and action."
How it will succeed in reaching such an audience is open to question. Another Christian college alum asked me on Facebook if the statement wouldn't be confined to an "echo chamber" of like-minded Christian college faculty.
If all we do is sign it, I think that's a valid concern. But I would hope that any faculty members willing to add their names would also be willing to share it with friends, family, students, alumni, co-workers, etc. Even better, I hope that they'd make known their own thoughts on it, as Ray and Roger did with their somewhat critical posts. Failing that, I'm not sure that further "dialogue, discernment, and action" are likely.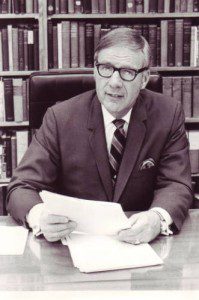 And they should be. One of the trickiest tasks for any Christian institution of higher learning is that it is obligated both to challenge and support the Church. I've always appreciated how Bethel's longest serving president, Carl Lundquist, phrased it in his 1961 report to the school's sponsoring denomination:
Our hope at Bethel is to find the golden mean where there exists sturdy confidence in the spiritual and intellectual integrity of the school even when it raises disturbing questions, engages in rigid self evaluation, expresses dissatisfaction with the status quo and seeks less popular but more consistently Christian solutions to the problems that vex mankind.
Nor is this idea unique to evangelicalism or Protestantism. In 1967 several of Lundquist's Catholic peers, led by Notre Dame president Theodore Hesburgh, asserted in the Land O'Lakes Statement that the Catholic university both "serves as the critical reflective intelligence of its society" and "has the added obligation of performing this same service for the Church."
Of course, that's been an unpopular service in some quarters of American Catholicism — even at Notre Dame — and evangelicals have often been wary of their own colleges and seminaries. The trick is that doing everything in the second half of Lundquist's statement can undercut the confidence he sought in the first.
But having been not only a Christian college professor but a church lay leader, I'm here to tell you that you should only have confidence in us if we are challenging you in this way. Because it confesses where our deeds don't match our words, a statement like this one is an attempt to seek Lundquist's "spiritual and intellectual integrity," without which we couldn't serve the needs of the Church.
Our Vocation to the Church
How, then, do those of us who work for such institutions challenge and support the Church? Above all, we do it as teachers and mentors, seeking justice and integrity within communities where professors, staff, and students can more fully know, trust, and love each other as whole, complex persons.
But in addition, many of us respond to what historian Tracy McKenzie has called Christian scholars' "vocation to the church," by taking our scholarly work to the Christian public. For example, Kristin noted in her post that
For example, John is now on season 3 of his podcast. Support him at Patreon and you too can own an official TWOILH mug!

Many professors at Christian colleges already have a strong track record of doing public scholarship. Some, like John Fea and Jamie Smith, to name just two, regularly reach audiences within and far beyond their faith communities. And many other Christian college professors do the hard work of public scholarship with less fanfare, at the local level. At many Christian colleges, scholarship that serves the church "counts" when it comes to tenure and promotion. At my own college, we regularly receive invitations to publicize campus events in area church bulletins. We speak in local churches and write in church publications. We regularly host events and speaking series (like the January Series and, more recently, Just Citizenship) that reach our local and church communities and large alumni networks. In a multitude of ways, faculty and staff members at Christian colleges provide leadership in their churches, from the local to the national level, bringing their scholarly expertise to a wide array of issues.
In the process, I hope that we've cultivated trust among our sisters and brothers in Christ, such that they don't doubt that when we speak a difficult word to the Church, we do so in love and hope.
For on rare occasions, those of us who belong to learning communities both independent from and connected to the Church need to confess our faith in a Barmen-like fashion. I don't believe that any statement released into the virtual ether can take the place of thicker practices like teaching and scholarship. But this does feel like a moment in which it's important to exhort the Church not "to abandon the form of its message and order to its own pleasure or to changes in prevailing ideological and political convictions."