Step away from that soundtrack!
Last month Library of America released The Essential Hamilton by Yale professor Joanne B. Freeman, who has been writing and teaching about Alexander Hamilton and colleagues for over two decades. John Williams's recent New York Times mention of the book describes it as "Hamilton Minus Music," or, "a more direct (if less rhyming) way to learn about Alexander Hamilton."
I think that is meant as a compliment and the book certainly merits compliment. Freeman likely is more generous than I but I admit to chafing a little at that kind of compliment, at the assumption of an audience only able to keep up interest in that Treasury Secretary when staged and put to good music. I appreciate Lin-Manuel Miranda's work, stemming as it does from his own interest in the man, as we learn in the excellent PBS story-within-a-story about the making of Miranda's Hamilton. But Hamilton was plenty interesting before he was Hamilton-ed.
My disquiet over Williams's idiom of praise stems from questions about what Americans ought to know about their country's history, or really, what they ought to want to know. One can't know everything, and I have observed enough U.S. history survey courses to see that much over which teachers enthuse falls through the cracks in students' interest. But still, some U.S. history topics, including Revolution, Constitution-making, and early nationhood, should clear that bar without overmuch enhancement. We should want to know about Hamilton's career because it's interesting. It's also curious, formative, fascinating, and–in a way that Freeman is particularly good at bringing out–full of personalities, some deservedly famous and some stuck obscure, entirely as entertaining as television, often more so, and more significant. Those eighteenth-century arguments, the way they were framed and the way they tilted, shaped the country we all are sitting in.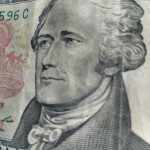 A few classic emphases usually surface in treatments of Hamilton. We are reminded of his national vision, enabled by his roots outside of the thirteen colonies. We see his thirst for fame and the achievements to merit it, which fit with our own appreciation for social mobility. We note his reputation for elitism, alongside well founded concerns about mass politics. We also get his sense that "religion," while occupying a limited place in his own life, seems important to the polity. Hamilton resonates, as Miranda demonstrates.
Freeman also demonstrates it, afresh and effectively. In thoughtfully chosen selections with helpful notes, the book puts flesh—and words—on the familiar characteristics of the man.
It is just the thing to pick up before the Fourth next month. Bring it as a housegift for someone hosting you over the holiday. Offer to read aloud from it, as dusk falls before fireworks. That might be the right moment to ask the next question: what figure from U.S. history would you like to see Hamilton-ed? Leaping onstage in a compelling way to sing their significance: John Quincy Adams? Lucy Stone? Charles Grandison Finney? Who deserves the next such spotlight?