The Shane Claiborne-Jerry Falwell, Jr. thrown-down ramped up last week as the Red Letter Christians prepared for revival. Claiborne, a radical evangelical who lives in a Philadelphia intentional community and wrote Jesus for President (2008), had extended an invitation to Falwell, the president of Liberty University, to pray with him. In response, Falwell issued a restraining order against Claiborne. Falwell then banned at least one major newspaper reporter from campus. He also barred a student reporter from his own campus newspaper from covering the Red Letter Revival.
Over the weekend, I drove our trusty red minivan from Kentucky across the Appalachian Mountains to Virginia to check out the action. I attended the revival Friday night, took a three-hour campus tour of Liberty on Saturday morning, and then returned to the revival on Saturday afternoon. As you might expect, the contrasts between the two evangelical sites—just five minutes apart—were fascinating and stark. (For a photographic essay of both sites, click here.)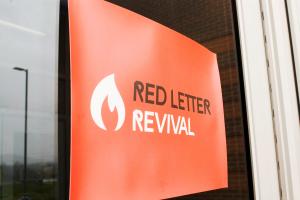 If not for much of the content, Falwell might have felt quite comfortable with the Red Letter Revival. Preachers called for more piety and generous giving. They warned of sin pervading the land. They told churchy jokes (Claiborne said he wasn't in Lynchburg to protest, but instead to "pro-testify!"), using humor along with lament to drive a spirit of old-fashioned revivalism. Attendees responded, raising their hands and exhorting the preachers from their seats. Exclamations of "We need a revival!" carried along extended periods of biblical exposition. As the gathering ended, Tony Campolo presided over an altar call.
The Red Letter Revival, however, did not seek revival as the answer to Islam and political liberalism. It instead sought evangelical repentance for Christian nationalism, racism, sexism, and homophobia. Pastor David Anderson called for love of enemy. "The gospel is beautiful for the jailed and the jailor," he declared. "You can fight for freedom without killing for it," rapped Micah Bournes. The crowd—strikingly diverse and multi-generational—responded enthusiastically.
What made Falwell's blood boil was that the Red Letter Revival indicted Liberty, a broader Christian nationalism, and Falwell himself. The revival organizers did not choose Lynchburg at random. The geography was meant to be prophetic and oppositional. Anderson declared, "Some evangelicals are more committed to the amendments than to the commandments." William Barber, leader of the Poor People's Campaign in North Carolina, described Falwell's leadership style as authoritarian. Falwell, he said, is "justifying the GOP's immorality" in the "same way" slaveholders used the Bible to justify slavery. Calling himself a "theological conservative," Barber scolded right-wing religious leaders, saying that "they call themselves conservative, but they liberally resist so much of God's character."
The Red Letter revivalists represent a small (though possibly growing) segment of the religious population. Many are compelled by Barber's vision that combines a more progressive politics, a broadly evangelical ethos, and a more multicultural vision. Could young evangelicals be attracted to a revival that features only two white men out of the 18 preachers on stage? Could a revival movement that hands out response cards on which you can check a box to learn more about "following Jesus," "finding a local church," and "contributing to the Poor People's Campaign" appeal to young evangelicals who want to shake up established categories?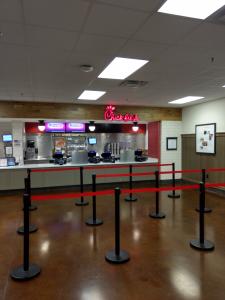 As the Red Letter Revival prophesied in the direction of Liberty, however, campus didn't appear to be listening. As our family (along with 2,700 prospective students and parents on campus that weekend) took a tour, winsome student guides were just doing their thing, brightly telling us about the campus bowling alley, the Snowflex Park, the caring faculty, and the supportive spiritual atmosphere. Interpreting the "Liberty Way" with both grudging admiration and eye rolls, one guide exclaimed, "Modest is hottest!" They showed us the very impressive cafeteria filled with happy students (including a young woman wearing a #blessed t-shirt). My elementary-school-aged son was so impressed with the shiny cafeteria that he declared Liberty his college choice. Minus an irritated Jerry Falwell, Jr., Liberty was too busy praying, reading their Study Bibles, and eating Chick Fil-A to even notice the Red Letter Revival happening two miles away at a local high school.
Compared to the Red Letter Revival, Liberty was enormous. There were construction cranes everywhere. As the student tour guide described Falwell's vision for the longest academic lawn in the country, she said, "If it's Christian, it has to be better!" Most of the buildings lining the lawn were less than five years old. The newest of them, the divinity school building called Freedom Tower, rose 14 stories in the sky, making it the tallest building in Lynchburg. Promotional literature described how Liberty went from $100 million in total assets in 2008 to over $2 billion in 2018. Its endowment rose from practically nothing in 2008 to $1.4 billion in 2018.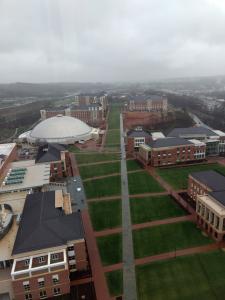 Liberty, as any observer of American religion knows, is not just big; it famously practices a vigorous Christian nationalism. This was readily apparent during our visit. We observed video footage of Trump at the 2017 commencement exercises and camouflaged ROTC units prowling through the hills surrounding campus, American flags in staged student dorm rooms, and busts of American presidents. Computer screens, posters, and promotional videos fused the language—and even the font—of the Constitution to the university's identity. Just outside the Jerry Falwell Museum, the university founder's portrait was flanked by the Christian flag and the American flag. The tagline "Champions for Christ" was plastered all over campus, and promotional literature boasted that Liberty students have access to the highest levels of American government. Liberty trains its graduates to "change the world." Jerry Falwell, Jr., presides over an empire of Christian Americanism.
None of this, of course, is new. Long before Falwell's political courtship with Trump, Billy Graham and a host of other American evangelical leaders practiced Christian Americanism, cozying up to presidents and seeking to transform the world using American power. And the evangelical left, never fitting comfortably in either political party, has always lacked a political or cultural home. It has always suffered from a lack of money. In contrast to a religious right that settled in the Sunbelt and tightly aligned with the burgeoning Republican Party, the evangelical left labored in the rust belt, a region burdened by high oil prices and the failures of the auto industry. Nor did most even want to benefit from the spoils of federal defense contracts.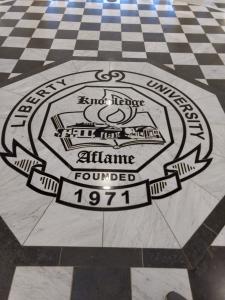 Teachings on the renunciation of wealth and criticisms of capitalism led progressive evangelicals away from high-paying business and industry jobs, and their strident rhetoric against affluence alienated evangelicals who did take those jobs. Attempts to corporatize the movement were often hesitant and tardy, befitting its anti-technocratic origins. "Whenever I go and meet a wealthy person," complained David Hubbard, a moderate evangelical leader at Fuller Seminary in the 1980s, "I find that [Campus Crusade CEO] Bill Bright has been there first." Cal Thomas, a disgruntled former lieutenant of Jerry Falwell, Sr., who in 1984 renounced the religious right, explained, "Since I started living a simple lifestyle, I can't afford all the stamps I once could when I was a captive of the profit motive and working for Falwell!" A commitment to simple living militated against the development of a well-funded, large movement.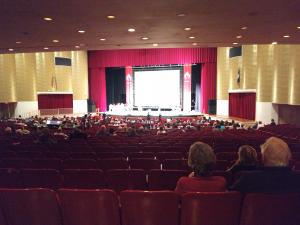 This small-is-beautiful sensibility was easily apparent at the Red Letter Revival. The crowd was so small that I was bumping into famous luminaries of the evangelical left every time I turned around. In his signature style, Tony Campolo during the offering time begged for evangelical scraps from school teachers, pastors, missionaries, pastors, and social workers. As the talented Micah Bournes sold only a few albums in a high school lobby, Liberty put the finishing touches on preparations for a Toby Mac concert in their 10,000-seat arena. If the weekend were judged as a contest of numbers, Liberty was the easy winner: a behemoth swatting at an annoying gnat.
So what, then, explains Falwell's outsized reaction to Claiborne? All the religious actors involved seemed to recognize that power also comes from the margins, not just Washington. Oceans rise and empires fall, King George III acknowledged in verse when the pesky colonists began to revolt. Indeed, Falwell's empire may not be as secure—or as uniformly nationalistic and right-wing as observers think. Groups of Liberty students sat together at the Red Letter Revival. Students I talked with on campus generally sighed when asked about Falwell's politics. They described considerable diversity within campus.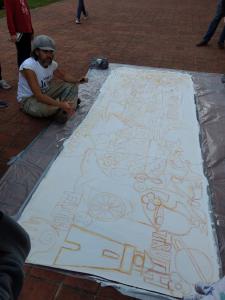 Nor did the Red Letter revivalists seem particularly disheartened or surprised by the low numbers (only about 350) of their gathering. Speakers noted that God always works from the margins to challenge empires. The evangelical left has long sought to build micro-societies that would prefigure coming justice—that of Jesus' second coming but also of a more just and humane society. They reason that a corrupt world obsessed with bigness could be reached only by creating alternative social structures that would shine as a beacon to the world. This does not require a "quiet in the land" approach, but a rational and social toughness that forges solidarity with those who suffer.
It's an approach that resonates. It threatens evangelical emperors. It appeals to young evangelicals disenchanted with Pax Americana. It appeals to students of the civil rights movement who have seen this strategy work. It appeals to the national media. Red Letter revivalists may be swamped by the money of the religious right, but National Public Radio, the New York Times, Religion News Service, and many local television stations gave them an outsized platform to voice their prophesies. The evangelical left remains part of the national discourse.
As I moved between evangelical sites in Lynchburg throughout the weekend, the whiplash was considerable. Indeed, it was hard to believe that Falwell and Claiborne occupy the same religious universe. But the battle for the evangelical soul will undoubtedly continue. The next Red Letter Revival will be held later this year in Dallas, the home of Robert Jeffress, the evangelical advisor to Trump whose church choir sang "Make America Great" in front of Donald Trump on the Fourth of July. Following in the steps of biblical prophets, left-wing reformers in the sixteenth century, nineteenth-century abolitionists, and antiwar protesters in the 1970s, these radical believers will keep warning the faithful about Christian collusion with Roman, Constantinian, and American power. And they will do so in a very evangelical way: by preaching Jesus's red letters.