One of the most striking moments in Ken Burns' 2014 documentary on The Roosevelts comes when Franklin contracts what was diagnosed in 1921 as poliomyelitis. A former polio patient himself, historian Geoffrey Ward is visibly overcome as he tries to describe the depth of terror that FDR must have felt as a highly active, athletic adult who suddenly could not move his legs. Among other responses, says the narration (written by Ward), FDR "momentarily lost his religious faith, could not understand why God, who had favored him for so long, now seemed to have turned away."
Rewatching that scene recently made me realize that I'd given no thought to the faith of Franklin Roosevelt. I didn't know his religious upbringing, nor how religion shaped his rhetoric or policies as president. I hadn't considered if spiritual doubt or reassurance accompanied the sudden onset of his illness and the agonizing pain of his recovery. It hadn't even occurred to me the religio-political connection that James Tobin points out in his book on FDR and polio: that the 1920 Democratic vice-presidential candidate and his advisers feared that future voters would see his illness as "God's punishment for mysterious sins Roosevelt had committed in the past. There was also the traditional view, as a midwestern editor would later put it, that 'a physical cripple is inclined to become an emotional and spiritual cripple'"
So when I picked up a copy of H.W. Brands' biography of FDR, Traitor to His Class, I kept flagging the infrequent, but significant mentions of religion:
FDR's upbringing as an Episcopalian whose prep school principal, an Episcopal priest named Endicott Peabody, not only officiated the wedding of Franklin and Eleanor Roosevelt, but presided over a private worship service for FDR and his cabinet after the 1933 inauguration;

Roosevelt's enthusiastic response to what he called the "very remarkable

religious service

" (beneath the guns of the

HMS Prince of Wales

) that opened the 1941 Atlantic Conference with Winston Churchill;

The biblical allusions that kept popping up in the speeches of a man who included worship among the "

four freedoms

" he thought Americans exercised "under the guidance of God."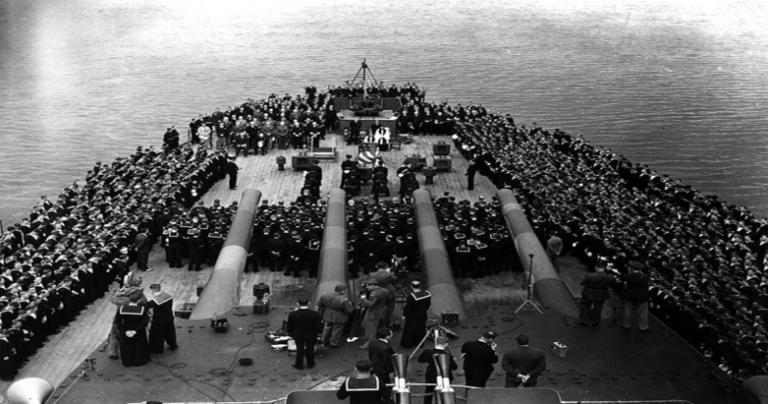 So why hadn't I thought of religion when I thought of FDR? Very likely, it's because I'm tempted to measure our politicians' religiosity by the standards of evangelical practice and belief.
But Roosevelt's was a private piety, not expressed through regular churchgoing or emotional testimony about spiritual experiences. Brands points out a couple of interesting limitations on Roosevelt's ability (or willingness, at least) to make his personal faith more public. First, he stayed home most Sunday mornings in part because worshipping at churches not accessible to wheelchairs was "more trouble than it was worth, potentially embarrassing to him and definitely distracting to the other congregants." Second, FDR was loath to talk more directly about religion ("his own or others'") because the religiously fractious nature of his coalition ("Southern Baptists, Irish Catholics, and East European Jews, in addition to the more mainstream Lutherans, Episcopalians, Presbyterians, and Methodists") left him with "[n]o desire to jeopardize his success by raising issues best left to the theologians." An early advocate for the "Judeo-Christian" construct that became so familiar in the Cold War, FDR struck a consistently ecumenical posture. In 1940 he even told a Christian missions group that the New Testament's "message of brotherhood, of faith and good-will, and of peace among men" represented an ideal that was "not confined to the followers of the Christian faith but has been accepted as a part of the philosophy of other great religions — some of them older than Christianity and some more recent."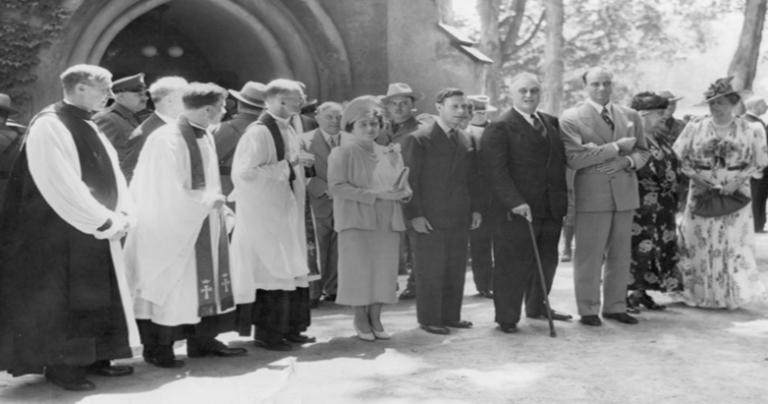 Does that comment speak to the challenge facing presidents as they practice civil religion in a pluralistic society, or hint at a kind of theology worrisome to evangelicals?
Actually, I think most rank and file evangelicals would find familiar the "very simple religion" that Eleanor Roosevelt insisted was at the core of her husband's life: "He believed in God and in His guidance. He felt that human beings were given tasks to perform and with those tasks the ability and strength to put them through. He could pray for help and guidance and have faith in his own judgment as a result." But would they recognize "the Jesus-based theology" that religion journalist Christine Wicker says FDR absorbed from the liberal Protestantism of his childhood and infused into his adult politics? Would they believe possible that government, as FDR predicted after being elected to a second term, could become "an instrument of unimagined power for the establishment of a morally better world," one in which "evil things formerly accepted will not be so easily condoned"?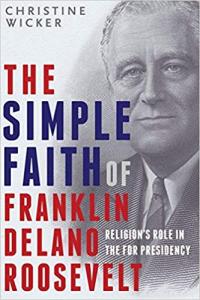 I'm only a few chapters into the Kindle version of Wicker's The Simple Faith of Franklin Delano Roosevelt, so I'm not sure if she'll continue to ask (as she hints in the preface) why evangelical Christians "do not commonly laud Roosevelt for his Christian influence on government, even though many of his policies came directly out of their core religious values." But from the first pages of the book, Wicker suggests a contrast between the conservative faith of her upbringing ("I was in my early twenties before I ever heard another Christian say that Jesus expected us to work for social justice") and FDR's attempts to follow "Jesus's commands regarding brotherhood, love, and humans' responsibility" by implementing the policies of the New Deal.
Meanwhile, I already find myself considering another contrast: between Wicker's spiritual biography of Franklin Roosevelt and the one I'm writing on Charles Lindbergh.
Unlike that most implacable of his critics*, Franklin Roosevelt spent his childhood and adolescence immersed in Christianity. He may have become in adulthood as infrequent a churchgoer as Lindbergh was throughout his life, but it seems that FDR never forgot the biblical lessons he heard week after week in his Episcopal church at Hyde Park and Peabody's chapel at Groton. No doubt that included the first chapter of the Bible. Near the conclusion of his 1942 State of the Union address, Roosevelt framed World War II as a spiritual contest between those who did and didn't affirm the Imago Dei:
Our enemies are guided by brutal cynicism, by unholy contempt for the human race. We are inspired by a faith that goes back through all the years to the first chapter of the Book of Genesis: "God created man in his own image." We on our side are striving to be true to that divine heritage. We are fighting, as our fathers have fought, to uphold the doctrine that all men are equal in the sight of God.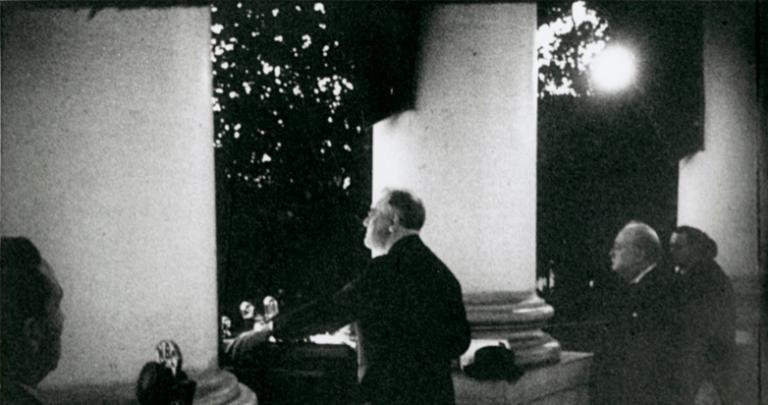 Tellingly, that's one biblical principle that never resonated with Charles Lindbergh, who delved deeply into the gospels of Jesus during and after WWII but never seems to have cited Genesis except to dismiss its account of creation. When University of Chicago president Robert Hutchins later echoed FDR's claim that "all men are equal in the sight of God," Lindbergh wrote back that he couldn't see "the element of spiritual truth in the concept of human equality. It seems to me that the laws of God are always emphasizing the quality of life, not its equality." While the Christian faith of FDR left him convinced of the fundamental equality of those who bear God's image — including those who needed the aid of a wheelchair — and of the need to promote brotherhood and peace, Lindbergh's own spiritual searching left him convinced that
the fundamental fact that life on earth is essentially competition, that the progress (evolution) of life has come through competition, and that in our earthly framework a universal 'brotherhood' would be contrary to the environment into which earthly life is born. I think that one of the greatest weaknesses of Christian theology, for instance lies in its blindness to the competitive qualities of life — a highly hypocritical blindness, one might say, in view of the Christian's cruel and bloody record. (from a 1960 letter to his friend Harry Guggenheim)
---
*Here's how Lindbergh responded to learning of FDR's death in April 1945: "After a man is dead, you try to forgive his weaknesses and remember his strengths — the things you admire about his life. Every man, I believe, has certain qualities you can respect. Usually, they are not too difficult to discover. But it is difficult for me to find these qualities in the Presidents [sic] background. It will take time and more tolerance than I am yet able to feel. I cannot remember when the announcement of death has left me less touched."