Last March feels impossibly distant this December, but as we simultaneously endure another surge in COVID cases, celebrate the approval of a vaccine for that disease, and anticipate the season of Christmas, I thought I'd look back to a post I wrote just before colleges like Bethel initially moved online. Entitled "What the 1918 Influenza Pandemic Meant for American Churches," it used resources from a University of Michigan digital project to explore the variety of religious responses to what had previously been this country's worst public health crisis. As things have turned out, virtually every argument I found in 1918 has been repeated in 2020, as religious Americans debate if, when, and how in-person worship should resume.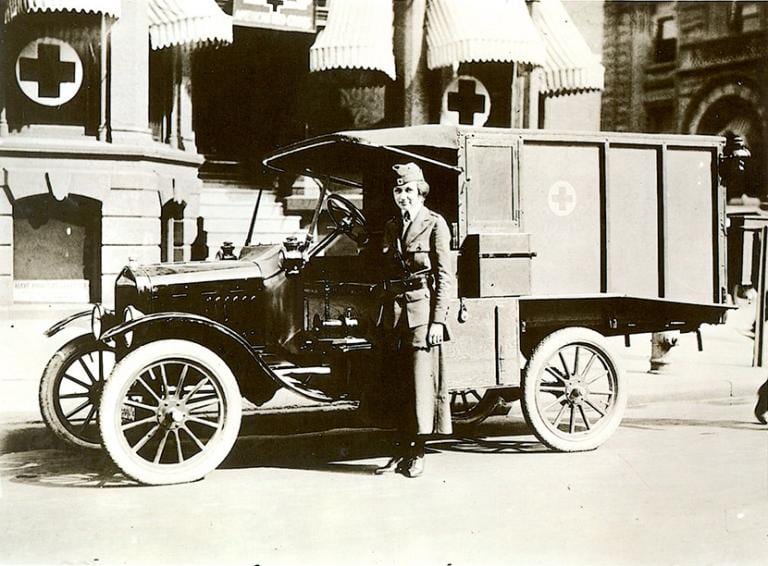 So as we near Christmas, I thought I'd reprise my earlier exercise and consider how Americans entered that season of peace and joy during the pandemic-stricken, war-torn year of 1918. I turned again to the Michigan project, but supplemented it this time with some of my own research in the Library of Congress' excellent newspaper database, Chronicling America.
"[T]he holiday spirit is abroad in the land," insisted the Salt Lake Tribune, "and the 'flu' is not so much of a menace as it was a few weeks ago." With cases and deaths down and the guns silent on the Western Front, that writer found
signs of happiness and good cheer on every hand, and if the soldier boys could only be at home everyone's cup of joy would be filled to overflowing… The Lord has prospered us as a nation, and we do not need to pinch and scrape and lock up both purse and heart during the holidays.
But in the Midwest and other parts of the country, there was a surge in the disease, ahead of the new wave that would sweep much of the nation in January 1919. Influenza kept churches and schools closed in a few small towns, like LeRoy, Iowa, and a children's quarantine canceled Sunday School Christmas programs in cities like St. Louis, Missouri.
Almost everywhere, that week's newspapers had ads for Christmas shopping (and influenza cures), listings of worship services, and hopeful words about the end of the Great War sharing space with dire announcements about influenza-related deaths and quarantines. Let's start our tour:
HIGH POINT, NORTH CAROLINA: The epidemic was surging in the Tar Heel State the week before Christmas, with the High Point Review reporting the deaths of a family of three in Charlotte and over 700 new cases in Winston-Salem. With 22 deaths already that December in High Point, schools faced closures, among other measures meant "to stay and prevent the spread of this appallingly destructive disease."
But another kind of suffering was also on people's minds. Like many small town newspapers, the Review printed a special Christmas poem from Wilson College president Ethelbert Warfield that looked forward to soldiers' homecoming in 1919:
We'll keep the heart and make the home
As bright as bright can be
And sing the carols old and sweet
Of Christ's nativity.
Like Mary smile, the while we pray
For all the boys away.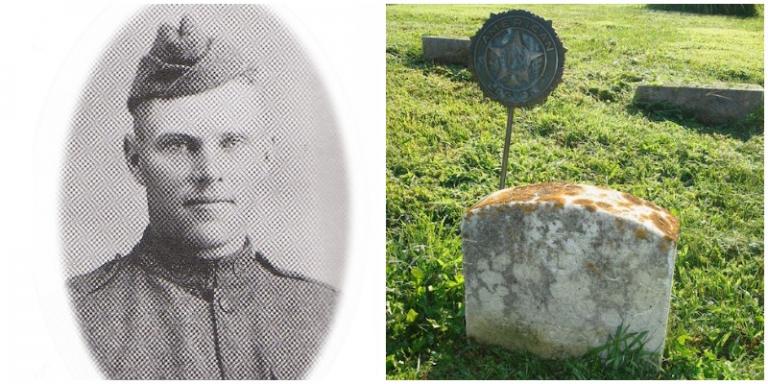 OMAHA, NEBRASKA: Almost as soon as the state board of health lifted a closure order in early November, a new spike began. Aside from banning public dances and limiting seating in theatres (widely ignored) and pool halls, however, health authorities emphasized personal responsibility rather than state action. But on Christmas Eve, the Nebraska state health board ordered mandatory quarantine; a thousand Omaha homes were marked with placards until at least four days after fever had subsided.
"Although the influenza epidemic prevents the usual Christmas trees and programs in the churches there will be religious services and beautiful programs of Christmas carols," reported the Omaha Daily Bee. Choirs were planning anthems of peace for "a real victory Christmas—the first Christmas since 1913 the world has not been at war." And while the epidemic "too, has caused unusual suffering in Omaha this year and the call on charity has been greater than it ordinarily would have been… More than twice as much money has been donated to the poor as on any previous Christmas."
WASHINGTON, DC: New influenza cases in the nation's capital dropped from a high of over 400 to just under 200 the weekend before Christmas. Nevertheless, on Christmas Eve the city reopened a hospital on F Street to handle victims of the epidemic. By the end of December, daily cases were back over 300, and doctors and nurses were pleading for additional masks.
Meanwhile, Postmaster General Albert S. Burleson reassured Americans that all Christmas presents would reach their destinations by the 25th, even though the Washington Herald noted that the Post Office was processing an "unprecedented amount of mail and packages, smashing the record of other years…." The paper also reported a sharp rise in train travel, up 30% "over normal pre-war holiday seasons" — let alone by comparison to the previous year, when mobilization for the war severely curtailed civilian railroad service.
OGDEN, UTAH: "Good news for Christmas Eve," announced the Ogden Standard. "The influenza epidemic went down to nine new cases reported yesterday… Here's wishing all the patients a Happy Christmas and a complete recovery." But the same page of the same paper reported that "influenza-pneumonia" had taken the lives of a 3-year old boy and a 27-year old LDS elder and letter carrier who died "in the prime and vigor of young manhood."
HOPKINTON, RHODE ISLAND: "Spanish Influenza can be prevented easier than it can be cured," began an ad for Hill's Cascara Quinine Bromide in the Christmas Eve edition of the Norwich [CT] Bulletin. Nonetheless, several families across the state line in Hopkinton reported influenza, and "threatening weather and illness in the community prevented" Sunday services  in one church. But worship continued in the town's Seventh Day Baptist congregation, with the sanctuary "decorated with evergreen and red trimmings, which represented much artistic skill and painstaking labor."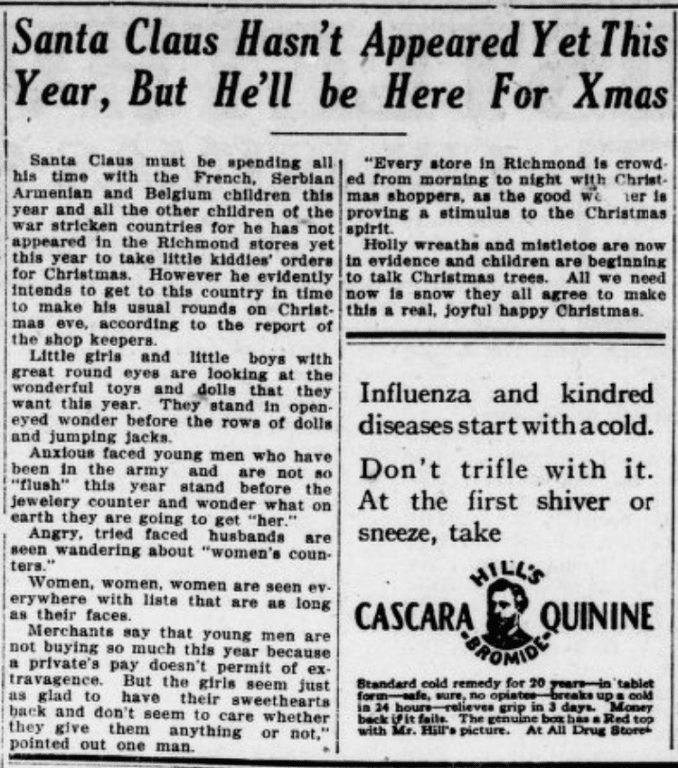 MAYSVILLE, KENTUCKY: Even as it reported that "local merchants are expecting a large rush" the weekend before Christmas, the Public Ledger tried to clarify that while the ban on religious services had been temporarily lifted for Christmas Day, "those holding services next Sunday will be breaking the rules of the Health authorities."
GRAND RAPIDS, MICHIGAN: "With Flu Ban Off City Celebrates Real Christmas," celebrated the Herald on the 26th, and "Special Christmas services were held in nearly all churches… Messages delivered by ministers all centered about [sic] one thought—'Peace on earth, good will toward men.'" Michiganders also flocked back to theaters ("crowded, both afternoon and evening"), and schoolchildren "indulged in a 'movie' after nearly two weeks of 'flu' hibernation."
SALEM, OREGON: The Daily Capital Journal noted that the Sunday School Christmas program at the Evangelical church was cancelled, after several children fell sick with influenza. But otherwise, religious services continued in the midst of the pandemic. The Church of God meeting house planned to start "a protracted meeting" on December 23rd, with an evangelist from Washington leading services every night: "A full and free gospel will be preached. Come and hear the grand old truths of the Bible proclaimed by a new testament ministry."
LITTLE FALLS, MINNESOTA: The Herald reported 27 new cases of influenza the week of Christmas, in a town of less than 6,000. (The Lindbergh family was untouched by pandemic, in the year that young Charles barely graduated from Little Falls High School and his father lost Minnesota's race for governor.) But life went on along the banks of the Upper Mississippi: a young student came home while the Bible school at William Bell Riley's Baptist church in Minneapolis took a winter break; two couples planned a double wedding for Christmas Eve; and the Methodist church in town announced services for both Christmas Eve and Christmas Day, the latter including a special offering for a fund to help refugees fleeing what we now call the Armenian genocide
HARRISBURG, PENNSYLVANIA: That fund raised $30 million in 1919, including $40 from the Methodist Sunday School pageant in Mechanicsburg.
The Harrisburg Telegraph added that the "coming of peace will be suitably remembered in the Christmas services of" nearby Carlisle, home to a military barracks and hospital. But it led with a more bittersweet story from Lewisburg, just up the Susquehanna River, where Mrs. Hurley Fisher hoped to celebrate Christmas by adding a 16th child to her family: an infant whose mother had died of influenza… as had the woman who then took the child in.
You can also read about Christmas 1918 in recent articles from Smithsonian Magazine and the New York Times.