If all goes according to the Constitution, today will be the last full day of Donald Trump's term as president. So it feels like a good time to start thinking retrospectively.
I'm tempted to dig through Anxious Bench archives and review our coverage of politics in the last four years, including particularly popular posts like Beth's on the irony of evangelicals staying silent about Trump in the 500th year of the Reformation, David's on Mennonite peacemaking in the midst of the events in Charlottesville that year, Melissa's on the religious subtext of Mitt Romney's impeachment trial speech, and my response to Trump's call for "total allegiance" in his inaugural address. But for a different way of reviewing the past four years, I'm going to borrow a device from Washington Post critic Carlos Lozada.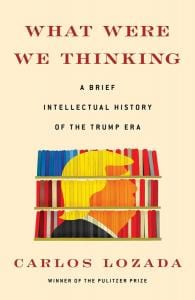 For What Were We Thinking? A Brief Intellectual History of the Trump Era, Lozada read and analyzed about 150 bestselling nonfiction "books on the Trump era, trying to keep pace with the intellectuals, journalists, insiders, partisans, and activists grappling with the turmoil it has wrought," as a "first draft of how we think about that history, how we seek our place in it." I've only skimmed Lozada's book, and while it looks interesting, it also seems that he has done relatively little with the theme of religion, save mentions of the emphasis conservative writer Timothy Carney places on religious practice and community in Alienated America and the warnings against fundamentalism and Christian nationalism in Leah Greenberg and Ezra Levin's We Are Indivisible.
To help fill in that hole in the first draft of an intellectual history of the Trump era, I've invited other Anxious Bench contributors to join me in nominating one nonfiction book published between 2016 and 2020 that they'd recommend for the way that it grappled with some religious aspect of those four years. It could be an artifact of the period, a still-helpful analysis of it, or both. I didn't require that it be a bestseller, and given how much we've already written about Kristin's own bestseller, I suggested we look beyond Jesus and John Wayne (which undeniably belongs on this list).
Here's what we came up with, in chronological order of publication: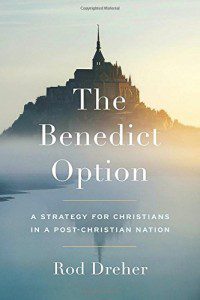 Agree with its arguments or not, The Benedict Option is one of the most influential religious texts of the past decade.
Rod Dreher portrays a world increasingly at odds with the most fundamental Judeo-Christian teachings and beliefs, in such critical matters as family, gender, and sexuality. Increasingly too, he says, progressives brook no opposition to their worldview, and view its critics as bigots and obscurantists, enemies to be broken ruthlessly. The consequence is a soft totalitarianism, and often, not so soft. Living in such a new moral Dark Age, conservative Christians should recall the example of the sixth century Saint Benedict of Nursia, who withdrew to found a new community as a basis for society's future reconstruction. Modern Christians should likewise form "communities, institutions, and networks of resistance," detached from the larger world. (He borrowed the phrase "The Benedict Option" from Alasdair MacIntyre). Dreher's analysis stirred intense debate, although in practice, not many were sufficiently driven to pursue the total separation from public life that he suggested.
Subsequent years have done nothing to lighten Dreher's grim analysis. He argues that Christians can learn much from the experience of resisters living under historic Communist regimes, where they were constantly forced to parrot the ridiculous orthodoxies of the Party. His most recent book is Live Not by Lies: A Manual for Christian Dissidents (Penguin, 2020). (Philip Jenkins)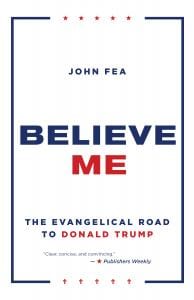 In Believe Me, Anxious Bench co-founder John Fea provides one of the clearest, most plausible explanations of why white evangelicals who spent decades complaining about American moral decline decided to trust a crass playboy as their political savior.  The answer is simple, Fea says: Evangelicals were afraid and they wanted to believe.
Evangelical fear of national moral decline and the imminent persecution of true believers has a centuries-long history in the United States, Fea notes.  And when people are fearful enough, they are willing to believe in a political savior – especially when that savior uses the phrase "believe me" as often as Trump.
There is a better way, Fea argues. As an evangelical Christian, he encourages his fellow believers to turn from fear and believe the hopeful promises of the Christian message – which might lead evangelicals to spend less time fearing for their own safety and the Christian identity of their nation, and more time being salt and light in the world around them.  Sadly, the 2020 presidential election and the events that ensued in its aftermath suggest that many evangelicals still have not heeded this exhortation – which means that Fea's book is just as needed today as it was three years ago. (Daniel K. Williams)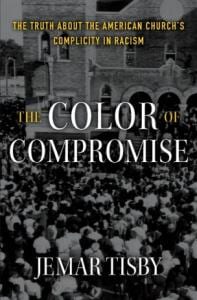 The cost of Sunday morning as the most segregated hour of the week has become all too clear during the past four years. From the infamous 81% of white evangelicals who voted for Donald Trump in the 2016 election, to the condemnation of all six presidents of Southern Baptist seminaries of Critical Race Theory, to the January 6, 2021, assault on the U.S. Capitol by white men and women toting weapons and waving Christian flags and banners—the gap between white evangelicals and our black brothers and sisters is glaringly wide. Jemar Tisby's Color of Compromise not only tells the historical narrative of how the white evangelical church became so steeped in racism but also recommends the steps we can take to build a better future.
"If the church hopes to see meaningful progress in race relations during the twenty-first century," writes Tisby, "then it must undertake bold, costly actions with an attitude of unprecedented urgency." His book is the perfect place to start. (Beth Allison Barr)
Anglican Church in North America, The Book of Common Prayer (Anglican Liturgy Press, 2019)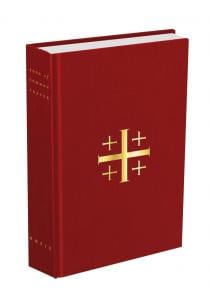 I selected the 2019 revision to the Book of Common Prayer because it is a significant artifact of American religion during the Trump era that has blessedly little to do with Donald Trump.
The BCP 2019, the most recent revision since 1979 to this classic Anglican text of worship and order, is a product of the Anglican Church in North American (ACNA). The denomination formed in 2009 from churches in the Anglican tradition in the United States and Canada that believed that the Episcopal Church in the US and the Anglican Church of Canada had departed from historic orthodoxy on the authority and interpretation of Scripture, particularly regarding human sexuality. (Questions of gender were secondary, as some ACNA dioceses ordain women and some do not.) Revisions began in 2015 to produce a prayer book in updated language faithful to the standard 1662 version and acceptable to the diversity of the denomination's churches: some Anglo-Catholic, some evangelical, some charismatic, some using the 1928 and some the 1979 version, and some using Kenyan or Nigerian prayer books after initially placing themselves under African bishops instead of Episcopal ones.
The roughly 70-member revision team was multiracial (though still largely White) and included both women and men—unlike, say, the roughly 70-member all-male translation committee for the most recent 2016 English Standard Version (ESV) of the Bible. They also published drafts and considered all feedback from the laity.
The denomination and the prayer book it produced are in some obvious ways a product of the American culture wars which underlay the Trump era. But they are also a sign that at least some swaths of American religion are pursuing, however imperfectly, continuity with the church in time and space and listening to diverse voices within the Body of Christ. I for one am thankful that this too is part of recent American religious life. (Andrea Turpin)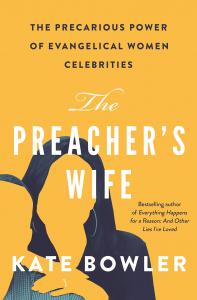 In 2018 I wrote a post imagining that a 22nd century religious historian looks back and inquires into what happened to prompt a revival of evangelicalism in the wake of the Trump era. That scenario seems even less likely right now. But if such renewal does happen, I still suspect that one change will make most of the difference: more women emerging as leaders of evangelicalism. I focused on Southern Baptist writer and Bible teacher preacher Beth Moore, who had just published an open letter decrying Christian misogyny. That missive wasn't explicitly political, but as we exit the Trump presidency, Moore has become even more outspoken in condemning white supremacy, Christian nationalism, abusive religious cultures, and other critical problems. And she's not alone. "Many women are speaking," Andrea concluded earlier this month; "many more could."
But it's still not easy for them to do so. In religious traditions that affirm the ideals of "biblical manhood and womanhood" that Beth's much-anticipated book examines, women leaders will likely continue to encounter the challenges that historian Kate Bowler documents in her wide-ranging history of Christian women celebrities. (For that matter, Bowler notes that mainline denominations could affirm women's ordination without making it easy for women to enter leadership roles.) In a denomination that officially affirms complementarianism, for example, Beth Moore came to popularity via "a delicate dance between professed submission to men and implicit independence from them." If anything, such calibration has become even trickier, as the politics of the early 21st century have made "it more unfeasible (or at least more difficult) for Christian women celebrities to maintain a polite silence about political issues related to their brand: godly femininity." (Chris Gehrz)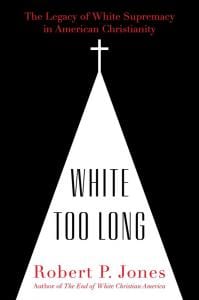 As a child, Robert P. Jones, the CEO of the Public Religion Research Institute, attended Southern Baptist churches five times a week across the American South. Race, he recalls, was both silent and operative. African Americans were held at arm's length, yet he did not hear anything about the white supremacist roots of his tradition until he attended Southwestern Baptist Theological Seminary. Even there, race was minimized. According to Jones's testimony, deeply racist attitudes are embedded in the DNA of white Christian identity.
To those who explain away the white evangelical embrace of Trump, Jones's White Too Long shows that race matters. It is a bracing account of slavery, religiously sanctioned terrorism, the cultural reinforcement of Jim Crow by erecting Confederate monuments, and persistent attempts to protect the social cultural dominance of whites—all of which culminated in the coalition of Trump and evangelicals in 2016. Perfectly timed with a release in July 2020, just after the killings of George Floyd and Breonna Taylor and the Black Lives Matter protests, White Too Long is even more relevant now than six months ago, following Al Mohler's endorsement of Trump and the six Southern Baptist seminary presidents' denunciation of critical race theory. It is also an artifact of the cosmopolitan-populist divide within evangelicalism. Here, yet again, we have an elite scholar and leader rejecting Trump in a document that rank-and-file evangelicals won't read. (David Swartz)