It may seem strange to think about the Pilgrims and Thanksgiving in the springtime, but surely one can be forgiven for obsessing over one's favorite subjects.
I've been thinking about the Pilgrim, Puritan, and early American pattern of giving thanks, in part because I'm feeling thankful. COVID-19 case numbers are falling, and schools and universities are planning on a much more normal fall 2021. Signs of hope abound. My favorite ice cream place has opened. The Commonwealth of Massachusetts will soon permit people to go running without masks. Hallelujah!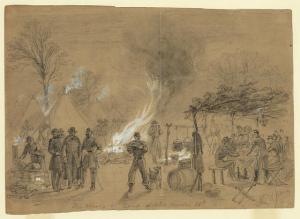 For all of the obsession with the 1621 harvest celebration in Plymouth (documented only in a single letter that does not mention a formal thanksgiving), we have a pretty good sense of when the colony's English settlers did gather to give thanks. In July 1623, Plymouth's settlers observed a thanksgiving after a harvest that came on the heels of an extended drought. (The drought had prompted a day of fasting and prayer). In 1637, settlers in the town of Scituate observed a thanksgiving to celebrate the English victory over the Pequot and reconciliation between the Boston minister John Cotton and his colleagues. An October 1647 Scituate thanksgiving celebrated recovery "from a general visitation of sickness." Good harvests, an end to strife, military victories, and the favorable course of events in England were all occasions for townspeople to gather together and give thanks.
The practice of appointing particular days of thanksgiving survived Thomas Jefferson's objections. Abraham Lincoln designated several days of thanksgiving to celebrate victories in the Civil War. Once Thanksgiving became a national holiday, it became less common for churches and communities to appoint thanksgivings in responses to particular blessings.
I started thinking about these practices after the onset of the pandemic in March 2020. When we met for Easter worship on Zoom the next month, our pastor told us that when the pandemic ended, we would meet for a huge make-up resurrection celebration. It sounded like a good idea, but my congregation is just now contemplating resuming in-person worship services. We now could hold back-to-back make-up Easter services.
My congregation is an outlier. The vast majority of American churches resumed in-person worship a long time ago. But in most instances, it wasn't as simple as turning the lights back on and opening the doors. Certainly, some congregations threw caution to the wind, but as of March 2021, only twelve-percent of church-goers reported that their congregations were "open as normal." In about half of American churches, according to Pew, there were mask requirements, social distancing, and limits on the number of attendees. No matter how congregational leaders proceeded, in most churches, some individuals, sometimes many individuals, stayed away.
At certain points in time, some congregations probably gave thanks – in prayers, in song, in sermons – for the waning of the pandemic. That would have been possible in many parts of the country last summer, in more parts of it last fall.
But as was also the case with the 1918 flu, the COVID-19 pandemic has been an up-and-down story of surges and waves rather than a single tsunami. Last Thanksgiving, it was hard to feel thankful about the trajectory of events.
The Bible tells us that it is "God's will in Christ Jesus" that we "give thanks in all circumstances." We are to rejoice always and pray continually.
Wise words from Paul. No matter our current circumstances, we always have occasion to give thanks and glory to God, simply because of God's majesty and goodness, for creation, for salvation. As Augustine advises in his Confessions, we need to thank God for all of His good gifts, regardless of how long our lives last. "I will be with you," he writes, "because this too is your gift to me — that I exist."
Still, I see no conflict between giving thanks in all circumstances and giving particular thanks in certain circumstances.
Is now the time?
It does seem like a combination of vaccinations and prior immunity is now allowing many parts of the country to turn the corner. Despite rising case numbers and hospitalizations in the Northwest and certain other states, things seem less precarious. As far as I can discern, most of the experts think things will continue to get better over the summer. Congregational life will likely come to resemble its patterns before the pandemic, as states drop restrictions and more worshipers feel safe returning to in-person gatherings.
While "it" will be "over" at some point (I always tell my daughter that the one thing you can learn about pandemics from history is that they all end), it probably won't feel over at any single point in time. Some congregations act now as if the pandemic is over, and perhaps it will be soon across the United States, but lest one get too carried away with thankfulness, one needs only to glance around the world.
I rather like the idea of particular thanksgivings. In theory at least, they brought communities together, usually after the end of great traumas. Yes, there were the three-hour sessions of prayer, psalm-singing, and sermonizing (I would be game, especially with modern heating and air-conditioning), but there was also place and space for constrained revelry and celebration. At the 1636 Scituate thanksgiving, for instance, there was "making merry to the Creatures, the poorer sort being invited of the richer."
We could all use a bit of unity, merriment, and charity.
Just tell me when.