The revival at Asbury University has been attracting intense excitement in the evangelical world, and a striking amount of attention in secular media. I myself have nothing new to add to that coverage, so I am delighted to include a personal account of this historic event by a participant and observer, in the guest post that follows. The author is Husezo Rhakho, who presented another guest post at this site last year. He does a terrific job of conveying the excitement of the movement. I present his account in the form in which he wrote it, without any commentary of my own.
Husezo is a doctoral student in the Religion Department at Baylor University. He holds a BA in History from Patkai Christian College, an MDiv from Kohima Bible College in Nagaland, India, and a ThM in Christian Thought (World Missions/Global Christianity), from Gordon-Conwell Theological Seminary. He studies World Christianity and the History of Christian Mission, particularly in Asia.
Fire Fall Down: The Asbury Revival
Husezo Rhakho
When I first heard about it, I had not been convinced enough about the revival occurring at Asbury; I was quite skeptical. But later, when I saw the updates from Craig Keener and Timothy Tennent on the authenticity of the revival, I realized that it was genuine, especially since these scholars were endorsing it. I quickly texted my friend, a Ph.D. student, about the revival, and surprisingly, he asked if I was interested in going. I was excited to go, but on the other hand, I had so much on my plate. However, deep in my heart, I was deeply convicted that I needed to go and witness the revival. We immediately booked our tickets, and within an hour, we were set to go on Saturday and return on Monday.
We started our journey on 18th Feb, Saturday, from Waco, Texas, at 6 am – me and my buddy Sean. We flew from Austin to Cincinnati airport, then drove to Asbury University. It was surprising to encounter people at the airport going to the Revival. A man was holding his Bible at the airport, which is unusual. I asked him if he was going to the Asbury revival, and he immediately responded with joy that he was going there. Then we met three other people on their way to the revival too. Meeting people at the airport on their way to the revival was surreal, and it was a joy to witness how they courageously expressed their faith by carrying the Bible in their hands and asking people if they could pray for them.
I grew up hearing about the Naga Revival stories from my parents and church leaders. I was always amazed at how revival took place in Nagaland, as a result of which the whole community became Christian. According to the Naga revival traditions, there were many signs and wonders, physical healings, and the speaking of tongues. Repentance was the theme of the revival, akin to all the significant revivals that have ensued in the history of Christianity.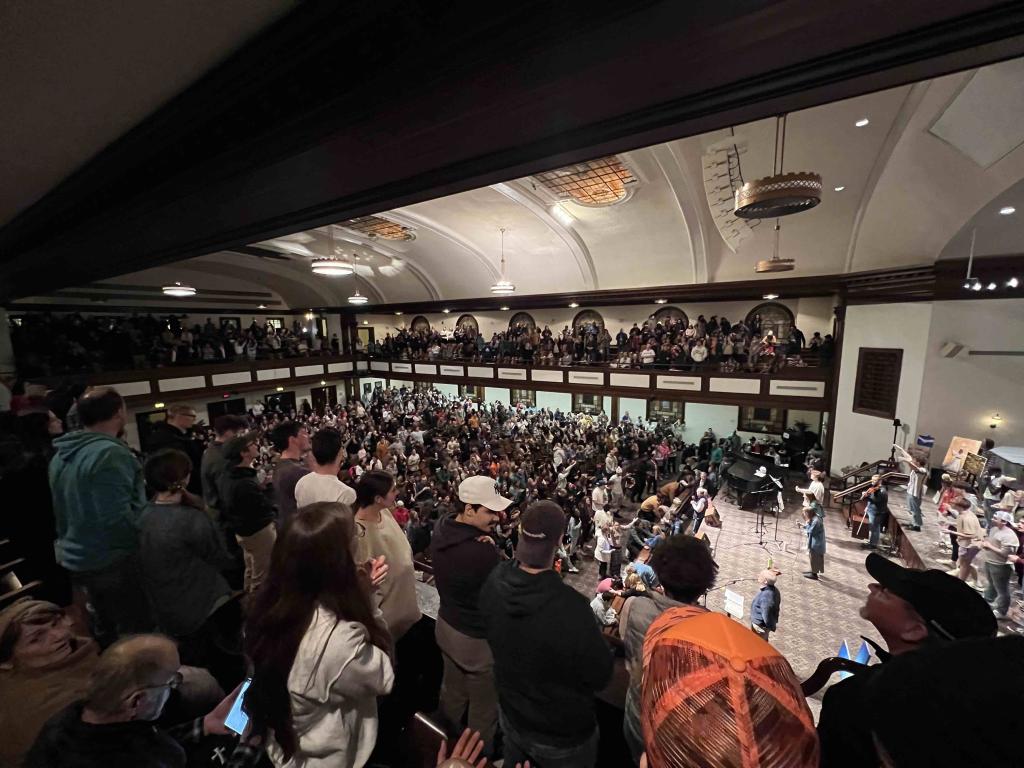 We arrived at the Asbury campus around 9 pm to a fully packed city. There were numerous cars parked all over the streets; it took us a while to find a parking spot. There was already a long queue when we arrived. The volunteers told us it would take at least three hours to enter the Hughes Auditorium – the place where the revival started. Thousands of people lined up in the cold, hungry for God. Most of the people I interacted with were out of Kentucky, which was both surprising and encouraging. One of the volunteers asked me if I was twenty-five and below, as they gave preference to people below twenty-five to enter first. I guess I looked young and could have lied and entered but decided against lying in a revival (even as a joke) and chose to stay out in the cold. Instead, I said, I am an international student from Nagaland, India, and we just arrived from Baylor University, Texas. Could you please allow my buddy and me to enter? She replied, "Well, there are people who just arrived from South Korea and are still in the queue, so you are not allowed." It was a bummer, but we had to wait to enter.
When we entered the Hughes Auditorium, it was totally packed. The hall was reserved for Gen Z (under 25), so we went up to the balcony. The music was loud, and everyone was engrossed in heartfelt worship. There were people of every age attending the revival and I felt God's tangible presence enveloping the entire place. The atmosphere was highly charged with an unmistakable peace and thirst in everyone's eyes. Throughout the place, people shouted, sang, prayed, and cried to the Lord for repentance. It was fully student-led inside the Chapel. Every two hours, a new student team led the worship.
During my three days of worship at the Asbury Revival, I was able to encourage and minister to a few groups of people. They started to share their prayer concerns, and we prayed together. Witnessing not just women, but even grown men weeping and praying, were such amazing and encouraging encounters. The air was thick with genuine repentance as people around campus knelt, prayed, and worshipped even as they waited to enter the Hughes Chapel. The wait in line almost took an individual between three to seven hours to enter the Promised Land (Hughes Chapel). There were more women attendees, and even the testimonies that were shared on stage were mostly (70%) by women.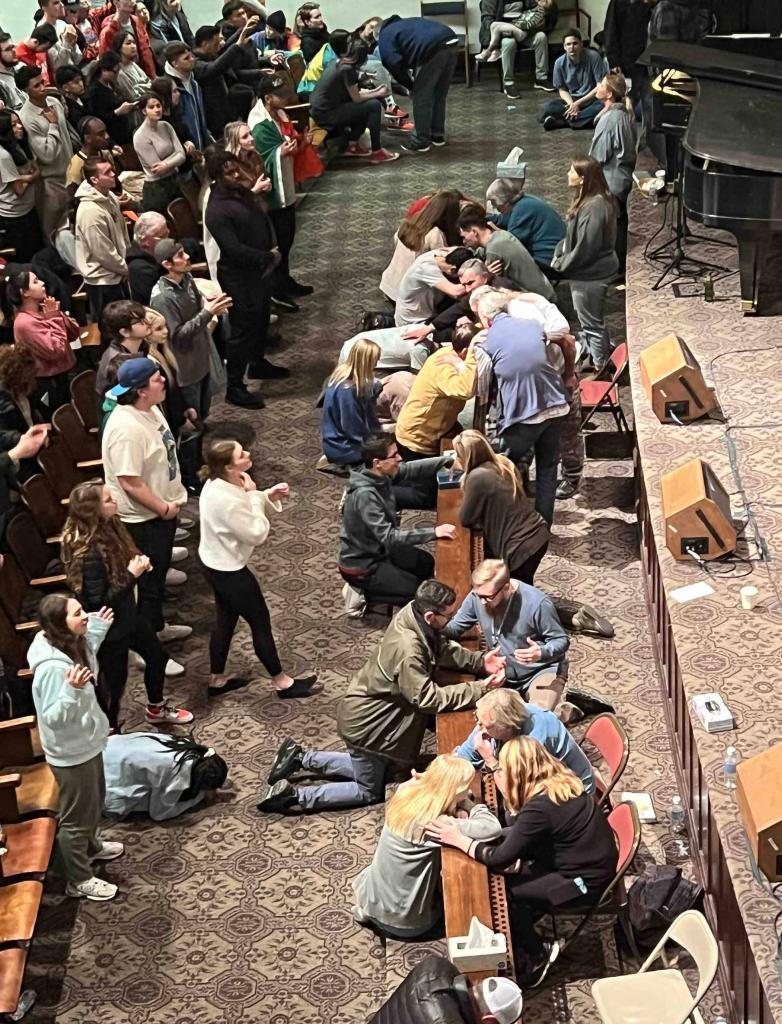 Some worship teams were singing flat and out of tune (which I found cute), and it momentarily distracted me during worship, but it also made me realize that this revival was authentic and student-led entirely. Some established worship team could have led the crowd, but this was not a performance; it was a spontaneous expression of the soul crying out to The Lord. I felt sweet peace in my mind and there was an overflowing joy in my heart; I have been praying and preaching for revival for over five years during the course of my theological journey in North America, and here I was, witnessing answered prayer. I was also reminded of the many believers I encountered who have been faithfully praying for revival in America.
It is still too early to proclaim the theme of the Asbury Revival as we need more time to evaluate this revival and its fruits; however, I believe it could be 'Repentance' and 'Peace.' I felt peace and joy in my heart when I entered the campus; likewise, many testified that they felt peaceful when they came to the campus. In my view, the central message of the revival from a few speakers and through conversation with other believers during the event was:
1.A Call to Repentance into the Loving Arms of God.
2.To be a Carrier of the Revival, which means walking in purity, trusting, repenting, and impacting people. To be a carrier, one must be a holder and a deliverer.
3.This outpouring is for mission work, like any other movement of God.
4.Pornography was emphasized because of how it is destroying the younger generation, and how we must address it.
The testimonies publicly declared during my stay were not of physical sickness or speaking of tongues, filled with signs and wonders – that one would typically imagine in a revival, but more of freedom from anxiety, depression, selfishness, and suicidal tendencies. In many senses, the Asbury Revival is distinctive from other ones such as the Azusa Street Revival of the early twentieth century in Los Angeles and the Naga Revival of the mid-twentieth century where the outpouring of the Holy Spirit was witnessed through phenomena such as speaking in tongues, miraculous healings, and mass conversion.
I met people from different denominational backgrounds; it truly was an ecumenical gathering, for sure. I met Zack Meerkreebs, the preacher at the chapel when the revival started. He was praying for people on campus, so I quickly asked him what his take was on everything that was happening. He responded promptly that this revival is "bringing the body of Christ together in one Spirit and humility." I was immensely blessed to witness his humility and how God was using him.
We could think of so many themes as academicians or create theories to explain the revival. There could be some skepticism on whether this event was a revival or a regular charismatic event. So many individuals were blessed in myriad ways, and it will take time to evaluate the fruit of this revival. Will this impact society? To narrow it down, will this affect the Asbury community? I present this appraisal based on an interesting conversation with a current student (from a minority community) at Asbury, who was skeptical about this movement. The student stated that only time would tell if this event was indeed a revival because if this was truly a revival, there should be resultant lasting virtues of love and equality in the community, irrespective of race or any kind of social structure. This comment challenged me to ponder and pray about the extent to which this revival would bring healing and transformation in our society and world – one that is fractured with brokenness and injustice. Revival and awakenings have caused so many changes in the community throughout the history of Christianity. The immediate impact of the Asbury Revival of 2023 is arguably the heightened University worship gatherings in several parts of North America. So many people worldwide have flown to Asbury to be part of this revival.
I hope that this revival will bring the body of Christ together and the leaders of the churches will disciple the younger generation to keep the fire burning within them.