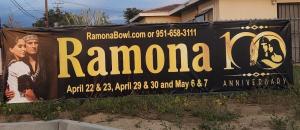 The Franciscan friar, standing before a low, whitewashed ranch house, raised his hand in blessing and his voice in prayer, "En el nombre del Padre y del Hijo y del Espíritu Santo. Amén." A crowd of ranchers, servants, native people, and women wearing shoulder-length white or black lace mantillas bowed their heads and made the Sign of the Cross reverently, as did my 9-year-old daughter beside me, as she has done so many times in prayer. Seeing her, I began raising my hand, then stopped. Why? Because we were not in church nor at home. Rather, we were sitting in an natural outdoor amphitheater on a stifling May afternoon in Hemet, CA watching three hundred volunteers acting out Helen Hunt Jackson's 1884 novel, Ramona. The drama was so immersive that my daughter forgot that we were not in church and began praying along.
I did not grow up in California, so I did not study state history and the missions like many local fourth graders. Even so, because I study Franciscan-indigenous partnership in developing local Christianity in sixteenth-century Mexico, I know that the Fracnsicans changed their approach in California after their experience in New Spain, where friars settled into native communities without a mission system. Franciscans who evangelized in Alta California during Mexico's colonial period were required to train with their brother friars in Mexico first.
Since moving to California nearly two decades ago for UCLA, I've encountered docents at historical sites and missions who assume I am familiar with Helen Hunt Jackson and her novel, Ramona. Until two weeks ago, I was not. How timely that homeschooling a fourth grader coincides with the 100-year anniversary of the Ramona Pageant. As a historian who studies native people in colonial Mexico, I'm delighted to be learning about local indigenous history.
***
A classmate of Emily Dickenson and a native rights activist, Helen Hunt Jackson was born Helen Maria Fiske on October 15, 1830 in Amherst, MA, where her father was an author, minister, and professor of Latin, Greek, and philosophy at Amherst College. The second of four children in a literary family, she lost both of her brothers in infancy, and her mother to tuberculosis when she was a teenager. Sent to live with relatives while she attended select boarding schools, she lost her father unexpectedly shortly after he became a missionary in the Holy Land.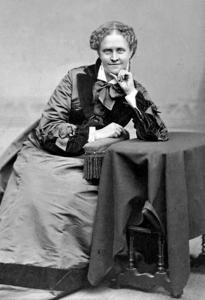 Helen Hunt Jackson (1830-1885)
In 1852, Helen married Lt. Edward Bissell Hunt, only to lose her firstborn son a year later as an infant. Her husband followed in 1863 during a fatal accident while experimenting on an underwater vessel of his own invention. When she and her second son, whom she affectionately called "Rennie," fell ill with diphtheria in 1865, she recovered, but her 9-year-old son did not. The weight of so much death led Hunt to write, encouraged by her former classmate, Emily Dickinson, and her mentor, Thomas Wentworth Higginson, a minister, abolitionist, politician, and soldier.
Hunt's doctor sent her to Colorado Springs in 1873, just two years after the city's founding, to recover from tuberculosis and she soon met a wealthy banker and railroad magnate, William S. Jackson, who courted and married her in 1875, despite being 5 years her junior. While in Boston in 1879, she attended a talk by Chief Standing Bear who described his people's forcible removal from their ancestral lands to a reservation in today's Oklahoma. His talk affected Hunt so profoundly that she began publicly criticizing U.S. government policies towards indigenous peoples, exposing the violation of land treaties and stolen territories by circulating petitions, raising funds, and writing letters to the New York Times. Her fiery writing coalesced in her 1881 book, A Century of Dishonor, an indictment of American Indian policy calling for extensive reform. She put a copy on the desk of everyone in Congress, with a quote from Benjamin Franklin stamped in red on the cover: "Look upon your hands, they are stained with the blood of your relations." The backlash was so intense, her friends convinced her to travel abroad.
Hunt's time away did not diminish her activism upon her return, leading the government to offer her an appointment with the U.S. Commissioner of Indian Affairs, the first woman to hold such a position, tasked with reporting on the status of the mission Indians. Traveling throughout California, she visited missions, spoke with native peoples, and conferred with authorities on the plight of local indigenous peoples, discovering the extent of U.S. disregard for the Mexican government's policies regarding indigenous occupancy of mission lands. Her 56-page report did not have the governmental effect she desired, so she decided to reach the public another way – by dramatizing the plight of California's native peoples in a love story.
Helen Hunt Jackson wrote Ramona in about two months, quite a feat for any writer.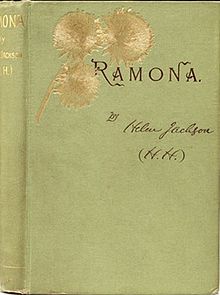 First edition of Ramona (1884)
Unfortunately, she did not live long enough to witness the effects of her work, dying shortly thereafter, prompted by a fall down her stairs and cancer. Had she lived, she might have been dismayed that her readers related more to the love story than to the mistreatment of native peoples that formed its backdrop. She probably would not have anticipated that tourism to California would increase as enthusiastic fans traveled west to visit locations mentioned in the book and to experience firsthand the romanticism of this land. Even today, there's a structure in Old Town San Diego claiming to be the site of Ramona's marriage to Alessandro (which took place in San Diego in the novel). This is just one of example of how Ramona has affected the landscape of Southern California.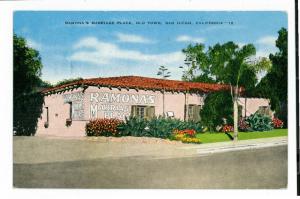 "Ramona's Marriage Place," Old Town, San Diego
The book resonated so deeply with readers partly because Jackson dramatized historical events that took place in Southern California in the 1870s and 1880s. She deliberately wove documented atrocities into her novel to avoid being dismissed for exaggeration. The destruction of Alessandro's village, Alessandro being offered a token payment for ancestral land rather than what it was worth, native people losing land because the U.S. did not honor its promise to recognize property established by the Mexican government, and even the murder in the book (I won't give it away!), are all based on incidents Jackson discovered in her research among court records, newspaper articles, and government reports.
***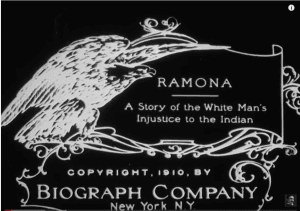 Title shot of D. W. Griffith's 1910 film
The immediate and lasting popularity of Ramona has led to its repeated dramatization. The earliest extant film we have dates to 1910. D. W. Griffith – who would later direct the nearly 3-hour controversial Birth of a Nation in 1915 – directed a succinct 17-minute silent film based on Ramona, starring Mary Pickford and Henry B. Walthall, that explored injustice towards native peoples. To prepare for our family's visit to the Ramona Bowl and to pique my children's interest in listening to the audio book, I watched the film with them, and even my 5-year-old was intrigued. After seeing it, I agree with the scholarly consensus that despite its brevity, the film captures the essence of the novel and is arguably superior to subsequent feature-length talking films (of which I've read reviews, but have not seen). Before listening to the audio book, my children and I took some time to discuss the film's difficult themes, which, as offspring of a historian who studies native peoples in colonial Mexico, were already familiar to them. You can watch the 17-minute film here.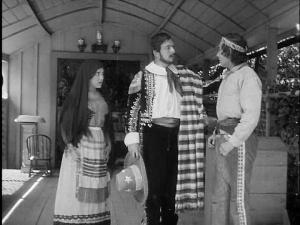 Still of Ramona, Felipe, and Alessandro in the rancho's chapel ("Ramona," 1910)
The Ramona Pageant, performed since 1923 at a natural outdoor amphitheater in Hemet, CA, represents the longest continuously-running drama in the U.S. and, according to their website, attracts fans from around the world. Those involved in the play's earliest renditions insisted that location was key to the presentation in order to immerse audiences into the story (it worked for my daughter!). The early years were primitive, and since parking wasn't available near the amphitheater until 1930, actors and audiences hiked up the canyon, buckets of water with long-handled metal dippers placed along the path for thirsty passersby. Beginning in 1925, what is today the Ramona Pageant Association began buying 160 acres in and around the canyon, preserving it for future pageant-goers, like my family. The first block of restrooms didn't go up until 1936, seats weren't installed until 1952, and a sound system wasn't installed until 1965.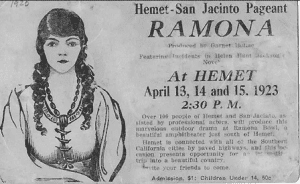 Ticket to the Hemet-San Jacinto Pageant from the inaugural performance in 1923
Today, the Ramona Bowl has the capacity to seat 5,000 people, with performances scheduled over three weekends every Spring, including several hours of cultural activities, crafts, and food before the performance. Only the actors playing Ramona and Alessandro are paid, the other nearly 300 volunteering their time, including distinguished older actors, dozens of children, talented singers and musicians, flamenco dancers, and indigenous performers from local tribes.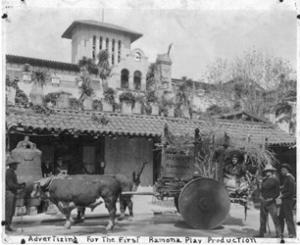 "Advertising for the First Ramona Play Production"
Photo taken in 1923 outside the Mission Inn, Riverside, CA
We have a rule in our family that if we would like to see a movie or play based on a book, we read or listen to the audio book first (yes, I made an exception watching the silent film first). Though written in 1844, Ramona's narrative (which we found on Audible) was engaging enough to hold the attention of a 5-year-old. We finished listening on our 2+ hour drive to Hemet, and as the landscape transformed around us to match the landscape in the book, we felt grateful to already be en route to the setting in the book, because we too felt the pull of the land. Having the novel so fresh in our minds also meant that we could easily identify the alterations in the play.
Over its 100-year history, the Ramona Pageant has, of course, transformed in response to an audience increasingly unfamiliar with California's history and the effects of the Mexican-American war (1846-1848) – known in Mexico as the War of North American Invasion. [For details about this war and a group of mostly Irish who defected to support Mexico, see my March 17 post, "The court martial of Irish Catholics in Mexico: Los San Patricios and the largest public execution in U.S. military history."]
Some of the Ramona Pageant's most recent changes, prompted by audience reviews, were to incorporate more action, including a canon blast, additional U.S. cavalry charging onto set, and more speaking parts while on horseback. What follows are my observations about how the play caters to a modern audience, key ways the play differs from the book that arguably alter Jackson's message, and my response as a historian who studies native people to a play ultimately about native people.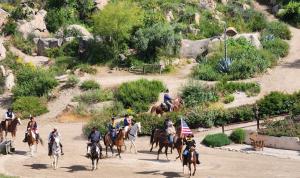 Representatives from Mexico (in blue, red, and gold coats) and the U.S. government ride onto Señora Moreno's ranch to officially announce California's transition
Amazingly, the majority of the story, as presented in the Ramona Bowl, remains intact, fresh, and interesting to audiences 139 years after the book's publication. I appreciated that the writers contextualized California's transition from Mexico to the Union and its effect on Californios (Mexicans who remained in California), native peoples, and mestizos. It may be because I am familiar with this history myself, but from what I observed, the performance emphasized the often-violent reality of California's shift to a new nation.
The action in Ramona begins after the Treaty of Guadalupe-Hidalgo around 1850, the year California joined the Union following its time in the Mexican Empire (1821-1823), the Mexican Republic (1823-1848), as a Spanish colony (1769-1821), during more than two hundred years of European exploration (1542-1769), and of course the indigenous period, which scholars date as far back as 10,000 years ago. A marker nearby acknowledges this past, describing the amphitheater's location as the site of Pochea, a cluster of native villages along the ridge of today's Ramona Bowl.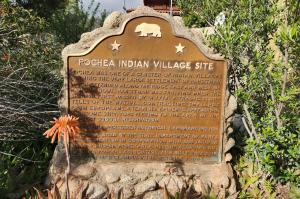 Pochea Indian Village Site Marker
Despite warnings over the loudspeaker, my children jumped at the opening canon boom that accompanied the entry of horseback representatives from Mexico and the U.S. announcing to Señora Moreno, rancho owner and Ramona's guardian, that California was officially a part of the United States.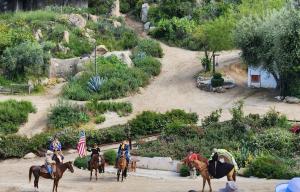 U.S. cavalrymen speak with Señora Moreno (on horseback in the black dress), the dueña (owner) of the rancho and Ramona's guardian
The men leave and Señora Moreno asks a servant the whereabouts of Ramona (who had apparently ridden off on her horse hours earlier). The novel's 19th century Ramona, a sweet and timid girl who is very devout, would not have resonated well with modern audiences. Even so, I was shocked when, within minutes of Ramona's appearance, she knocks down the servant tasked with locating her, pins her to the ground, and shouts in her face. This Ramona was fierce and strong and unafraid. As the audience cheered at the heroine's appearance, I felt uneasy, uncertain how this drastic character shift would affect the power of the story and concerned that the extent of the play's changes might alter the novel's message.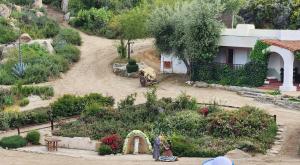 Ramona receiving a blessing from her Franciscan friend, the visiting fray Gaspara
Without belaboring the details of the story, Ramona has lived much of her life under the care of Señora Moreno, who never loved her, whereas her "brother" Felipe is in love with her. Ramona does not return his affection, instead falling for the handsome native overseer of the sheep shearers, Alessandro, from nearby Temecula. As in all tragic love stories, Señora Moreno does not wish for Ramona to marry either one, Felipe because he's too good for her, and Alessandro because she's too good for him. Therein lies the conflict.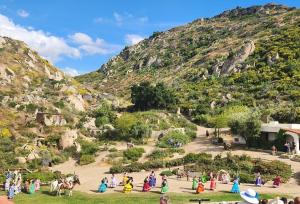 A fiesta at the rancho
Early on, Felipe Moreno hosts a fiesta at the rancho during which the actors display their talents with period partner dancing to live music as well as flamenco dancing in the courtyard. It was delightful learning about the historical moment through music and dance.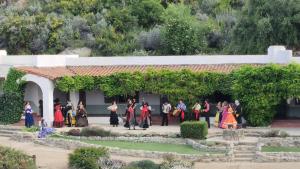 Live music and flamenco dancers during Felipe's fiesta
After the party-goers disperse, Alessandro appears. In the book, he and Ramona shyly love each other from afar before finally gaining the courage to reveal their love, but in the play, their love is no secret, reflective of the Pageant Ramona's outspoken nature.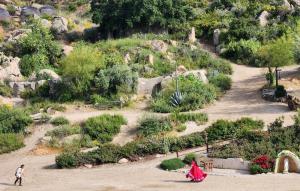 Ramona running to greet Alessandro when he makes his first appearance in the play
Ramona – who discovers she's a mestiza – and Alessandro eventually defy Señora Moreno, flee from the area, marry in San Diego, then return to settle near Alessandro's family, only to suffer hardships, land disputes, and oft-violent interactions with the U.S. cavalry and other "Americans," a term I put in quotes because I prefer estadounidense (United-State-sian), given that everyone in the Americas is American.
In the novel, Ramona remains faithful to her Catholic upbringing – seeking out a friar in San Diego for a sacramental marriage, for example – even as she embraces her indigenous heritage, but the Ramona Pageant implies that she and Alessandro abandon Christianity. A nod toward modern audiences who are not as sympathetic to mission friars as in times past, this tweak differentiated Ramona's character yet further from the novel.
The Ramona Pageant highlights local indigenous cultures in several ways. Notably, the play reconvenes after intermission with native leaders chanting a blessing of Ramona and Alessandro's baby daughter. A performance of acrobatic skill follows while a group of native leaders chant nearby and Alessandro and Ramona, babe in arms, look on. My children were enthralled. I can only imagine that Helen Hunt Jackson would have been pleased to see local native performers participating in the longest-continuous dramatization of Ramona, especially since it's a popular field trip for fourth graders learning about California's complex history.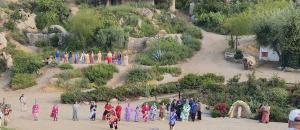 Performers from local native tribes display their acrobatic skills as Ramona, holding her baby, and Alessandro look on (far right)
Despite the play's lively portrayal of native culture, Ramona and Alessandro continue to suffer indignities and injustice even with the assistance of sympathetic friends. They eventually lose their baby, echoing Helen Hunt Jackson's own maternal heartbreak. The repeated sorrows affect Alessandro's mind and he's murdered (I guess I gave it away!) after being accused of stealing a horse.
In the novel, Felipe Moreno searches for years for Ramona, locating her only after her infant daughter's death and her husband's murder. Pregnant, she returns to the rancho, which now belongs to Felipe. The pair, having lived in California when it belonged to Mexico, begin to yearn for those days, and ultimately decide to leave the United States and move to Mexico; the day before they are scheduled to sail, Felipe reveals that he has secretly loved Ramona since his youth and she agrees to marry him. Though they go on to have several children together, they always love best her daughter by Alessandro, whom they name Ramona.
Helen Hunt Jackson makes quite a statement with the novel's ending: the mistreatment of native people and mestizos in early California is so egregious that the main characters sell the rancho that has been in their family for generations and leave. Years of mistreatment drive them to forsake their country, this country, our country. Interesting how 19th century readers missed the point and moved in droves to California!
In contrast, the Ramona Pageant ends when Felipe and Ramona reunite on the rancho and marry, at which point the narrator steps forward to reveal that she is Ramona's daughter by Alessandro, and that her mother taught her to always be proud of who she is. Beside me, my daughter stood, looked over at me smiling and clapping as her little brothers cheered nearby, and declared, "I thought she looked a lot like Ramona!" My sweet girl, so taken with the story she forgot it was a fiction.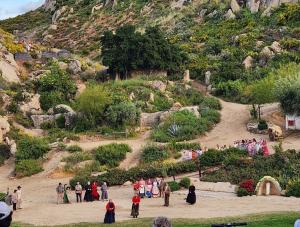 The final scene and revelation of the narrator's identity
The idea of being proud of one's heritage is a message that certainly resonates with modern audiences, including me. I grew up distancing myself from, and even denying, my mexicanidad before embracing my culture in college, learning Spanish in graduate school, and becoming a colonial Mexican historian. Changing the final message of Helen Hunt Jackson's Ramona provides a 21st century update to a 19th century novel.
Even so, I prefer the power of the original ending. Even as I clapped, I felt disappointed with what I perceived as a dampening of Jackson's incisive indictment of a country that she believed had failed its native inhabitants so completely that they felt compelled to raise their families elsewhere…. Ironic how Jackson's characters choose to move to Mexico, which today does not value its native people so much as it values its indigenous past.
My final assessment? Go to the Ramona Pageant (we plan to return next year), get there early to participate in the cultural and historical activities, but read the book first.