On Thursday June 29, the Supreme Court ruled against affirmative action in college admissions in an anticipated decision. The ruling, Students for Fair Admission, Inc. vs. President and Fellows of Harvard University and UNC, et al. overturned Grutter v. Bollinger and Fisher v. University at Texas-Austin, and set a new precedent for higher education in America. 
Since, as the decision begins, "​​both Harvard and UNC employ a highly selective admissions process to make their decision" and those admissions decisions can depend on "a student's grades, recommendation letters, or extracurricular involvement [and] …can also depend on their race," the Court was tasked with determining "whether the admissions systems used by Harvard College and UNC are lawful under the Equal Protection Clause of the Fourteenth Amendment." In other words: Can race, as a category, be included in admissions systems? 
In a 6-3 decision, The Supreme Court said no. Admissions offices at Harvard and UNC failed to meet the parameters set by Grutter: strict scrutiny, race-based consideration never being negative (in the case of Asian American applicants), and a definite end. Therefore, Justice Roberts wrote, the admissions programs at Harvard and UNC were unlawful in their consideration of race as a category. In explaining his reading of the Equal Protection Clause, Justice Roberts stated: "Eliminating racial discrimination means eliminating all of it."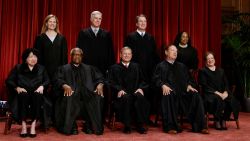 Joining Roberts were Justices Alito, Gorsuch, Kavanaugh, and Barrett, as well as Justice Clarence Thomas who, unusually, wrote his own, long consenting opinion in which he chronicled his own long opposition to affirmative action, personally and legally. 
In response to calls not only for racial justice but for diversity in education, Thomas writes: "It may be the case that exposure to different perspectives and thoughts can foster debate, sharpen young minds, and hone students' reasoning skills. But, it is not clear how diversity with respect to race, qua race, furthers this goal. Two white students, one from rural Appalachia and one from a wealthy San Francisco suburb, may well have more diverse outlooks on this metric than two students from Manhattan's Upper East Side attending its most elite schools, one of whom is white and other of whom is black. If Harvard cannot even explain the link between racial diversity and education, then surely its interest in racial diversity cannot be compelling enough to overcome the constitutional limits on race consciousness." 
Justices Sotomayor, Kagan, and Jackson dissented. In the opinion, Justice Sotomayor declared, "Today, this Court stands in the way and rolls back decades of precedent and momentous progress." "The Court," she continues, "cements a superficial rule of colorblindness as a constitutional principle in an endemically segregated society where race has always mattered and continues to matter." Saying a society should be colorblind does not make it so. And, of course, the Court in other cases, knows this. Sotomayor explains: "what the Court actually lands on is an understanding of the Constitution that is "colorblind" sometimes, when the Court so chooses. Behind those choices lie the Court's own value judgments about what type of interests are sufficiently compelling to justify race-conscious measures." 
In another withering dissent, Justice Ketanji Brown-Jackson likewise takes issue with the legal colorblindness Thomas celebrates. Her "response is simple: Our country has never been colorblind." She then runs through a simple history of Black people in America, using the work of academics and historians such as Ira Katznelson, Isabel Wilkerson, Douglas Blackmon and Richard Rothstein before stating plainly, "History speaks." Ignoring that historical reality will only prolong its reach, she argues. "The only way out of this morass—for all of us—is to stare at racial disparity unblinkingly, and then do what evidence and experts tell us is required to level the playing field and march forward together, collectively striving to achieve true equality for all Americans. It is no small irony that the judgment the majority hands down today will forestall the end of race-based disparities in this country, making the colorblind world the majority wistfully touts much more difficult to accomplish."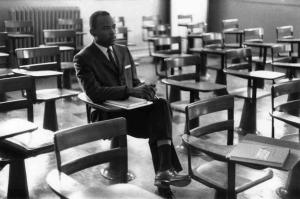 The arguments are fascinating, and I could spend much more time getting into them–especially the back-and-forth between Justices Thomas and Jackson–but what does the ruling mean?
Political pundits, lawyers, and school admissions officers had presumed the conservative Court would strike down affirmative action, but the decision was surprising in its narrowness. In his conclusion, Chief Justice Roberts went out of the way to state that "nothing prohibits universities from considering an applicant's discussion of how race affected the applicant's life, so long as that discussion is concretely tied to a quality of character or unique ability that the particular applicant can contribute to the university." 
Immediately after the decision came down Americans had strong, polarized responses. Many colleges and universities, including Harvard, responded with renewed commitment to racial diversity in education. In a statement, Harvard administrators declared their intent to comply with the ruling and "to reaffirm the fundamental principle that deep and transformative teaching, learning, and research depend on a community comprising people of many backgrounds, perspectives, and lived experiences. That principle is as true and important today as it was yesterday."  
The decision will have effects beyond undergraduate institutions. As disparate outcomes in health indicate, less diverse healthcare providers lead to unnecessary suffering and death for marginalized groups. The American Medical Association, which filed an amicus brief in the case, stated: "Today's ruling undermines policy that was producing positive results and improving the health of our patients, as well as making all physicians better practitioners. This ruling is bad for health care, bad for medicine, and undermines the health of our nation." I think its safe to assume that the ruling will mean that many, if not all, schools become even less diverse than they are. Examples from California and Michigan bear this out. 
So what are we to make of this?
First, as Americans, the ruling seems to indicate that the nation is moving away from a commitment to racial parity. Recent decades have seen a resurgence in white supremacists and in the politics of racial grievance and the decision seems to affirm these exclusionary impulses. This, as Justice Jackson, writes, is a "tragedy for everyone" As much social science research indicates, without a conscious amelioration of generations of oppression, racial stratification due to uneven allocation of resources compounds. In this instance, legacy students, those whose parents and grandparents had the education, means and right to attend elite colleges, receive preferential admission, ensuring that, unless another Court intervenes, generation privilege accrues. Race-blindness is no protection against racial discrimination in a society already so struck through historically and culturally with racial division. The work of redress must be done to achieve a democratic nation. It seems clear this is a step backwards from that goal. 
What about as educators? The ruling will almost certainly have some effect on elite schools like UNC and Harvard. But, as mentioned above, the wording of the decision does not forestall these institutions from admitting diverse students for whom race has affected their life experiences. But honestly, the fierce competition for spots in the nation's elite colleges does not reflect the reality for the vast majority of the nation's institutions for higher education. Most schools, including my own, clamor for students, from whatever race and background. Many colleges are facing steep declines in admission due to COVID, higher wages for non-college educated workers, and the so-called "birth-dearth." Liberal arts colleges, public regional universities, and community colleges are ready to welcome diverse students and offer educational experiences every bit as valuable as R1s and Ivies. Interestingly, Justice Thomas obliquely refers to this in his concurring opinion. ""Affirmative action" policies do nothing to increase the overall number of blacks and Hispanics able to access a college education," he writes. "Rather, those racial policies simply redistribute individuals among institutions of higher learning, placing some into more competitive institutions than they otherwise would have attended." While Thomas' implications here are insulting, it is true that institutions of higher learning exist outside of the U.S. News and World Report's top ten. Notably, HBCU enrollment is on the rise. Students of color can rest assured that there are many schools anxious to have them and their beautiful presence on campus. We are ready to teach all of our students with excellence and fairness. 
Finally, what might we as Christians make of this? Of course, there are many options, as our identities and experiences figure in. But a few thoughts. On the one hand, simple quotas based on race are at best simplistic and at worst can lend themselves towards racist exclusion, as has happened in the not so distant past. Some of the vitriol directed at Asian and Asian American applicants has been dehumanizing and abhorrent and has no place amongst believers. Neither, of course, do any efforts to discriminate against Black Americans or deny them opportunities long denied. These groups, both of whom have experienced racial discrimination and exclusion, should not be pitted against each other to benefit whites. Christians should fight strenuously to make our neighborhoods, schools, churches, and groups reflective of the diverse, beautiful family of God. 
I think too that those who belong to the kingdom of God should also resist the spirit of fear and scarcity embedded in the discussion around affirmative action. So much of the discussion around affirmative action has belied a rabid fear amongst some white Americans that "their" spots are being taken by less deserving minorities. Not only is this not true, it is inherently unChristian. Yes, certain educational and economic opportunities can be determinative of success.  (Of course this dovetails into another recent Court decision on student debt, but I digress…) But rather than competing for a very limited number of seats on a track to wealth and prestige, what if we created more seats in more places open to more people? And honored those paths and the gifts God has given to people.Christians can and should hire qualified applicants from non-elite universities in their law firms and corporations and admit them to medical schools and graduate programs. We serve a God of abundance and we must resist the scarcity mindset for ourselves, our children and grandchildren. We have not been given a spirit of fear but of power and of love. Let's get to work pursuing the work of racial justice and equity, and also building a world full of hope and opportunity for all of God's people to pursue their unique callings–for the betterment of all and for God's glory.