Rose Macaulay (1881-1958) was an English author whom I used to regard as a very witty comic writer, but little beyond that. I have since rediscovered her as a stellar literary figure in her era, and one with a great deal to say to anyone interested in religious matters, or indeed women's history. (I will have a lot more to say about the powerful spiritual and specifically Anglican themes in her work in my next post). I think the story of rediscovering Rose Macaulay is interesting in its own right.
Macaulay was rather cursed by a bestseller that she published in her mid-seventies, namely The Towers of Trebizond (1956), a very funny Middle Eastern travel memoir describing eccentric Anglo-Catholics. For decades afterward, anyone who heard the name "Rose Macaulay" would immediately quote that book's memorable opening line:
'Take my camel, dear,' said my aunt Dot, as she climbed down from this animal on her return from High Mass.
"Dot," by the way, owes a lot to the real life Dorothy Sayers.
All you needed to know about Macaulay, it seemed, was that she was English, she was quirky, and in short, totally Masterpiece Theater. So how did I ever find that there was so much more to her – and indeed, started me off reading her other twenty or so novels with a certain sense of awe?
It all started with Agatha Christie. A few years ago, I was reading Christie's Murder in Mesopotamia (1936), which I think is one of the author's best – minor spoilers follow. As the detective Hercule Poirot investigates the belongings of the woman who has been murdered, he finds evidence that she is anything but the flighty neurotic that her intimates have depicted. The woman, Louise Leidner, in fact owned and read a series of daring and heavyweight volumes, including an Introduction to Relativity, George Bernard Shaw's Back to Methuselah, and a biography of Lady Hester Stanhope, the intrepid woman who roamed alone across the Middle East in the early nineteenth century. There are also two novels: Crewe Train and Linda Condon. An impressed Poirot comments: "She was not a fool, your Mrs. Leidner. She had a mind." That intrigued me. What novels of the time might be used to depict this kind of intellectual ambition, and particularly, in a smart, independent, non-conforming woman – indeed, an intellectually-inclined feminist? What exactly showed that "she had a mind?"
Both the novels mentioned were very well known in their day. Joseph Hergesheimer's Linda Condon (1919) was a brilliant psychological study of a wealthy woman whose life is spent concealing her lack of emotions, leading others to view her as a "Siberia." She is always seen as a mere detached observer of the real life and emotions going on around her. In the early 1920s, Hergesheimer, remarkably,was at the top of surveys asking people to rank the best and most influential American writers. (I would love to post more about that book at some future point). I will just mention that briefly here as a highly appropriate prelude to the other title, which is Rose Macaulay's Crewe Train (1926), of which I had frankly never heard.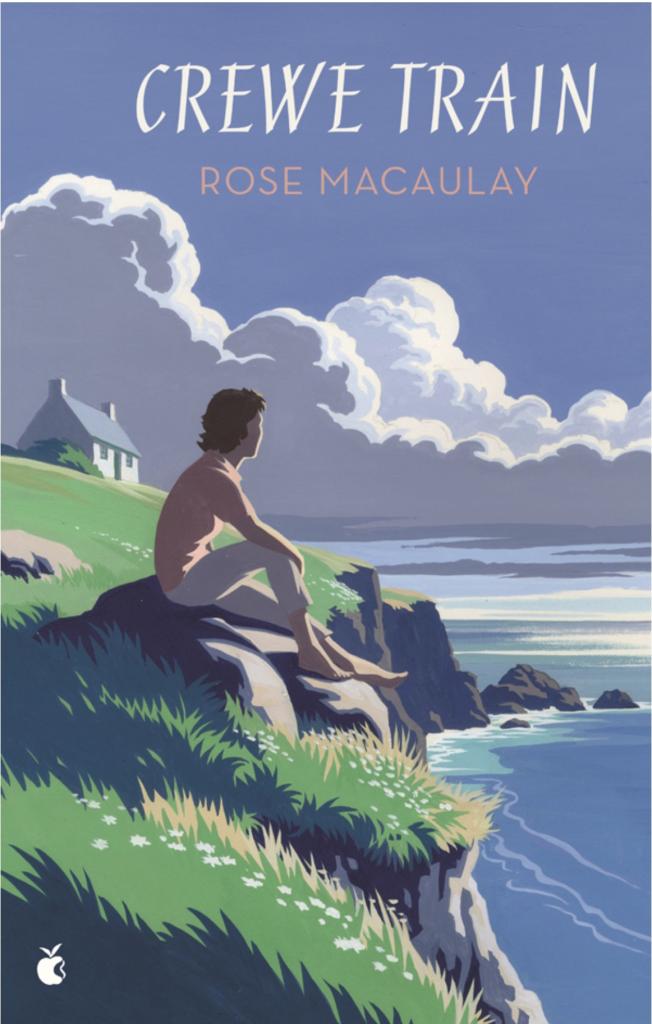 Well, surely, I thought, I can make some guesses about the content here. It's by Rose Macaulay, so obviously, it's a comedy or satire. Dare I hope for more camels? Confirming the expectations, the title comes from a rollicking music hall ditty of the time:
Oh! Mr Porter, what shall I do?
I want to go to Birmingham
And they're taking me on to Crewe,
Take me back to London, as quickly as you can,
Oh! Mr Porter, what a silly girl I am!
The publisher presents the book as "a devastating – and very funny – social commentary."
It is hard to exaggerate the gap between anticipation and outcome here. Crewe Train is about a young woman, Denham Dobie, who finds herself on utterly and irreversibly the wrong track in life. But despite the abundant comedy, the book is deeply tragic and at times comes close to horror fiction (I write more about this in a column in the current Christian Century). Raised in isolation, Denham copes abominably badly when her relatives try to bring her into London's social whirl. She is deeply private, and fails thoroughly to play social games. I am not the first to argue that Denham represents an acute and pioneering literary sketch of the type that would some years later be identified as autistic: the book was actually written about a decade before the work of Hans Asperger.
But whatever we make of that diagnosis, the book portrays the absolute chasm between Denham as her family sees her, and herself as we witness her inner torments. The more they try to bring her out of her shell, the more she realizes that she will never enjoy any kind of solitude. She is surrounded by these fiends, who keep trying to help her. Through her eyes, we see all their intended kindnesses as acts of mental torture.
I would unhesitatingly claim Crewe Train as a masterful twentieth century account of damnation. As a reader, you leave the book so sympathetic for Denham, and so frustrated with the world, that it is hard not to punch walls. As I say in my Christian Century piece, Crewe Train is a pioneering study of women who refused to play the social game. It is a stunning read.
In the context of the Agatha Christie reference, we can see how Hercule Poirot would interpret a woman who read both this book and Linda Condon, and what that said about her relationship to social conformity, and approved femininity. The standard interpretation of Louise Leidner is that she is a thinly disguised version of archaeologist Katharine Woolley, but she also owes a lot to Agatha Christie herself, another successful and intellectual professional woman who was all too often dismissed as a lightweight. To quote Poirot, she too had a mind. (I note in passing that there were some echoes of Christie's own experiences in the account of  the childhood and youth of the fictional Linda Condon).
I did have one additional thought, or speculation, about Agatha Christie herself, and just why she cited Crewe Train in that cryptic way. The book appeared in 1926, a pivotal year in Agatha's life. Hearing of her husband's adultery and his request for divorce, she went missing for several days, possibly suffering some form of amnesia, and in the process she generated a sensational media panic. Most observers were confident that she had been murdered, or committed suicide. I don't know when she first read Macaulay's book, but the subject matter is very relevant indeed to her circumstances and mindset in those dreadful weeks. Crewe Train concerns a woman who is utterly at odds with her relatives and friends, and who desperately seeks some kind of seclusion and refuge from the world, although that world keeps catching up with her. Agatha who?
If Christie did indeed read the book at that point, or shortly afterwards, she would have found it spoke to her very directly, and that would have encouraged her to include it in that reference some years later. To the best of my knowledge, none of Christie's biographers (or Macaulay's) have ever discussed the Crewe Train allusion in that direct light, or related it to the cumulative horrors of 1926.
Amazingly, Crewe Train still does not even have its own Wikipedia entry.
So besides her comedies, Rose Macaulay wrote a wrenching and quite amazing literary classic. But surely, she could not have written anything else of this quality? Actually she did. More next post.
Sarah LeFanu wrote an excellent biography titled simply Rose Macaulay (London: Virago, 2003). See also:
Kate Macdonald, ed., Rose Macaulay, Gender, And Modernity (Routledge, 2018).
Leo Mellor, Reading The Ruins: Modernism, Bombsites And British Culture (Cambridge University Press, 2011).
Judith Maltby, "Rose Macaulay (1881-1958): Anglican Apologist?" in Judith Maltby and Alison Shell eds., Anglican Women Novelists : Charlotte Brontë to P.D. James (T&T Clark, 2019).
Heather Walton, "Faith in Ruins: Fragments and Pattern in the Late Works of Rose Macaulay," in Andrew Radford, Heather Walton, Elizabeth Anderson, eds., Modernist Women Writers And Spirituality : A Piercing Darkness (Palgrave Macmillan, 2016).
Lucy Worsley, Agatha Christie: An Elusive Woman (Pegasus 2022).