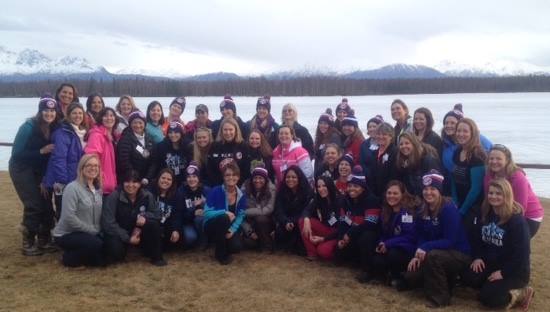 The Palins got to meet some pretty amazing women yesterday. They're called "Gold Star Wives," women who have lost their husbands in military service to our country. It was such a privilege to have these women in our home and see their grace and courage.
My mom shared the impression they made on her through her Facebook page. Here's how she put it:
Talk about inspiring graciousness – it exudes from every single one of these 43 beautiful wives from all over the U.S. Hearing their stories and seeing their heroes' pictures worn on lapel buttons shamed me for sweating the small stuff. …It was impossible to articulate for them America's appreciation for their sacrifices and now their inspiring strength. Their husbands – their life partners, best friends, fathers of their children – gave all for America. So did they.
As you all know, my mom cares a lot about taking care of veterans and their families. The group that brought these women up to Alaska is called TAPS, the Tragedy Assistance Program for Survivors. Their purpose is to "offer compassionate care to all those grieving the death of a loved one serving in our Armed Forces."
They do a lot of cool things, including running seminars for Military Survivors and camps to help families process "good grief." Programs like these are irreplaceable for military families who have lost a loved one – and it's the least we can do to show our gratitude for what they have sacrificed for all of us.
The great news is, it's a private, non-profit organization, where military families won't get lost in the bureaucracy or tangled up in red tape. And they offer lots of ways we can help them support our military families. For all you runners out there, you can join the "Run and Remember" team. You'd walk or run a race (or just cheer others on!), get sponsors to give toward TAPS' work, and best of all, meet a widow or family and let them know their loved one's service is remembered.
If you're not the athletic type, there are tons of other ways to get involved. You can sponsor a child to go to one of the grief camps, for example. Whatever your interest, there's something you can do.
These women are our country's true heroines.
Here's my mom's whole post:
Read more on the Patheos Faith and Family Channel, fan me on Facebook and follow this blog on Twitter!