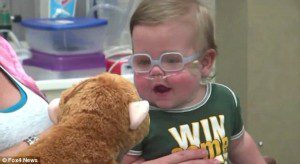 A precious baby boy who was born at only 23 weeks got to come home recently after spending a year in the hospital!
After spending nearly a year in the hospital following his extremely preterm birth, a North Dakota boy spent his first night at home, WDAY reported.

Trevor Frolek was born at the Essentia Health NICU in Fargo when his mother, Becky Frolek, was only 23 weeks into her pregnancy. Trevor was born weighing 1 pound, 6 ounces— so small that his father, Bo Frolek, could put his wedding ring around his foot.

The baby boy remained at the hospital for 364 days following birth to undergo heart and eye surgeries.
It is amazing to me what doctors can do for premature babies!  Every year they are getting better and better at saving these babies' lives!
All the more reason we should be promoting
common-sense pro-life bills
and
crushing organizations like Planned Parenthood
who want to destroy the lives of babies!  These lives matter!  They can and should be saved!
Read more on the Patheos Faith and Family Channel, fan me on Facebook, follow me on Instagram and follow this blog on Twitter!