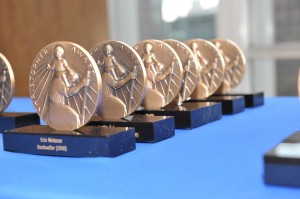 NEW YORK, April 9, 2013 — A world-renowned singer/songwriter explores the role music played in raising awareness about apartheid. A Tour de France winner joins forces with a Catholic cardinal to save Jewish lives in World War II Italy. An ex-convict in 19th-century France discovers that "to love another person is to see the face of God." These stories and more are told in the 19 feature films, TV/Cable programs, and books for adults and young people being honored with Christopher Awards, to be presented in New York on May 23rd, 2013.
Created in 1949, the Christopher Awards are presented to writers, producers, directors and illustrators whose work affirms the highest values of the human spirit. Tony Rossi, The Christophers' Director of Communications, says, "The creative forces behind the projects we're honoring are improving our culture by telling stories that awaken hope instead of despair, acknowledge the necessity of sacrifice in the service of a greater good, and light a candle rather than curse the darkness."
TV & Cable
An unemployed pilot's dream of using classical music to help his fellow countrymen transcend their bleak, war-plagued existence in Central Africa results in the only all-black orchestra in the world, as chronicled in 60 Minutes: Joy in the Congo (CBS News). The Call the Midwife Holiday Special (Neal Street Production/BBC/PBS)—an episode of the series which dramatizes the work of Anglican nuns and their staff, who serve as midwives in 1950's London—depicts the transforming power of love and kindness in the life of a teenager experiencing an unplanned pregnancy and an old woman considered an outcast by society. God Is the Bigger Elvis (HBO Documentary Films) takes viewers into the mind, heart and soul of actress-turned-nun Mother Dolores Hart, and her fellow sisters at the Abbey of Regina Laudis in Bethlehem, Connecticut, who provide an honest look at their challenging, but spiritually-rewarding lives. From a little girl who requires surgery for a tumor on her heart to ER nurses who bring a patient back to life through CPR, the documentary series NY Med: Season 1 (ABC News) shares the inspirational, heartbreaking, and sometimes-humorous experiences of doctors, nurses and patients at New York-Presbyterian Hospital. On the 25th anniversary of Paul Simon's groundbreaking Graceland album, which was recorded with South African singers and musicians when the country was still under a cultural boycott due to apartheid, Under African Skies (@radical.media/A&E Indie Films) follows the singer/songwriter as he returns to Africa to reunite with old friends, examine the results of breaking the boycott, and celebrate the world-changing power of art and artists.
Feature Films
Following a bishop's life-changing act of mercy towards him, ex-convict Jean Valjean abandons the bitterness that consumed his heart and mind, takes advantage of his second chance, and discovers God, love and redemption in this adaptation of the beloved stage musical, Les Misérables (Working Title Films/Universal Pictures). Lincoln (DreamWorks Studios/Touchstone Pictures) highlights the personal determination, political maneuvering, and unrelenting conscience of the United States' 16th President who, in the midst of a bloody civil war, had to unite a fractious Congress in order to abolish slavery. The Academy Award-winning documentary Undefeated (Spitfire Pictures/The Weinstein Company) follows Coach Bill Courtney as he teaches the poverty-stricken, inner-city teens who play for Tennessee's North Memphis Manassas High School football team about discipline, character, teamwork, and striving toward greatness.
Books for Adults
Carly's Voice (Touchstone Books/Simon & Schuster) by Arthur Fleischmann and his autistic daughter Carly reveals their family's astonishing journey from believing Carly would never develop intellectually beyond the abilities of a small child to her current status as a smart, perceptive and funny high school student. In Fearless (Waterbrook Multnomah Publishing Group/Random House), author Eric Blehm shares the troubled life and heroic death of Navy SEAL Adam Brown, whose early life was derailed by drug abuse before family, faith and the U.S. military gave him the courage and strength to fight his inner demons. Mark Shriver's memoir A Good Man (Henry Holt and Company) about his late father, Peace Corps founder and Special Olympics president Sargent Shriver, lovingly explores the roots of his father's commitment to public service, his love for God, and his devotion to his wife of 56 years, Eunice Kennedy Shriver. In the spiritual autobiography My Sisters the Saints (Image Books/Random House), journalist and EWTN broadcaster Colleen Carroll Campbell demonstrates the modern relevance of saints like Teresa of Avila and Therese of Lisieux in her quest to find personal fulfillment and professional success while dealing with her beloved father's descent into Alzheimer's. Italian cycling champion Gino Bartali, motivated by his Catholic faith, risks torture and death to save the lives of Jewish people during the Italian Holocaust in Aili and Andres McConnon's Road to Valor (Crown Publishing Group/Random House).
Books for Young People

Through engaging rhymes and colorful illustrations, author Nicole Lataif and illustrator Mary Rojas present lessons for children, pre-K through age 8, about loving God, building character, and what it means to be fully human in Forever You: A Book About Your Soul and Body (Pauline Books and Media). In The Fantastic Flying Books of Mr. Morris Lessmore (Atheneum Books for Young Readers/Simon and Schuster), author/illustrator William Joyce and illustrator Joe Bluhm deliver a charming tale for kindergartners about a writer who becomes dejected after losing everything in a hurricane, but rediscovers the life-changing and enduring power of stories with the help of some magical books. Author Jo S. Kittinger and illustrator Thomas Gonzalez touch the hearts of readers ages 6 to 8 in The House on Dirty-Third Street (Peachtree Publishers), about a simple public prayer that leads to a community coming together to help a discouraged mother and daughter rebuild their rundown old house. The Newbery Medal-winning The One and Only Ivan (Harper Collins Children's Books) from author Katherine Applegate and illustrator Patricia Castelao introduces 8 to 10 year olds to a smart, sensitive and artistic gorilla who, after years of living in deplorable conditions as part of a roadside circus attraction, pursues a better life for himself and his fellow animals. For ages 10 to 12, Wonder (Alfred A. Knopf/Random House Children's Books) shares what author R.J. Palacio calls "a meditation on kindness" through the story of a bullied fifth grader with a facial deformity who learns to appreciate the unique gifts he brings to the world. For young adults, Warren St. John's Outcasts United (Delacorte Press/Random House Children's Books) relates the true story of Luma Mufleh, who serves as soccer coach, role model, and extended family member to the tweens and teens in Clarkston Georgia, who are refuges from war torn countries.
(The 2013 special Christopher Awards will be announced soon.)
Related: Background on the Christopher Awards