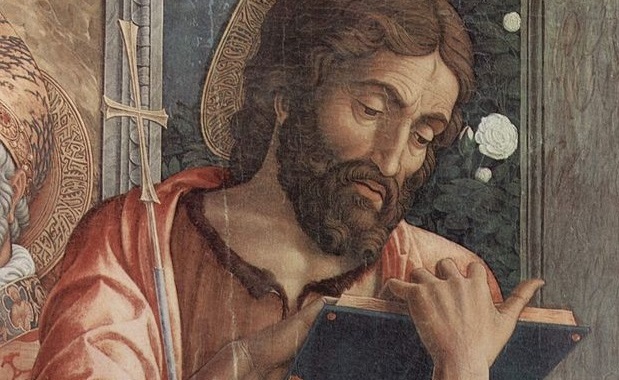 The year comes to a close and I find myself once again pulling my favorite books off my dusty shelves and piles on the floor.
Last week I penned a list of the best non-fiction books (theology, philosophy, science, and l'autre) I read this year. Poetry and novels open up wounds and worlds that usually remain closed in the imprecise-precision of non-literary prose. I don't want to say that this list is more important than last week's . . . so I won't. It offers different charms.
It shouldn't surprise you, lecteur, to notice that just about every book in this list has a theological undertone, overtone, and every other kind of tone God can be painted with. Frankly, contemporary literature stinks of God. It's just that the noses of the professionally religious usually don't pick up the scent. They busy themselves talking about Golden Ages, tantalizingly out of reach enough to neutralize the achievements of contemporary writers. It is as if the gold-diggers of circa 1958 to 1968 envy the accolades contemporary writers would receive so much that they'd rather say these writers stink–or worse, that they don't give off enough of a literary stink for anyone to notice–then give them their due. To say nothing of actually acknowledging the prestigious accolades received by those writers. Some of these writers have won Nobels, National Book Awards, PEN Faulkners, T.S. Eliots, and other fatcat awards. You can read them all over the place in award-winning publications like IMAGE Journal, whose blog Good Letters recently migrated to Patheos Catholic.
Now you have no excuse to not read them.
What exactly are today's authors talking about? What theologies are they hiding? Below are hints dropped in one-sentence teasers about my favorite literary reads from this year:
In Praise of the Unfinished: Selected Poems is like a song of praise for those times when our certainties break down and something totally different, more profound, emerges. Incarnadine struggles to understand the annunciations that keep cropping up when all we want is for life to run on a more regular course. Distant Lands: An Anthology of Poets Who Don't Exist playfully exposes how there are many different voices inhabiting our souls (I know the author will give me crap for alluding to Milosz). Glass, Irony and God unspairingly portrays a personal tragedy in a way that makes you fell grateful for the periods of relative calm in your life, or makes you glad to have a companion when everything is falling apart. Death Comes for the Deconstructionist gets at those things that refuse deconstruction, and refuse to go away no matter how much one wishes they would. Busy Monsters is what the Iliad would look like if the Kardashians rewrote it with a Catholic sensibility keen on Original Sin. I Want to Show You More is about as close you will get to hallucinogenic Flannery O'Connor stories set in the messes of a typical upper-middle-class suburb. Submission can be read as an honest guide to the future of France and the rest of the West and an appreciation of medieval Catholicism. What Was Before was penned by an author better known for the much-discussed liturgy reform critique Heresy of Formlessness, although the novel moves beyond the sacristy into the hilariously hollow lives of the rich, if not always intelligent, people who run our world. Bittersweet Eros discusses the strange paradoxes of erotic longing–it wants and doesn't want to reach its goal–in ways reminiscent of Simone Weil. Loitering was written by a self-described "disaster whore" whose first-hand reporting of minor apocalypses puts you in communion with the scum of the earth and recognize them as yourself. A God in the House: Poets Write About Faith adroitly does what its title says.
All in all, I note an apophatic (saying by not saying, or negating commonplace ways of speaking) strand in these books. My readings, with apologies to the Underground Man, go through, rather than around, the walls of incomprehension, suffering, and doubt that life erects. They do not paper them over with too easy happy-endings and pat answers. The do not run away, because there are no other options. They negate language and rebuild experience into an encounter with something strange, bordering on the incomprehensible–as incomprehensible as life, and its LORD, frequently are.
All this might be a sign I need to finish reading Denys Turner's The Darkness of God: Negativity in Christian Mysticism–the consensus Baedeker to the medieval apophatic tradition.
But that's for next year. Perhaps. If I don't run into any walls.
Until then here's the best of what I read in 2015 divided into poetry, novels, and weird stuff:
POETRY: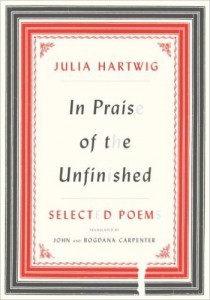 1. In Praise of the Unfinished: Selected Poems by Julia Hartwig
Hailed by Czeslaw Milosz as "the grande dame of Polish poetry" and named "one of the foremost Polish poets of the twentieth century" by Ryszard Kapuscinski, Julia Hartwig has long been considered the gold standard of poetry in her native Poland. With this career-spanning collection, we finally have a book of her work in English. The tragic story of the last century flows naturally through Hartwig's poems. But there is also a welcoming of new experience in her verse, a sense that life, finally, is too beautiful to condemn. She seeks a higher peace, urging us to hear other voices. Hartwig's compassionate spirit in the face of destruction and suffering, her apparent need to live in the moment, make her poems monumental and deeply touching and the introduction of her work here long overdue.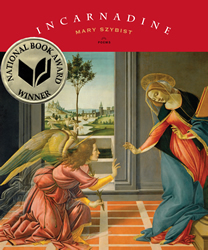 2. Incarnadine by Mary Szybist
In Incarnadine, Mary Szybist restlessly seeks out places where meaning might take on new color. One poem is presented as a diagrammed sentence. Another is an abecedarium made of lines of dialogue spoken by girls overheard while assembling a puzzle. Several poems arrive as a series of Annunciations, while others purport to give an update on Mary, who must finish the dishes before she will open herself to God. One poem appears on the page as spokes radiating from a wheel, or as a sunburst, or as the cycle around which all times and all tenses are alive in this moment. Szybist's formal innovations are matched by her musical lines, by her poetry's insistence on singing as a lure toward the unknowable. Inside these poems is a deep yearning―for love, motherhood, the will to see things as they are and to speak. Beautiful and inventive, Incarnadine is the new collection by one of America's most ambitious poets.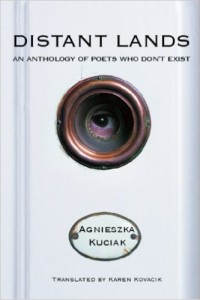 3. Distant Lands: An Anthology of Poets Who Don't Exist by Agnieszka Kuciak
Mystical, mischievous, and musical, Kuciak enchants with the scope of her imagination, her whimsical flirtations with identity, theology, and the very nature of human existence. I am delighted by her lyrical flare, her wit, and her remarkable ability to be both one and many poets, or one poet with twenty one voices. This faux anthology of twenty-one invented poets belongs in the company of world literature's distinguished fabulists—Fernando Pessoa and Italo Calvino—in blurring the boundary between the textual and actual worlds.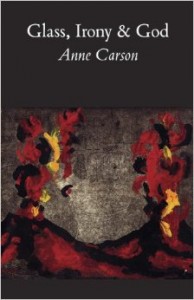 4. Glass, Irony and God by Anne Carson
Known as a remarkable classicist, Anne Carson weaves contemporary and ancient poetic strands with stunning style in Glass, Irony and God. This collection includes: "The Glass Essay," a powerful poem about the end of a love affair, told in the context of Carson's reading of the Brontë sisters; "Book of Isaiah," a poem evoking the deeply primitive feel of ancient Judaism; and "The Fall of Rome," about her trip to "find" Rome and her struggle to overcome feelings of a terrible alienation there.
FICTION: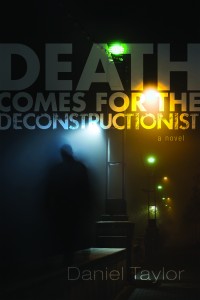 5. Death Comes for the Deconstructionist by Daniel Taylor
Jon Mote–grad school dropout and serial failure–has been hired to investigate the murder of his erstwhile mentor, Richard Pratt, a star in the firmament of literary theory. Feeling unequal to the task, Mote skitters on the edge of madness, trying to stifle the increasingly threatening voices in his head. His only source of hope is the dogged love of his mentally disabled sister, Judy, who serves as cheerleader, critic, and moral compass.

Death Comes for the Deconstructionist follows Mote and his sister through the streets and neighborhoods of Minneapolis and St. Paul, Minnesota–from crime scenes to the halls of academe. Mote's investigation uncovers a series of suspects–including the victim's wife, mistress, and intellectual rivals. Along the way he stumbles onto the victim's terrible secret, one that prompts the discovery of an equally dark mystery from his own past.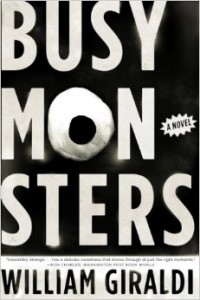 6. Busy Monsters by William Giraldi
Memoirist of mediocre fame, Charles Homar has a problem: his bride-to-be, Gillian Lee, has nixed their nuptials and fled to the high seas in search of a legendary giant squid, unleashing an unholy heart wreck upon him. In a hell-bent effort to prove his mettle as an American male and win back Gillian's affections, Charlie crisscrosses the nation seeking counsel, confronting creatures both mythic and real—Bigfoot on the Canadian border, space aliens in Seattle, a professional bodybuilder with Asiatic sex slaves in suburban New Jersey, the demons dancing a rumba inside his own heart—and then writing about his travails every week for a popular slick magazine. Echoing a narrative tradition that includes Don Quixote and Kurt Vonnegut's Breakfast of Champions, William Giraldi's debut novel is a love story of linguistic bravado that explores American excess, the diaphanous line between fiction and fact, and what desperate men and women will do to one another.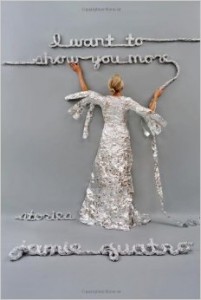 7. I Want to Show You More by Jamie Quatro
Sharp-edged and fearless, mixing white-hot yearning with daring humor, Quatro's stories upend and shake out our views on infidelity, faith, and family. Set around Lookout Mountain on the border of Georgia and Tennessee, Quatro's hypnotically revealing stories range from the traditional to the fabulist as they expose lives torn between spirituality and sexuality in the New American South. These fifteen linked tales confront readers with fractured marriages, mercurial temptations, and dark theological complexities, and establish a sultry and enticingly cool new voice in American fiction.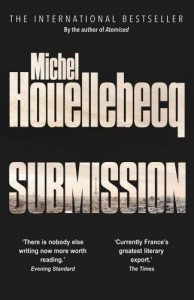 8. Submission by Michel Houellebecq
A controversial, intelligent, and mordantly funny new novel from France's most famous living literary figure. It's 2022. François is bored. He's a middle-aged lecturer at the New Sorbonne University and an expert on J. K. Huysmans, the famous nineteenth-century Decadent author. But François's own decadence is considerably smaller in scale. He sleeps with his students, eats microwave dinners, rereads Huysmans, queues up YouPorn.

Meanwhile, it's election season. And although Francois feels "about as political as a bath towel," things are getting pretty interesting. In an alliance with the Socialists, France's new Islamic party sweeps to power. Islamic law comes into force. Women are veiled, polygamy is encouraged, and François is offered an irresistible academic advancement–on the condition that he convert to Islam.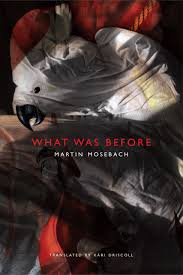 9. What Was Before by Martin Mosebach
Martin Mosebach's novel What Was Before opens with a young couple enjoying a moment of carefree intimacy. Then the young woman, turning slightly more serious, asks her lover that fateful question, one that sounds so innocent but carries toxic seeds of jealousy: What was your life like before you met me? The answer grows into an entire book, an elaborate house of cards, filled with intrigue, sex, betrayal, exotic birds, and far-flung locations.

Set against the backdrop of Frankfurt's affluent suburbs, this elliptical tale of coincidence and necessity unfolds through a series of masterly constructed vignettes, which gradually come together to form a scintillating portrait of the funny, tender, and destructive guises that love between two people can assume and the effect it has on everyone around them. Hailed in Germany as the first great social novel of the twenty-first century, What Was Before is an Elective Affinities for our time.
WEIRD STUFF: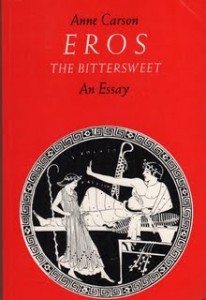 10. Eros the Bittersweet by Anne Carson
A book about romantic love, Eros the Bittersweetis Anne Carson's exploration of the concept of "eros" in both classical philosophy and literature. Beginning with, "It was Sappho who first called eros 'bittersweet.' No one who has been in love disputes her," Carson examines her subject from numerous points of view, creating a lyrical meditation in the tradition of William Carlos Williams's Spring and All and William H. Gass's On Being Blue.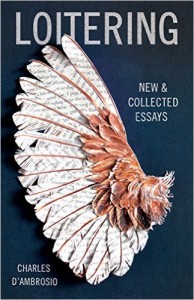 11. Loitering by Charles D'Ambrosio
Charles D'Ambrosio's essay collection Orphans spawned something of a cult following. In the decade since the tiny limited-edition volume sold out its print run, its devotees have pressed it upon their friends, students, and colleagues, only to find themselves begging for their copy's safe return. For anyone familiar with D'Ambrosio's writing, this enthusiasm should come as no surprise. His work is exacting and emotionally generous, often as funny as it is devastating. Loitering gathers those eleven original essays with new and previously uncollected work, so that a broader audience might discover one of our great living essayists. No matter his subject―Native American whaling, a Pentecostal "hell house," Mary Kay Letourneau, the work of J.D. Salinger, or, most often, his own family―D'Ambrosio approaches each piece with a singular voice and point of view; each essay, while unique and surprising, is unmistakably his own.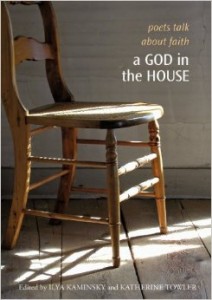 12. A God in the House: Poets Write About Faith by Ilya Kaminsky and Katherine Towler (eds.)
This collection gathers conversations with nineteen of America's leading poets, reflecting upon their diverse experiences with spirituality and the craft of writing. Bringing together poets who are Christian, Catholic, Buddhist, Jewish, Pagan, Muslim, Native American, agnostic, and otherwise, this book offers frank and thoughtful consideration of themes too often polarized and politicized in our society. Participants include Li-Young Lee, Jane Hirshfield, Carolyn Forché, Gerald Stern, Christian Wiman, Joy Harjo, and Gregory Orr, and others, all wrestling with difficult questions of human existence and the sources of art.
I took my best non-fiction books list up to 11 so why not 12 with this one?
BONUS, books I should've finished reading, but didn't: The Woman Who Was Poor by Leon Bloy, Death of Virgil by Hermann Broch, and The Wedding Dress: Meditations on Word and Life by Fanny Howe.
I'm already getting nostalgic about books I won't get around to reading next year.
You might also want to look, especially if you're still running routes for Hail Mary Christmas presents, at my TOP10 living religious novelist and poet lists.