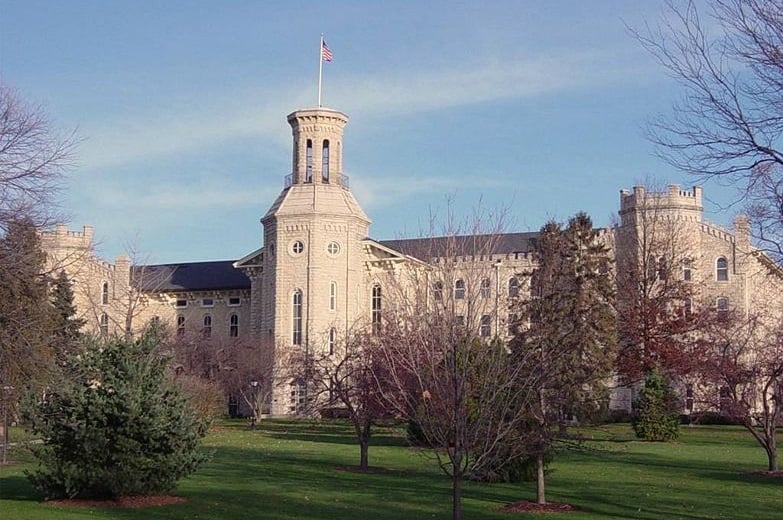 Once in a while you run across something that truly amazes you and leaves you speechless. Sometimes you read about something that embodies the kind of courage we admire in theory, but rarely embody in practice.
What Professor Michael Mangis said today about the Larycia Hawkins controversy at Wheaton College is one of those things. I cannot imagine a professor at a secular university sticking their neck out in defense of their colleague like Professor Mangis did today. It is a great testament to Wheaton College that they hire faculty like this (some of whom I know personally and respect greatly as top-notch scholars).
[Nota Bene: If you disagree with this account, feel free to submit your version about what's going on in Wheaton to me.]
For eleven years Dr. Mangis was Executive Director of Heartland Counseling in Elburn, the training clinic for the Center for Rural Psychology, the non-profit Dr. Mangis founded in 2000. At Heartland, Dr. Mangis supervised graduate interns as well as maintaining his own clinical practice. Survivor of a stroke in 2008, Dr. Mangis' professional and research interests include traumatic brain injury, rural mental health counseling, integration of counseling and Christianity, native American issues, ethics of professional counseling, psychodynamic theory. He is author of Signature Sins: Taming Our Wayward Hearts and is Professor of Counseling at Wheaton College.
What follows is his account of the Larycia Hawkins controversy, which, you might remember was sparked her quoting the Catholic position on Islam as expressed by Pope Francis.
I have reproduced the following words with the permission of Professor Mangis without making any alterations:
* * * * * * * * * * * * * * * * * * * *
(deep breath) This all started from a Facebook post. Several times over the last few weeks, I have posted my thoughts and feelings about the current "situation" at Wheaton but, after I was attacked or ostracized, I went back to delete some of those posts. However, there is just no way to escape the fact that this drama is being played out on social media. Yesterday there was a faculty meeting in whoch many planned to make comments about the situation, I went with prepared comments . In particular, as everyone knows, several weeks ago I released a personal email conversation between Stan Jones and me to a reporter. although many have shared their opinion on my decision to do that, no one has asked me why I did it. these prepare comments were intended to explain that. During the faculty comment time of the business meeting two wireless microphones were passed around for faculty to make comments, I was not aggressive enough to get the microphone before the meeting was done so I did not share these comments at there meeting however I'm willing to share them now here on Facebook. I hope I won't feel the need to delete this post tomorrow.

Beginning with my doctoral dissertation, which studied the relationship between authoritarianism and sexism in the Evangelical subculture, my scholarship has Often revolved around the unconscious and seemingly invisible systems and forces that oppress and endanger the most vulnerable, to the advantage of the most powerful. I passionately teach and study the realities of racial and gender injustice and the oppressive systems that maintain them, such as white fragility, white privilege and institutional patriarchy.

I have stated publicly and in my classes that white patriarchy reigns virtually unchallenged in cultural evangelicalism and in the Wheaton College micro-culture. Patriarchy has evolved to maintain and protect the illusion, for men, that we are entitled to be obeyed and served. For years I have taught my students that it is the responsibility of those who benefit from these insidious systems to expose and dismantle them.

I know that many people have difficulty believing in these systems. Sadly, recent research reveals that White Christians are among the most adamant in their denial of the existence of such phenomena as Racism, ethnocentrism, white privilege, sexism, racialized police brutality, and the like.

I can testify to the fact that White Patriarchy exists at Wheaton because I have benefited from it while Dr. Larycia Hawkins was subjugated by it.

When Provost Stan Jones called me to confront my, admittedly, flippant comment on Facebook, in which I said I would be doing Muslim prayers in my spring course, I remember consciously thinking "I know what this is, I've observed or been on one side or the other of this conversation innumerable times in my life." From my study of cultural evangelicalism and similar systems I know that great credence is given, in patriarchal systems, to authority figures and to conformity to explicit and implicit norms and mores of the culture.

I knew the "right" words to use for my unhesitating apology. You may recall the statement from the administration that, unlike Dr. Hawkins, other faculty members who were confronted for their comments rapidly and emphatically apologized and offered an explanation. In other words, they followed protocol. I knew the proper tone and keywords to use for my apology and explanation and assurance of future conformity. In short, as a member of the '"club," I knew the code and I knew that I would be fine at the resolution. In fact, my situation was resolved to everyone's satisfaction within a few hours. It cost me nothing to subordinate myself to administrators, in fact, I was praised for it.

About a week later Dr. Lynn Cohick and Dr. Leah Anderson organized the faculty meeting to inform us of the details of Dr. Hawkins' situation. One of the female faculty members asked "does anyone know of a situation where a white male with tenure did something similar but was treated differently?" This shocked me awake.I stood and said yes and told this story. A week or so later, the reporter from Time called me and said "someone told me that you might have information about injustice in the Hawkins incident and might be willing to talk about it." We talked for about an hour about patriarchal systems and about my experience with Wheaton. Finally, she agreed that it seemed an injustice had been committed but added that she could not report on it from my interview alone. She kindly said that she realized that I could face severe punishment if I gave her the emails but that would enable her to report the story. I examined my conscience and realized that I would always feel like a hypocrite if I chose to protect myself over standing up for justice and for Larycia.

In my heart, I know without a doubt that Stan had my well-being in mind when he contacted me about the Facebook post. When I had a stroke in 2008, Stan was my strongest advocate, creating ways for me to remain in my position as a professor. In fact, even now, when my worsening disability is diminishing my capacity to teach, Stan has advocated for me and made helpful accommodations. At the same time in my heart I have no doubt that Stan, I, and everyone involved, are deeply entrenched in a nearly invisible, insidious, socio-cultural system that has influenced our thoughts and actions, and that honesty, humility and transparency are required to bring change.

In that light, we must humbly seek those, like Larycia, who have the experience and vision to help us see the road to transformation. When we invite those who would help us change, however, we must remember that we are promising not to submit them to the same patriarchal oppression that they are here to help us dismantle. Larycia should never have been asked to subordinate herself to white male leadership.

In this light, for the glory of God, I call on our brothers Phil and Stan to stop and turn around!
For the backstory on the controversy see: Wheaton College Professor Suspended for Expressing Catholic Position on Islam.