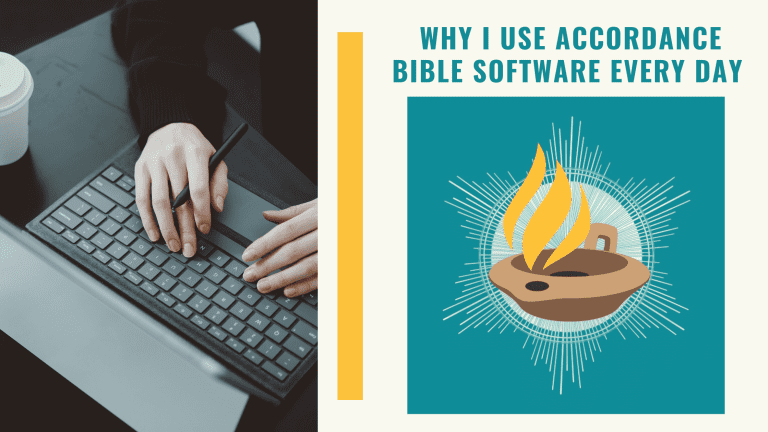 This blog series has a tragic beginning, but a happy ending. Over the past year or two, my Macbook updated the OS to the point I could no longer run Bibleworks, which I had faithfully used for more than fifteen years. Tragic indeed. I felt…alone. But after a period of grief, I knew I had to get out there and meet new research programs. Now, I am happily connected to Accordance Bible Software.
I get lots of questions from students and pastors about Bible software. I use different apps and tools (like Logos), but Accordance gets the most use, because of its efficiency, resources, speed, and simplicity. It runs really clean on a Mac and I have enjoyed connecting with the good folks at Accordance.
So, I will be breaking my reflections on Accordance into several little parts to highlight various features. Much like buying a laptop or a car, you know it is a big investment, so you want to be sure it will get used well and serve your needs for years to come. I get it!
In this series, I will use a mixture of written text and very short videos. Some folks will want a quick read, others more of a visual walkthrough. If there are things you want to know, leave a comment and I will see what I can do. Thanks!
---
Do you need to know Greek and Hebrew?
The short answer is YES. Accordance supports students of the Bible in advanced study of the original text. Sure, you could look up "interlinear" features and get basic word meanings if you don't know Greek, but you would not be really utilizing the main reasons for the software. Better to use something like StepBible (*Free*) to do some basic word study research.
I have (1) year of Greek grammar, is that enough?
That should be enough if you learned well the basics of Greek (or Hebrew) grammar and syntax. Accordance has features that will "help" you parse words and clue you in to word meanings.
What would I actually USE Accordance for?
If I had to boil my use of Accordance down to a handful of key features, it would be this:
(1) Reading—I pull up the Greek Bible and an English translation (or 2 or 3 or 10) and read on Accordance. They have mobile device apps too for reading on the go.
(2) Lexicons—I can quickly pull up word meanings from several Greek lexicons and dictionaries.
(3) Quick ET Comparison—with a quick "toggle" I can pull up 10+ English translations on a particular verse and see how they compare. I do this a lot for sermon prep and academic research.
(4) Deeper Word Studies—If there is a particular Greek or Hebrew word I want to study, I can tell Accordance to search for that same word in other ancient texts, like Philo, Josephus, the Dead Sea Scrolls, OT Pseudepigrapha, the Septuagint/Apocrypha, or the Apostolic Fathers and Patristic writings, or Non-Jewish Hellenistic texts like Epictetus. For students and scholars, this is a massive benefit. Doing this kind of comparative study has sparked several academic articles I have written.
(5) Library All-in-One—Accordance has a large library of secondary sources you can purchase like commentaries, dictionaries, textbooks, etc. I know some folks that swear by this, I don't buy much from Accordance in this category. But if you wanted to, they have tons of stuff available.
(6) Sales and Discounts—Accordance runs lots of weekly or monthly sales on resources, so you can get a great discount on resources and digital books. Sometimes their sales allow you to buy a key resource for several hundred dollars less than the print versions.
How much, *gulp*, is Accordance going to set me back?
There are lots of packages to choose from, in fact it can be overwhelming. Later in this series, I will make some recommendations, but I would suspect a seminary-trained pastor would need to spend $500-1000 to get up and running with a set-up that I will be talking about. It's not cheap, but the print versions of the resources you get would add up to much more and overwhelm your desk!
In the video below (6 minutes), I do a quick walkthrough of some Accordance features, with a special focus on the "Text Browser" window.