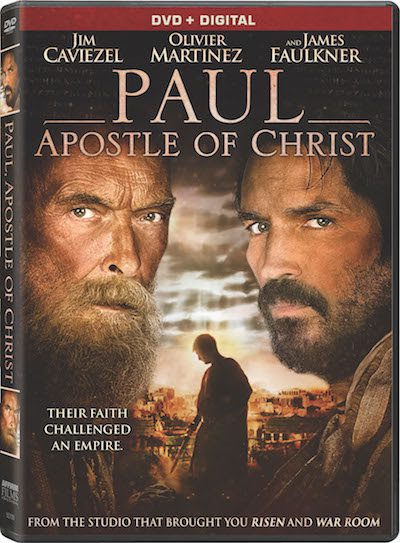 Paul, Apostle of Christ is coming to DVD.
The film — which stars James Faulkner as the titular apostle and Jim Caviezel as Luke, the evangelist to whom Paul tells his life story as he awaits his execution in Rome — has earned almost $20 million at the global box office since opening in March.
It is now set to come out via digital platforms like iTunes and Google Play on June 12, with a DVD and Blu-Ray release to follow on June 19.
See below for a list of bonus features.
First, the disc will have two deleted scenes — 'Crucifying The Servants of God' and 'Followers of The Way' — which will "portray Saul's life as a persecutor of Christians." I have not seen these scenes, but I wonder if the first one will show Paul taking part in the crucifixions himself? Crucifixion was a Roman method of execution, not a Jewish one, and Paul, as far as we know, was working for the Jewish authorities, not the Roman ones. So I might quibble with that.1
Second, the disc will have two bonus features grouped together under the heading 'The Living Word'. One of them, 'Saul's Conversion', will provide "a scripture visualization" of Paul's journey, and the other, 'Paul's Letter,' will show "the wisdom of Paul's words spoken by James Faulkner which bring to light the power of faith."
Finally, there are three featurettes, at least two of which appear to have been posted online already: 'Recreating First Century Rome', 'The Path of The Apostle: Adapting Paul' and 'An Extraordinary Friendship: Luke & Paul'. The first and third featurettes can be watched here (assuming they have not been re-edited for the DVD):
Incidentally, the first of those videos is one of two that have gone online since the last time I wrote about Paul, Apostle of Christ at this blog. The other brand-new video is the final "letter from Paul" narrated by James Faulkner, who plays Paul in the movie:
Check out earlier Paul, Apostle of Christ trailers and other videos here:
–
1. Indeed, the only specific martyrdom that Paul himself is linked to in the New Testament is that of Stephen, who was stoned to death, not crucified (Acts 7:54-8:3) — and stoning is well-attested as a form of violence that some Jews engaged in when they did not have authorization from the Romans; see, for example, the account of James the Just's martyrdom in Josephus's Antiquities of the Jews.