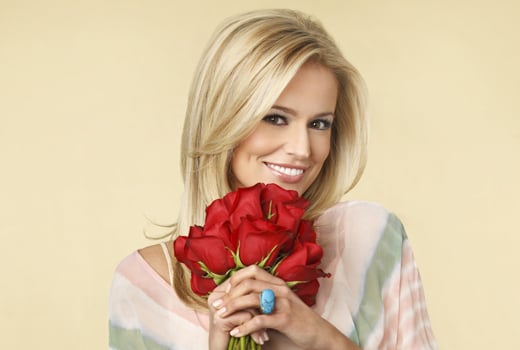 If you're a faithful reader of this blog (and you should be!), you might have noticed that my lovely wife, Nancy, has a fever . . . a fever that can only be cured by more Bachelorette blogging. To be sure, Nancy is mocked (mostly by me) for this little obsession, but lately I've had to eat humble pie. As I've watched her blog, seen the response, and participated in the conversations I realized she was right, I was wrong, and, well, maybe we should all blog the Bachelorette. Why? Three reasons:
1. That's where people are. Before I left for Iraq, I'd been blessed with quite a few more media appearances than the average lawyer. I'd been on ABC News, Fox News, local television, and a guest on some of the most popular talk radio shows in the land. I wrote frequently for National Review Online, and my columns and op-eds had appeared in numerous papers. I wasn't a "big deal," I wasn't even "kind of a big deal," nor was I "huge in Japan," but I thought I'd gotten my name out there.
I was wrong. Late in my deployment, we stumbled across a pile of US Weekly magazines someone's mother sent to the unit. A friend got an idea to take a picture of a group of us reading the magazines in full battle rattle and send it to the magazine for publication. Well, US published the picture — a very small picture — at the end of the next week's issue.
The response was unbelievable. People I hadn't heard from in years came out of the woodwork to tell me they saw the picture, my hometown paper did a story on our photograph, and when I came home, one of my welcome-home gifts was a beautifully-framed copy of the magazine (Jennifer Aniston was on the cover), complete with the picture blown up into its full brilliance. The lesson? Far more people participate in pop culture than politics or theology, and a thumbnail photo in US Weekly may make more of an impression than, well, this kind of appearance:
2. Pop culture needs virtue. That much is obvious. Why not encourage pop culture virtue, applaud it when it happens, and reach out to the very people who Google the show and voraciously consume news about its contestants? And not as a scold but as a fan? I'm no fan of the show, but I can guarantee you that Nancy has inspired me for the Fall TV season. Prepare yourself for an avalanche of "Dexter," "Survivor," and "Walking Dead" blogs when the time comes. Oh, and let's not forget the grandaddy of them all: "Game of Thrones." Each of those shows could spawn a thousand blog posts.
3. Nancy loves the show. For the life of me, I can't figure out why, but Nancy does love that show. And, after all, don't we write best about things we love? When it comes to a Bachelorette post, Nancy's words flow. Again, don't ask me to explain it — it is what it is. In the final analysis, however, we Christians are well-served culturally when we speak where people actually live, exhort virtue, and have a good time doing it. So prepare yourselves — after this summer interlude — some serious zombie-blogging will follow.
As for the Bachelorette? Consider me Team Jef.
You might also enjoy:
Connect with Me Further by:
Friending me on Facebook
Following me on Twitter